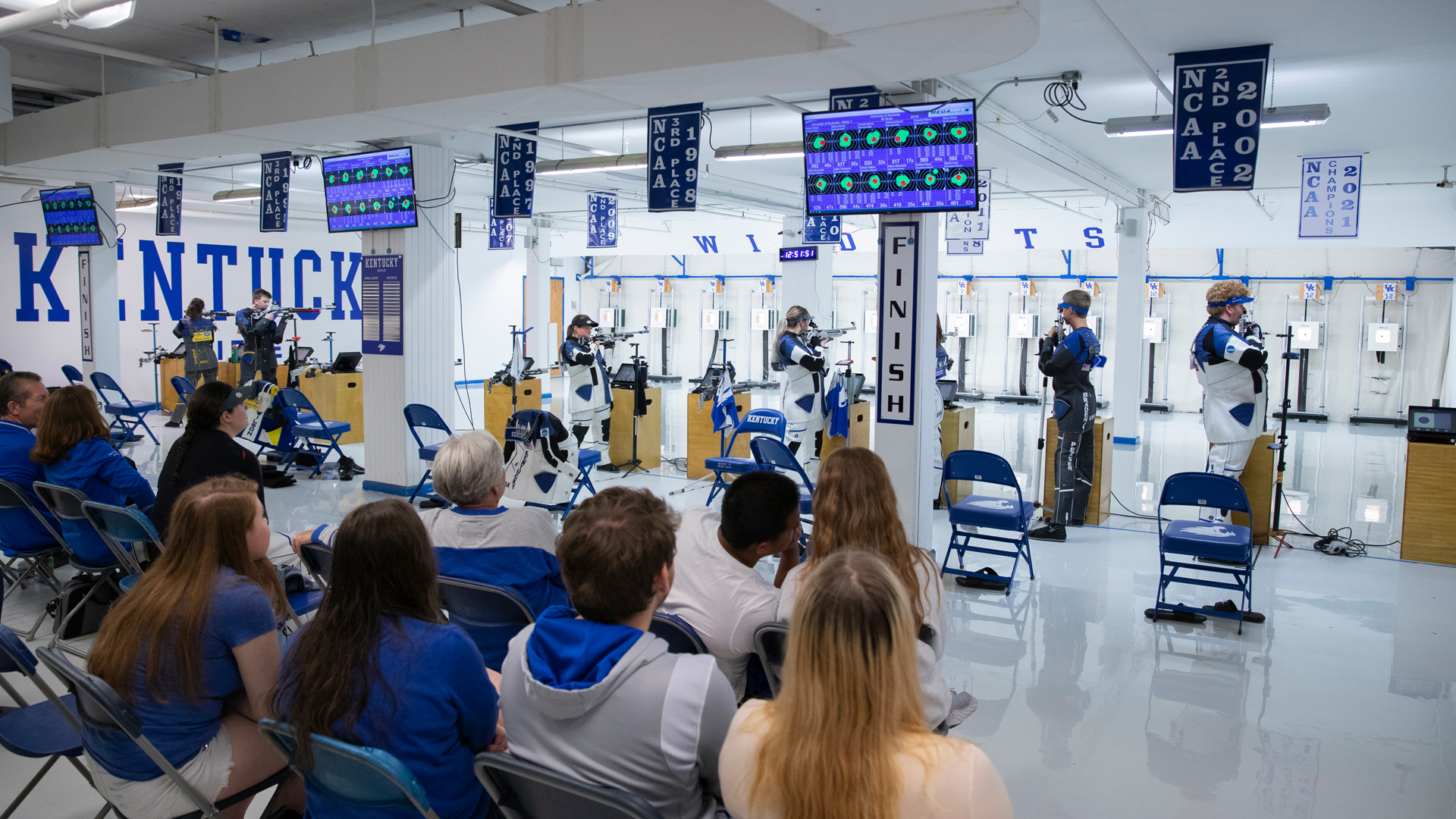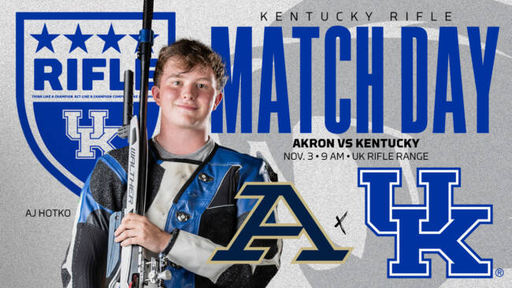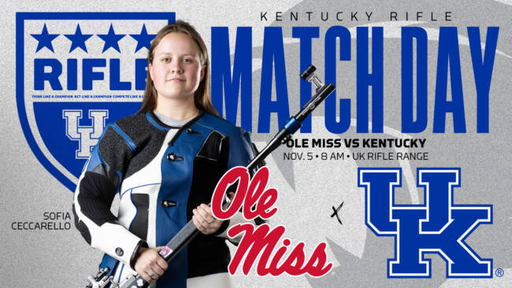 LEXINGTON, Ky. – It will be a busy weekend inside the UK Rifle Range at Barker Hall as the University of Kentucky rifle team hosts two dual-matches, starting Friday at 9 a.m. ET against Akron. The weekend will conclude Sunday vs. Ole Miss at 8 a.m. ET.
Friday vs. Akron, sights and prep for the first relay, which will start with smallbore, will begin at 9 a.m. ET. The first air rifle relay should begin at approx. 11 a.m. ET with the second relay getting underway at approx. 1 p.m. ET. Sunday vs. Ole Miss, sights and prep for smallbore will start at 8 a.m. ET with air rifle at approx. 10 a.m. ET and the second relay starting around Noon. Akron and Ole Miss will compete against each other Saturday inside the UK Rifle Range.
Both days, spectators are invited to watch smallbore scores up in Barker Hall and enjoy free breakfast during the first part of each day. The range will be open to spectators for air rifle only each day. Admission is free. With the unusual Friday match, parking for spectators is available in the student center pay-to-park lot or the Joe Craft Center E-lot.
New for fans this year both in-person and watching at home will be live commentary online to help provide a breakdown of the action and how the teams and competitors are performing. The live commentary will be available on the UK Rifle Facebook Page. Live targets and a NCAA scorecard will be available online at UKAthletics.com.
"This should be a fun weekend for our squad to get back into the range and have two home matches in front of Big Blue Nation," UK head coach Harry Mullins said. "Having two matches the same weekend is a different challenge, but I think we are ready for it. We need to continue to improve and work hard on the details to get better. Both Akron and Ole Miss are great teams, and they will present a challenge for us in. We will have to be at our best to compete the way we want to. It will be great to see Will in a coaching capacity and that will be a rewarding experience for our program. To see him and Richard both enter the coaching ranks after their amazing careers here is great and I look forward to having him back in the range."
Kentucky has won each of its first two matches on the season, starting the year with a 4727 against Morehead State at home before last weekend's 4707 at Navy. Sophomore Sofia Ceccarello leads the Wildcats this season with a smallbore average of 588.5 while she has posted a 599 in air rifle in both matches this season. In her 15 collegiate matches, Ceccarello has scored a 599 in air rifle an amazing 10 times. She is averaging an aggregate of 1187.5 this year. Fifth-year seniors Jaden Thompson and Emmie Sellers are off to good starts to the year. Thompson is averaging 583.5 in smallbore and 595.5 in air rifle for a 1179.0 aggregate, while Sellers is earning a 584 in smallbore and 591.5 in air rifle for a 1175.5 aggregate.
True freshman Braden Peiser put together an impressive start to his collegiate career, averaging 584 in smallbore and 589 in air rifle for an aggregate of 1173. Peiser had the second-highest smallbore score of the match in the opener vs. Morehead State with a 590, while he had the third-highest air rifle score in the match at Navy with a 594. Sophomore Martin Voss is averaging a 580.5 in smallbore and 590 in air rifle for a 1170.5 aggregate, while junior Allison Buesseler is earning a 579 in smallbore and 588 in air rifle for a 1167 aggregate.
Sophomore AJ Hotko and freshman Emily Marne competed in Kentucky's first match of the season against Morehead State, but did not compete against Navy. Juniors Kayla Kalenza and Tori Kopelen have not competed yet this season.
Akron is averaging a 2325 in smallbore and 2370.33 in air rifle this season for an aggregate average of 4695.33. This will be the fourth match of the season for the Zipps, who started the year with a 4696 at WVU and 4695 at Navy. Last weekend, they scored a 4695 at Memphis during their first home match of the season. Gavin Perkowski leads the Zipps in air rifle with a 1177.333 aggregate average, earning a 596 in air rifle and 581.333 in smallbore. Erin Schnupp leads the team in smallbore average at 582.333, while Lex Kirk and Natalia Siek are both averaging 592s in air rifle.
Ole Miss has been impressive in the early going this season, averaging a 2344.25 in smallbore and 2374.00 in air rifle for an aggregate average of 4718.25. The Rebels started the season with a 4714 against Jackson State and 4715 at Murray State. Their highest team score of the season came Oct. 14 at home against WVU, scoring a 4730, following that up the next weekend with a 4714 against Navy. Lea Horvath leads the team with a 587.75 in smallbore and 595.75 in air rifle, while Emma Pereira is earning a 585.25 in smallbore and 592.75 in air rifle. Former Kentucky All-American and Olympic Gold Medalist Will Shaner is in his first season as the assistant coach for Ole Miss.
Following this weekend's home doubleheader, the Wildcats will conclude the home portion of the 2023 schedule on Nov. 11 vs. Memphis. The fall schedule will wrap with a trip to Fairbanks, Alaska, competing against Akron on Nov. 18 and Alaska and Akron on Nov. 19.
For more information on the Kentucky rifle team, visit UKathletics.com or follow UKRifle on Twitter, Instagram and Facebook.