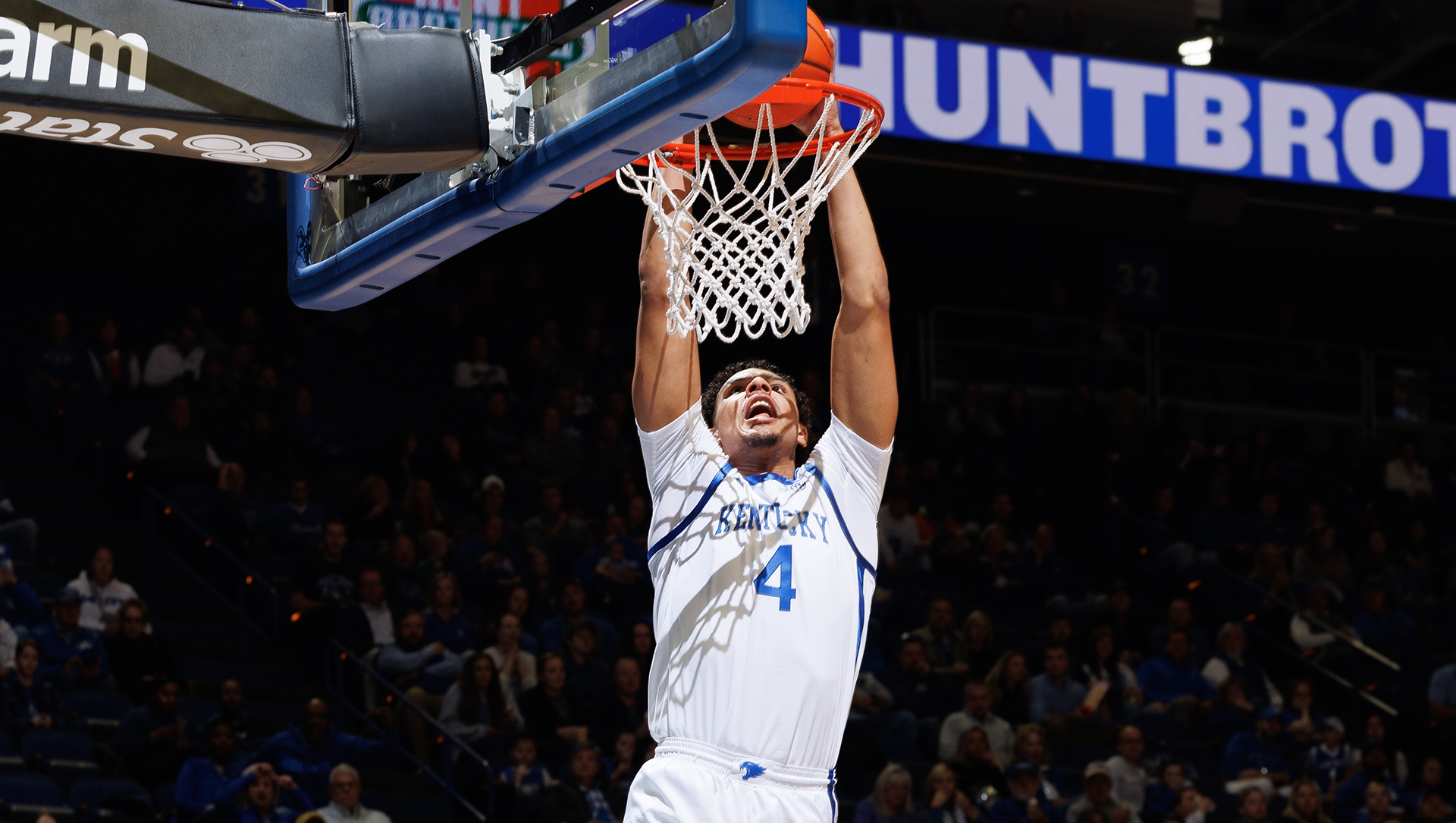 November 2, 2023 - 10:21 PM
Kentucky-Kentucky State Postgame Quotes
UNIVERSITY OF KENTUCKY MEN'S BASKETBALL MEDIA CONFERENCE
November 2, 2023
Lexington, Kentucky, USA
Coach John Calipari
Press Conference
Kentucky 99, Kentucky State 53
JOHN CALIPARI: It was really a great experience. PG Peeples was there. Coach Rav (George Raveling) gave an unbelievable talk. You know, I think, more than just the game, doing this to bring them to together with us, it was pretty good. I just — I was asking, Z was supposed to warm up with us, and he practiced with us yesterday, he had a great shoot around today, he ate, this kid's got like buzzard luck, he got food poisoning. I said, "Where is he?" They said he got sick and the doctor told him to go back to the lodge. So…
But he is doing better. At practice it was nice, the people that were there watching us. It's nice to have him back.
Today's game, you know, you — as fast as we are playing,
you know, to have 25 or whatever assists on 37 baskets and have only really four or five turnovers, probably less, it — you know, that means guys can handle it, guys can pass it, they can catch it. We have a bunch of pretty good basketball players. I just like the fact that they shared it. In this kind of game what happens is guys just lose their mind. They didn't. They played the way we are trying to play. They know we have tough games coming up. New Mexico State, they are good. I mean, watching tape of them, too, oof, they took some of their kids from Sam Houston and they make shots.
So it is going to be a hard one there for us. But this was a good tune-up. They are off tomorrow, we practice Saturday, we do something on Sunday and get ready to play Monday. Questions.
Q Cal, two exhibitions, Blue-White game, about a month of practice. What is the number one thing this team needs to get better at that maybe you didn't know at the beginning of all of that or maybe you saw throughout that?
JOHN CALIPARI: The Georgetown game was a great thing for us to get bumped around and not block out, not go body to body. So that is all we have been doing, three or four things a day to go body to body. I thought they did good stuff today. Some of the guys' motors are not where they need to be. So we will have to do some conditioning with
a couple of these guys because they go three times up and down the floor and they can't breathe. And we're training, practicing, going
two hours and 20 minutes with no subs.
So, I mean, there are a couple of guys — I can remember PJ Washington, we had to do extra training to get him to lose some weight. We have a couple of guys like that. I thought Tre (Mitchell) played with more of a motor today than he has played with. And our guard play, you know, last game I said you can't end a game with one assist, D.J. (Wagner), you can't do it, and so he has seven. We talked to him about cutting. He cuts. I mean, they listen.
Robert Dillingham's playing. He missed every shot today but they were all good shots. And he made one or two plays that were ridiculously hard look easy. They were, like, really hard plays that he just made a play, like what did he just do? And he made it look easy. So Justin's getting better; you know, still too hard on himself. I've had guys like that, Derrick Rose was that way, too hard on yourself, man, you're playing good, started the game driving. First half I told him, we love lay-ups, we like 3's. First half they gave us things at the basket. We scored 40 that way out of the 50.
Second half they packed it and we got 3's. Then you shoot 3's. Antonio (Reeves) made shots. It was good. It was good to see.
Q Coach, you guys are obviously bigger, stronger, faster, and quicker. How much can you appreciate having that kind of advantage?
JOHN CALIPARI: No, we — you know, a lot of games we're playing we are trying to play against ourselves. So whether it was Kentucky State or whoever it is, we are playing against ourselves. How good can we play together. How random, like you saw today, can we play that way. How fast can we run up and down the court to put them on their heels. We did a lot of that today. So like I told them at half time and I told them prior to the game and after, we were playing against ourselves, not out of disrespect for Kentucky State, that's what you are supposed to do.
Q I can imagine being forced to play small ball can be tough. But what pleased you the most about the rotation tonight?
JOHN CALIPARI: Well, playing Justin at four, you know, what the role I'm talking to Adou about is be a finisher. When that ball comes to you, whether a jump shot or a drive for a basket, I don't need you to be a play starter. Now if you have it and you throw it, run into something where you end up being free for the play. That's what he did today. I mean, I like it again where you have, you know, like six guys, six guys taking nine or more shots. I mean, every — they are sharing. It's — you know, you are talking about every one of these guys were 'the guy' and they are sharing.
So Adou being that finisher for us, he's good. And he made
free-throws. They missed some, but he shot 70 percent from the line. Get fouled, get to the line. He's strong. He's — you know, he literally could be one of the best finishers in the country.
Q Coach, what do you like best about having D.J. as starting at point? I know it is position-less in a lot of ways. But what do you like best about him there as opposed to being off the ball?
JOHN CALIPARI: Well, here's how he is off the ball. Hit somebody and cut like crazy and the ball finds you. It just does. I don't know, you know, that's like a karma of basketball. But he also — he talks like he is a senior. And I coached his dad. His dad did not talk. Like he just played and scored and, you know, he — but he wasn't a talker. This guy runs us. He's looking at players. He is moving them around.
I also like Rob off the ball. Because when there are not ten eyes looking at him, there's four eyes or six, he's getting something. He will get a basket. So those two. And I told Robert today, you know, should he be starting? Yeah, he could be. You know, Shai should have started, Devin should have started, I can go down the line of guys, Immanuel Quickley, you know, when — they had to work their way in. And I just told them, everybody that watches you
play right now loves how you are playing. Because he's not messing with the ball. He is just getting baskets. Again, how many assists did he have today? Six, six assists, no turns. And he missed every shot. Still played good. I thought we took so many chances defensively trying to steal some, and I think most of those were in the second half. But…
Q John, Hey, I saw that, I guess, during the pregame radio show you mentioned Kentucky State, maybe you didn't want them to do zone because you didn't have time to focus on that with your team. How much of an emphasis is that for you this weekend as you head into Monday?
JOHN CALIPARI: I don't know because I haven't watched that much tape and I will have to watch Sam Houston's tape to see if he played zone. If you watched us in Toronto, we were a great zone offensive team because we put Tre in the middle and shooters around him. We even had high, low stuff. We're fine.
Tomorrow was going to be our zone day, nothing but zone, both on defense and offense. And they reminded me they have an off day tomorrow. So it is going to have to be at some point on Saturday.
But Sunday's got to be a normal day before the game practice. You can't go 2, 3 hours. We will have a hard game.
Q John, you talked about D.J., trying to get him to cut more. Justin Edwards said at Media Day that you are on him to cut more as well.
Young guys like that, do they not know that? Did they not have to do that in high school? How much technique is there into just cutting?
JOHN CALIPARI: What I would tell you is that every one of these kids always had the ball. So by always having the ball, they don't cut.
In other words, they make a play and then they throw it to you and see what you are going to do. And that's something that they — it is a habit that they do. Let me tell you what happened to start the game. I've been on Justin about offense rebounding. I don't care where you are on the floor, go rebound because of what you can do.
And the second thing is, straight line drives, get to the rim. So to start the game he was five for five, driving the ball. And, so, that's why the game started the way it did. I told him, we are not going to start the game shooting all 3's. We're not doing that.
And, you know, we only took eight 3's at half but it was because of the way the game was. And then in the second half you take, what, 17? That is what they gave us, so you kind of roll with it that way.
Q You shot the ball well again tonight. I asked you this the other night but I didn't really understand your answer, so I was hoping you could expound. Who are the guys on the team, can you name the ones who had the green light to shoot?
JOHN CALIPARI: D.J., Rob, I'll be honest with you, Reed, Antonio, Tre if he is open. And, basically, even like Adou I thought passed up a couple of jumpers to get to the rim. And I am not going to tell him not to do that, but in a game with maybe some bigger players you are going to have to take that jumper. But this is one of those teams, like Shai said, watching us in Toronto, every guy can pass, dribble and shoot, so it leaves you to play a little different;
you know, what we are running. We were random some of the time and you have to admit, it was like wow. We were random, we had great pace, you know, we got to the next action.
So that, you know, what you are trying to do is make the decision, make the defense make decisions. How many decisions can you make them make? Well, if you are only dancing with the ball and then shooting, there were no decisions to make. But if you do a dribble hand-off, if you do a pass and a cut and a swing and a kickback, they are making 8, 10 decisions, somebody's going to screw up. That's randomness of the game of what we are trying to do.
So…
We have a lot of guys that if they don't shoot open 3's or open shots, you know, I don't want them to just, that's their game, but I do want them to shoot it.
Q You have used that word a couple of times tonight now, random, talking about the offense and guys cutting and moving. So from your perspective, how can you get them to be random and can you intentionally teach that? How much do you have to have your hands off the product for that to be the end result?
JOHN CALIPARI: Well, some of it is getting them started. Like doing actions so that the ball moves and there's some penetration and cutting and then it becomes random. What you saw against Georgetown is we stood. So now you are trying to make it random. You have nowhere to go. But now we are cutting and opening enough gaps to go. So it's — what I want them to do is play off of one another, get to the next action. We're a good shooting team, so we're going to shoot. But you don't want to live and die with the 3. You want it to be at the rim, you want to draw fouls, and then you are looking — I like 3's, I love lay-ups and something at the rim and getting fouled. And this should be a great free-throw shooting team.
Q With the return of Antonio Reeves, where do you think he has improved at from this season compared to last season?
JOHN CALIPARI: The biggest thing is his self-confidence. And it is not what we are doing, it is what he is. He is so much more at ease. He talks so much more. When you walk into this program, it is
difficult. And there's a ton of anxiety. Am I good enough? What is going on? Every team you play, like even Kentucky State made shots to start this game, like everybody does against us. And, so, that was hard. Finding his way within that team was hard. But by the end of the year, he was really an effective player. Now he is more physical. Now he will mix it up. Now he talks more on defense.
And offensively, you know, he's figured out how do I get to the rim some. He is way better than he was a year ago. I mean, he was a good player last year but his confidence in himself right now, you know, he is self-assured. He doesn't make — we did — maybe it was the first game. He missed shots and then came out in the second half and made shots. Last year that never happened. If he missed 7, he was missing 13. Now he will miss shots and come back and have enough confidence that it's not fazing me, I'm going to make this next one, I'm going to make the next one, and that is how he played.
Thanks, guys.
KENTUCKY MBB POSTGAME QUOTES 
KENTUCKY VS. KENTUCKY STATE [EXH] 
RUPP ARENA – LEXINGTON, KY. 
NOVEMBER 2, 2023
#1, Justin Edwards, G
On the difference between tonight and the other night for yourself … 
"I'm much more comfortable now that I've gone through this summer, through Canada, through a couple of exhibition games as far as your role is concerned, a lot more comfortable. I can see today just playing my role and just doing whatever the team needs. Just again, just getting my feet wet and just having my team lead and that's about it."
On how much speed plays into your game … 
"A lot of coaches have been trying to make me play like that, even on me about driving the ball. That's something that I've been working on. So just being able to do it, and it shows that today."
On what he's learned about this team being able to play together and so far …
"We are tough, and we play for one another. The good thing about our group is that we play off the court and on the court like we're all locked in, so that's a good thing about it. We like to share the ball."
#3, Adou Thiero, G
On how important developing his shooting was for this season…
"I have just been working on my shot a lot over the summer and I think I shot pretty well tonight. I feel I should have made a couple more foul shots. I have been working on it a lot with Coach John Welch by getting shots up before practice."
On how they take playing 'random' as…
"I take that as he trusts us a lot. He knows what good basketball players do so it means a lot that he trusts us."
On if he thought the freshman were calmer today…
"Yeah, I felt that. They are always great, and they make us compete, so it was good to see them all have fun. I don't know if they were nervous or anxious in the first game to play in front of everybody or on the court, but it could have been that."
#4, Tre Mitchell, F
On Rob's (Dillingham) development since Toronto … 
"Rob came from a place where he had that freedom to do whatever he wanted and go get himself one–he's proven that he can do it. It's the way he plays, it's the way he's played the game up until now but now that Cal is starting to get into his ear and starting to show him how a pro plays, I think he's excelling. He's making such big strides in the little time he's had here on campus and it's just him being coachable. He's listening to what Cal has to say and he's seeing the results flowing and the efficiency he gets from it too."
On what he did to convince Cal to shoot the 3 … 
"I just did–you prove that you can do it there's not much he's going to say if it goes in the hoop."
On if he's always had that much confidence in his shot … 
"Yeah man, I've just always seen myself as a player that I want to be able to do everything so shooting is a part of it."
On his range … 
"Whatever, if I'm open, I'm going to let it go."
On when he noticed DJ (Wagner) is more mature than his years … 
"Honestly, it was more recent than you think. I think it was one day in practice like I started to notice he was starting to just pick up on things and he was starting to take the lead in certain areas like when we are on offense, when we're on defense. He's willing to take that step forward and he does it with confidence, so you know that like ok he's about this. Like dude you got to listen to him he produces, he knows what he's doing. He's our lead point guard right now so it's like him showing that level of maturity this early on I can't even imagine where he's going to get us as the season goes on."
KENTUCKY MBB POSTGAME QUOTES 
KENTUCKY VS. KENTUCKY STATE [EXH] 
RUPP ARENA – LEXINGTON, KY. 
NOVEMBER 2, 2023 
Kentucky State Head Coach Jamaal Jackson 

Opening Statement … 
"We came into the game pretty much expecting to struggle a bit offensively. We've been practicing since October 12th; day number 16 of practice was yesterday. With nine newcomers I expected offensively that we would struggle a bit, I was disappointed because we've been talking the last two weeks about our defensive transition and that was not where we needed it to be. Sitting down and just keeping guys in front of us, they had too many straight-line drives in that first half that hurt us but with our effort, I'm not disappointed in our effort at all. We saw some things from a lot of guys and some guys I didn't expect to see with this team. I'm not disappointed because we lose any game but I'm pretty optimistic about this team."

On general thoughts on watching Kentucky playing in person … 
"Nothing really, I watched them this summer a little bit up in Canada and they like to put the ball on the floor and get to the basket. We knew [Antonio] Reeves was going to be the main one putting up a lot of shots, you know with [Tre] Mitchell we saw against Georgetown he's a heck of a shooter and we knew we were going to have to get up on him which we didn't do tonight. They did exactly what we prepared for; we just weren't able to stop them. they're going to be a really good team, and you've got three seven footers that aren't even playing right now so they're going to be a hell of a team come April."

On facing a team like Kentucky and the preparation it gives for the rest of the season …
"This is great preparation. I told the guys this is an NBA game, you got 7 first-rounders on that team. It's great preparation, we won't see anything like that team in our conference. Not only do we have UK tonight we have Southern Illinois Monday, we have Tennessee State next Thursday, we have Western Kentucky later on in November, we did that purposely to get our guys ready for a very, very tough conference season. So, we take lumps like this early, but the guys are in the locker room with their heads up. They understand that they're still early in the season and they understand that they come to work every day because we put our 20 miles in you know exactly what we need to be."

On what his scouting report would be for this year's Kentucky team …
"Fast. And you know number four, [Tre] Mitchell, is going to cause some problems for some defenses the way he can step out and hit that three, and it's hard to find a scouting report for this team with the three big guys out because y'all know what Bradshaw is going to give, the big European, Ugonna [Onyenso], is his name. So, add those guys to this mix they are going to be a hard team to score on. But you know [Rob] Dillingham he hasn't, you know against us and Georgetown, he hasn't played his best and he's a very, very hard guard to stay in front of, and put all those guys around the point guard like Wagner and they're going to be a very good team like I said in the NCAA Tournament."
KENTUCKY STATE STUDENT-ATHLETES 
#3, Brandon Hill, G 
On what the team could've done better … 
"The main thing we have to do is play better in transition, getting back, rebound, and not turning over the ball. Also, not letting them get easy run outs, easy dunks, and layups to get the crowd into it, in the future we need to obviously stop that and the bleeding as soon as possible."
On the influence he would like to leave the team with since he's a senior… 
"I just want to be somebody that gave it his all, all the time. I want to be known as more than a basketball player, being known as a great person is the main thing for me, and leaving a blueprint for the younger guys for them to continue."

On the experience of the workshops and matchup … 
"This was a great experience, not many can experience something like this, and Coach (George) Raveling, had a great, inspiring story about what he through in his basketball journey. He put knowledge into us about being more than a basketball player and I was just saying, I really love that about him. He said basketball can take you all across the world and if basketball is all you are known for, you basically failed, so you want to be something bigger than basketball. It was definitely a great experience and I want to thank Coach (John) Calipari, Coach (Jamaal) Jackson, and everybody behind the scenes that set this up."
#5, Lavar Miller Jr., G 

On what the team could've done better … 
"Just like B. Hill said, getting back in transition, they were really getting a lot of buckets in transition. We need to match up quicker, just like coach [Raveling] said it was a lot of straight-line drives but I still think we could've guarded well but it was really just transition, they were getting out early. We really have to stop those and we will be fine."

On the experience of the workshops and matchup … 
"It was very good, just being a kid growing up watching guys like Tyler Ulis, DeAaron Fox, and the Harrison Twins, this was a dream come true. I definitely want to thank anybody who was behind this, I give my flowers to Coach (Jamaal) Jackson every day it definitely was a blessing. I got to talk to some of their guys and they have good vibes on their side, it was really a great moment to realize I've been dreaming of this my whole life so to do it was a blessing and I don't regret anything at all."

On the difference playing in Rupp Arena … 
"There was no difference."