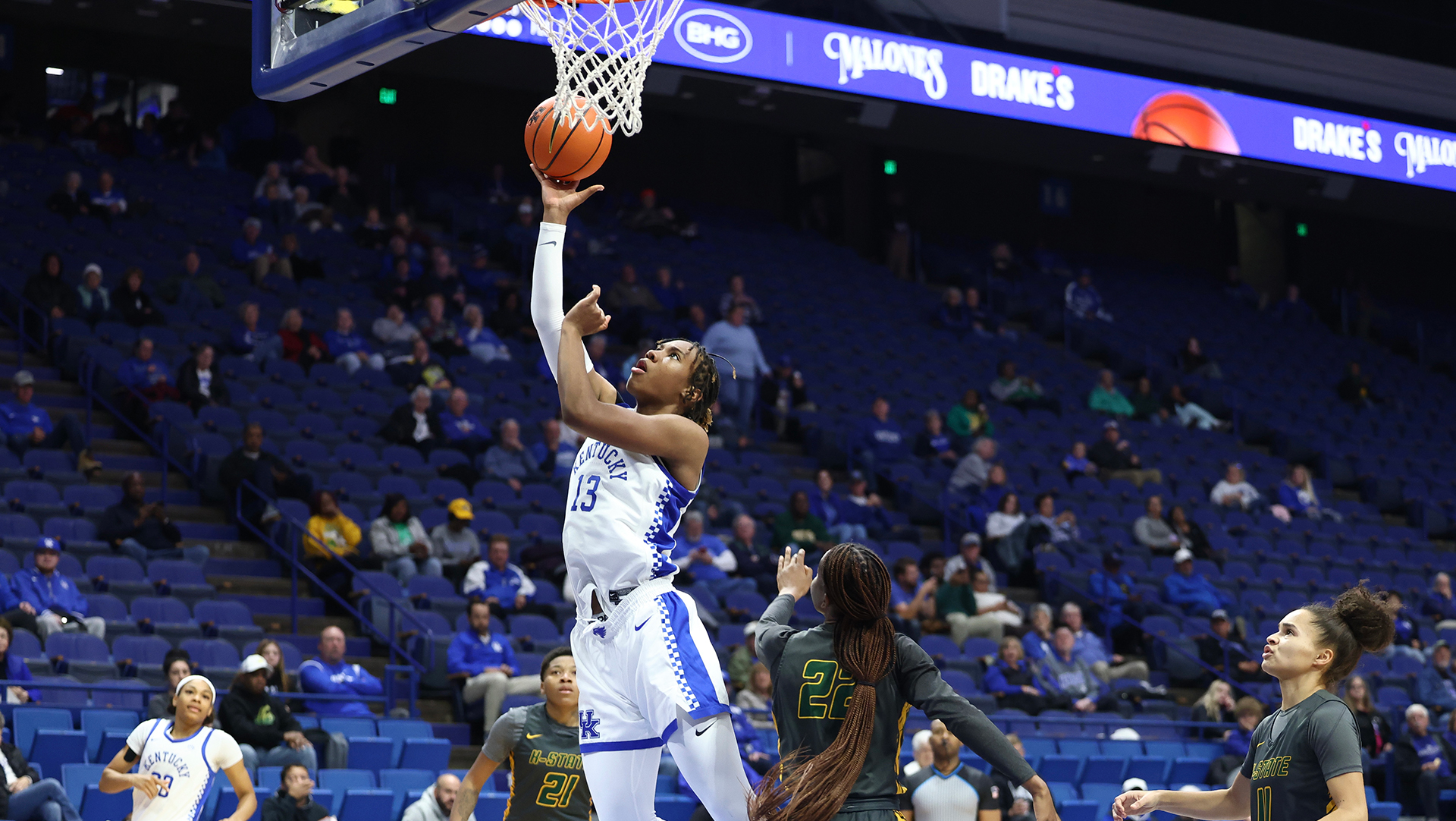 November 1, 2023 - 03:14 PM
Kentucky-Kentucky State Postgame Quotes
Kentucky-Kentucky State Postgame Press Conference
Rupp Arena at Central Bank Center
Nov. 1, 2023
Head Coach Kyra Elzy
On Saniah Tyler…
"Yeah, I'm so proud of Saniah you know, she lost her confidence last year. One of the most highly recruited players coming out of high school. Then it was a big transition and a shock to her system, she lost her confidence early and never regained it. One of the things she and I talked about was going back to work like Coach I don't have any confidence. I was like, go back to work, get in the gym, put some shots up, and she did that to her credit, and playing with so much more confidence now had a great close scrimmage, shot the ball extremely well there and then today stepped right back up. You know, one of the things I challenged her with was, we need you to score the basketball. She can score at all three levels. I'm so proud of her growth and we need more of that."
On playing in Rupp Arena for the first time…
"Well, let me just tell you it was an unbelievable environment. Shout out to the education day for all of our students who came to the game, their teachers who came with them, and our marketing staff who put it together. At least two or three timeouts, I couldn't hear myself speaking out loud and I know the players couldn't hear me I just finally started writing the messages on the board with my marker but it's great to be in Rupp Arena historic place to play a fantastic environment."
On Amiya Jenkins playing…
"Yeah, I thought Mimi [Amiya] came in and gave us a big spark you know her ability to score she can get downhill and finish at the rim with the best of them. Her ability to play multiple positions offensively and defensively makes her a vital weapon for this team. So excited about her. I thought she came on at the end of last year and she continues into this year."
On struggles Kentucky State gave Kentucky and overcoming that…
"Thank you. You know, you know credit to Kentucky State you know they have a new coach. She's doing a great job. I thought they played extremely hard. You know, early, I thought they were going downhill on us. We had to adjust our defense, how we were covering the ball screen and I was pleased with some of the things that we did. Still a lot of room to grow and we'll go back to work and a great opportunity for us to look at film and adjust from here."
On the score being close at the beginning of the game…
"Well, I thought we missed some rebounds early. We gave up some easy drives and missed some rebounds. Why do you need to put two hands on the basketball and grab it? So that's something we can go back and watch the film. I thought we were trying to get set up in our offense early instead of running our transition attack. And then once we settled in there, I thought we were able to have some easy scoring opportunities."
On confidence for Emma King and Ajae Petty…
"Well, it helps both of them a lot. You know, we'll start with Emma King, fifth year, senior glue piece for us. You know, I tell her when you come in your job is to make open shots. You have the green light, the three is open, let it fly. She's put in the work she always has and then you know make hustle plays you keep us together make us a place and then Ajae Petty, she's just a different player this year. She's committed to getting in shape. She's changed her mindset open to coaching and it's really paid off. She's done a lot, she's fun to coach, and playing with a chip on her shoulder. We need her to stay right where she is."
On deciding today's starting lineup…
"You know, we've been playing with lineups for the last couple of weeks I came to this lineup. I really like Brooklynn Miles as the point guard. Her ability to push the basketball, push the pace and it may help us extend our defense. You know Maddie [Scherr] is an unbelievable point guard but to have two point guards on the floor, allows me to move Maddie [Scherr] around to bring her awesome screen for open shots and not have to carry the point guard for 40 minutes. Eniya [Russell] just shot the ball so well and played well that she was in there. And then I just decided to go with our two bigs. Z [Zennia Thomas] has played well up into this point in practice her ability to finish and rebound and Ajae Petty has been the MVP all summer so that's what I went with. And then obviously we can come off the bit with a lot of punches as well."
On goals this season and the feeling of seeing 56 paint points…
"It felt fantastic to see 56 paint points. But we've been scoring inside Ajae has really stepped up and owned the paint. So, our ability to score inside out keeps the defense honest. You know I just feel like if we can pound the ball inside obviously people bring the double to us her ability to kick out, we have to be able to hit open threes. We didn't shoot it as well today as we did in the closed scrimmage. But our ability to hit threes will help us as well."
In what Cassidy Rowe is and how she impacts the team…
"Cassidy Rowe is the epitome of what I want every Wildcat to be, she is heart and hustle. She won the Wildcat Award this summer. I know exactly what I'm getting. She's going to play hard. She's a coach's kid. She's going to make the right play. She's gonna empty her tank. I don't have to worry about anything being left in her body when she comes off the floor. But more importantly, her ability to hit the outside shot she has shot the ball extremely well, which opens up our offense."
On keeping the players ready and on having a successful season…
"I like how you're thinking success by committee. I'm with you. Let's go ahead and speak it and manifest it. But you know, we talk about it every day in practice. You have to be ready when your number is called. You have to be ready. It's going to take all of us doing our job and everyone playing to their strengths. And in order to play the pace that we want to play offensively and defensively, you are going to need a breather so the next man up so they know they have the opportunity to play which I think keeps everybody on their toes and ready."
On communication errors on the court…
"You know, offensively. One just getting the jitters out. I mean, there's something about playing in front of people versus a close scrimmage. So I expected, you know, some jitters and miscues we had 15 turnovers today, our goal is 12. One thing I talked about in the pregame is how we can cut back on some of our turnovers in the past, make the easy pass, and if it's not an easy pass, don't make it. So we'll continue to get better but still try to learn how to play with each other in front of people, so it'll be a journey."
On freshman figuring out the system…
"You know, our freshmen they're still trying to figure out the system themselves. But you know, I just told them, you know, go in one play hard. There's no experience until you get some so try to give them some game experience today. Both are still trying to get in elite level shape as they were kind of in and out this summer. But you know, Janae [Walker] brings us another big body. She can rebound. She can score around the rim. The game is moving really fast for her but that's most freshmen at this time. Jordi [Griggs] is still adjusting, swinging her to the fore as of right now, so still trying to adjust to a new position. But we're gonna need both of those freshmen. And it just takes time to learn. It's a learning curve for every freshman."
Player Quotes
#13, Ajae Petty, F, Sr. 
On her teammates making cross-court passes…
"It makes me happy because it feels good to have a point guard looking for you when you're running. It makes me want to work harder because I know she's working hard for me. That goes back to how the team has a great connection. You're playing for the other person beside you and not just yourself."
On what was the most impressive thing about Kentucky State's performance …
"The most impressive thing is that they didn't give up. They were a great team and they kept fighting."
On what adjustments she made when she was double teamed…
"Just learning how to play with my guards. Getting them into the passing lane so I can watch them and give them the ball. That's an opportunity for other people to score. Knowing that they are coming to double me, I can kick the ball back to Saniah (Tyler) who has been doing well with the way she has been shooting. I can get the ball to her, Maddie Sherr or BK (Brooklyn Miles), or any of the guards that are on the floor."
#0, Brooklynn Miles, G, Jr.
On how you think the close relationship of the team translates to on the court…
"First of all, trust. The trust part and the question of do we all trust each other is a big part. It makes it way easier to communicate whether it's me talking to [Ajae] Petty, or [Ajae] Petty talking to me. It makes it easier to receive things when we are on the same page and enjoy being around each other."
On have you been challenged to be a floor general or leader on offense for this team…
"That is basically my role. I like seeing my teammates success. I am not worried about myself as much. I like giving the ball to other people and letting them have the shot."
On your feelings today playing against Kentucky State since you grew up in Frankfort…
"All the little kids were yelling my name. It feels great, that's my hometown. Kentucky State is where I'm from, my grandma lives right down the street. So, it means the world to me to be able to have an impact on little girls, little boys, whoever it is. It just means the world."
On how important Zennia Thomas's defensive contributions to the team is…
"She's super important. We need her to defend all the time. Defense is important to the whole team. The whole team needs to be good at defense and place emphasis on defense. Defense creates offense."