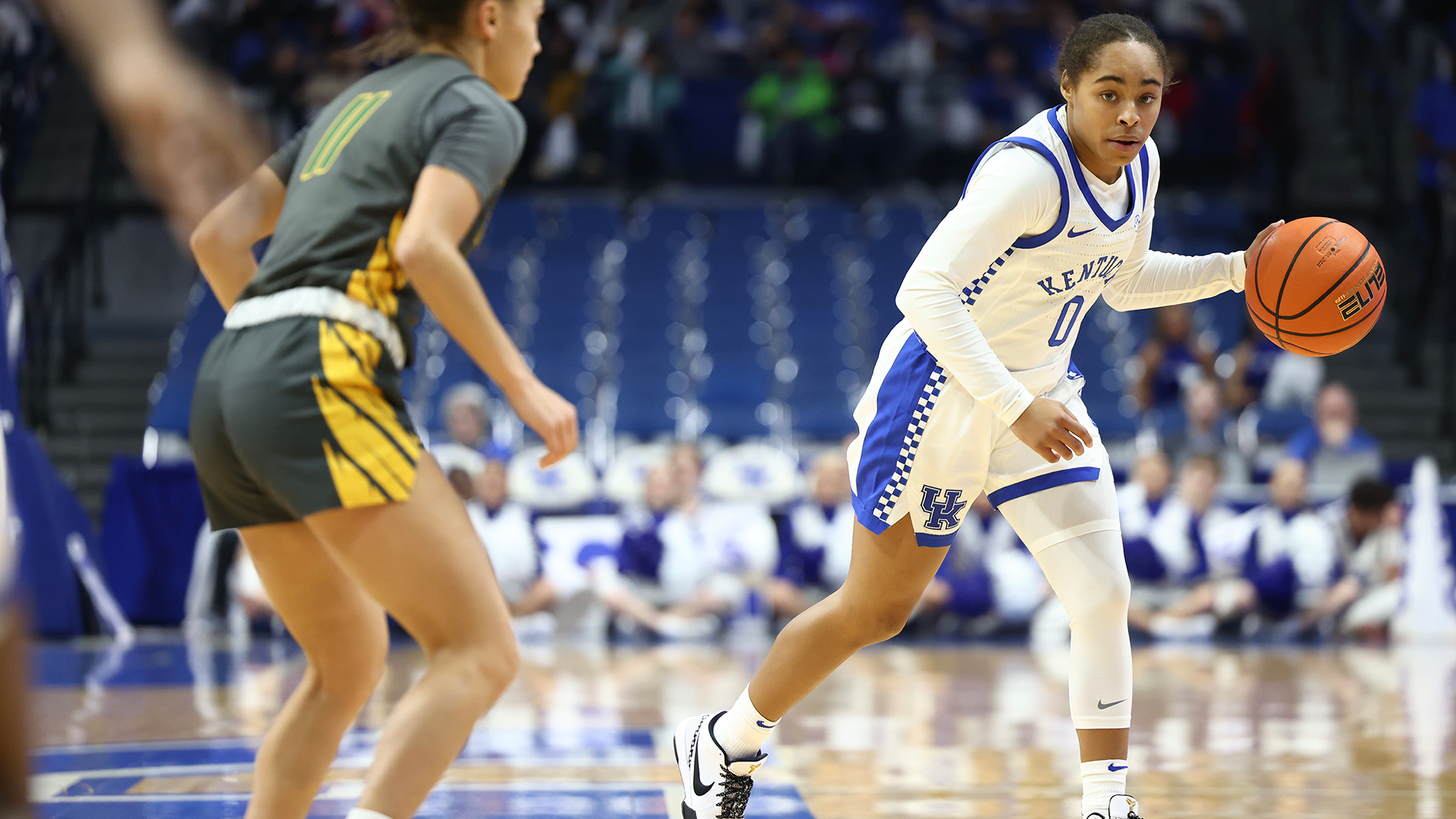 November 1, 2023 - 02:02 PM
Cats Make Strides in Exhibition Win Over Kentucky State
Exhibition games are played so that teams can put into action items that have been worked on in practice. These exhibitions also allow teams to test themselves against (usually overmatched) outside competition.
Thus was the case on Wednesday for the Kentucky women's basketball team. The Cats hosted Division II Kentucky State inside Rupp Arena with a goal of getting better.
The Cats did some things very well on Wednesday (54.2 percent shooting on field goals, 56 points in the paint) while other areas of the attack still need to be improved (15 turnovers, only three made three-pointers). In the end, the Cats prevailed 88-71, but there was still plenty to clean up, according to UK head coach Kyra Elzy.
"I thought we missed some rebounds early, gave up some easy drives," Elzy said. "Missed some rebounds (that's) why you need to put two hands on the basketball and grab it and that's something we can go back and watch on film. I thought we were trying to get set up in our offense early instead of running our transition attack. Once we settled in there, we were able to have some easy scoring opportunities."
Ajae Petty was the biggest, and best, player on the floor Wednesday. The senior from Baltimore racked up 19 points and pulled down 13 rebounds. The new and improved Petty made eight of 10 from the field in the game, making her first eight attempts. Petty impressed her head coach yet again on Wednesday.
"Ajae Petty is just a different player this year," Elzy said. "She's committed to getting in shape. She's changed her mindset, she's open to coaching and it's really paid off. She's playing with a chip on her shoulder and we need her to stay right where she is."
Turnovers are always key and Elzy thought her team had a few too many on Wednesday. But she is providing guidance to her team how to cut that number down.
"We had 15 today, our goal is 12," Elzy said. "One thing I talked about in pregame, how we can cut back on some of our turnovers – meet the pass, shorten the pass, make the easy pass. If it's not an easy pass, don't make it."
Kentucky figures to have two standout players this season (Petty and senior guard Maddie Scherr) and the rest of the lineup spots will be filled by committee. Elzy knows that everyone on the team must be ready when it's their turn to contribute.
"Success by committee, let's go ahead and manifest it," Elzy said. "We talk about it every day in practice, you have to be ready. When you're number is called, you have to be ready. It's going to take all of us doing our job and everyone playing to their strengths. In order to play the pace we want to play offensively and defensively, you are going to need breathers, so they know they have the opportunity to play, which I think keeps everybody on their toes and ready."
Now, the Cats and the UK coaching staff will have game tape to watch, break down and use as teaching moments before Kentucky opens its regular season against East Tennessee State on Tuesday. That is one of the purposes of playing exhibition games.