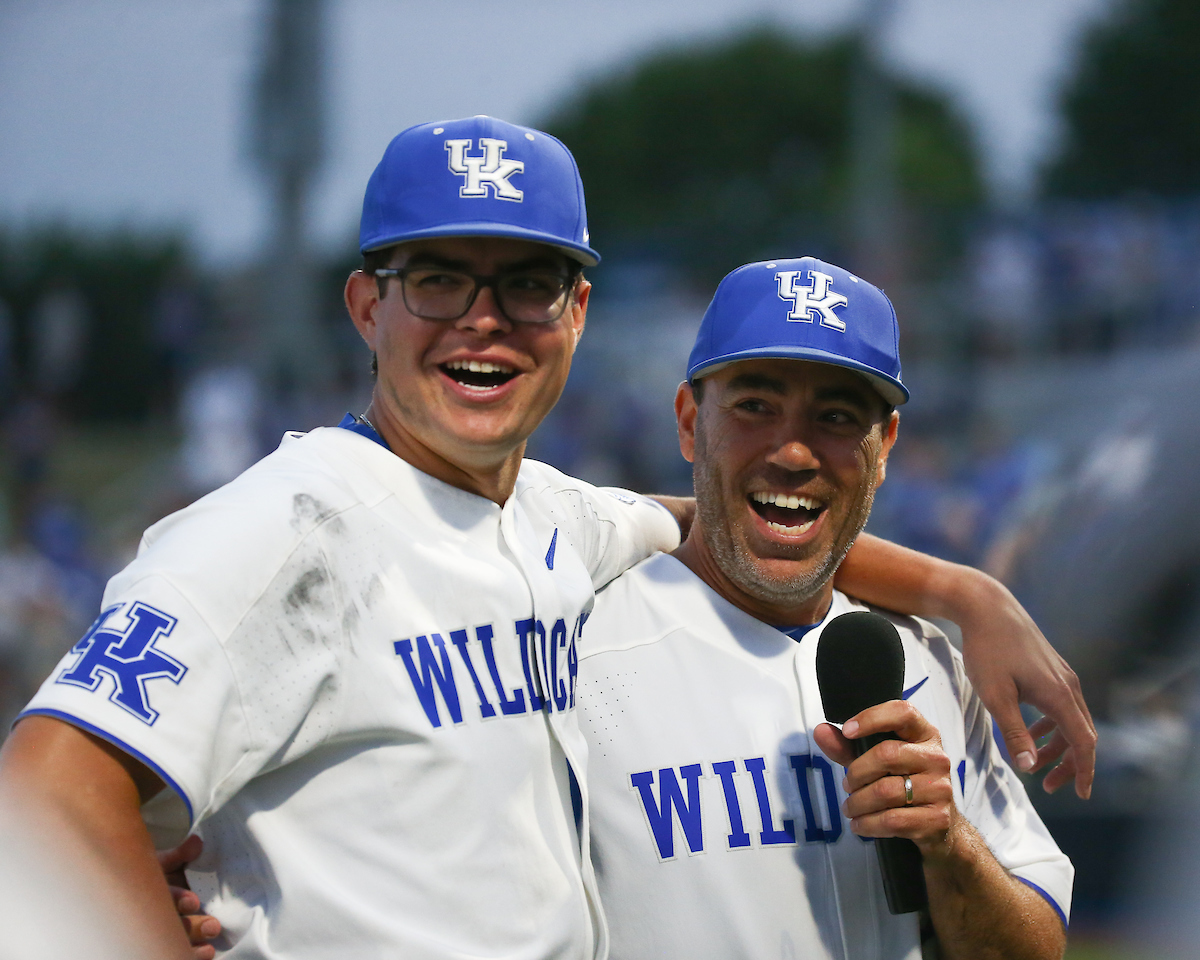 Kentucky baseball coach Nick Mingione has signed a contract extension that will run through the 2028 season, the school announced. He has directed two of the most successful seasons in school history with a pair of NCAA Regional championships and two 40+ win seasons in seven seasons. There had previously been just five such campaigns in the program's 100-year history.
"My family and I are excited and thankful to continue building a championship baseball program at the University of Kentucky," Mingione said. "This is a testament to the players and staff over our seven years here and those who came before us."
"I appreciate Mr. Barnhart and Dr. Capilouto for the opportunity they have given me to lead our young men as students, in life and in baseball. The Big Blue Nation has embraced Christen, Reeves and me in truly remarkable fashion and we look forward to the years ahead."
The Cats are entering their eighth season under head coach Nick Mingione and have won 216 games during his tenure, including last spring's 40-win season that ended in the Super Regional at eventual national champion LSU. It was just the second NCAA Regional championship in program history.
Mingione currently ranks third on Kentucky's all-time wins list behind the legendary Keith Madison and Gary Henderson and has the second-highest winning percentage (.590) of any coach who spent at least 100 games as the Wildcats' head man. He has had 36 players selected in the Major League Baseball Draft and 11 all-americans.
The Cats also have been dominant in the classroom, having 31 players receive SEC Academic Honor Roll and First-Year Honor Roll in 2018, eight more than any other school in the conference. Zach Logue was named the SEC Scholar Athlete of the Year in 2017, Troy Squires won the prestigious Senior CLASS Award in 2018, the first Kentucky player to do so, and Marshall Gei was First-Team Academic All-America in 2019. T.J. Collett then became the second Wildcat in four years to win the Senior CLASS Award when he was honored in 2021. UK also has had an Academic All-American in four straight seasons.
In seven seasons, the Cats have had a conference-best 233 players earn All-SEC academic honors, including a league-high 34 in 2020 and 39 in 2021. The program has earned the ABCA's prestigious Team Academic Excellence Award, which requires a cumulative team grade point average of at least 3.00, each of the 2018, 2019, 2020, 2021, 2022 and 2023 seasons, the only school in the SEC to accomplish that feat.
With the NCAA Tournament being canceled in 2020 due to COVID-19, Mingione has directed Kentucky to a Super Regional twice in the six seasons the NCAA has held its postseason tournament during his watch. His team has twice finished with at least 16 victories in the rugged Southeastern Conference, which has happened a total of seven times in school history.