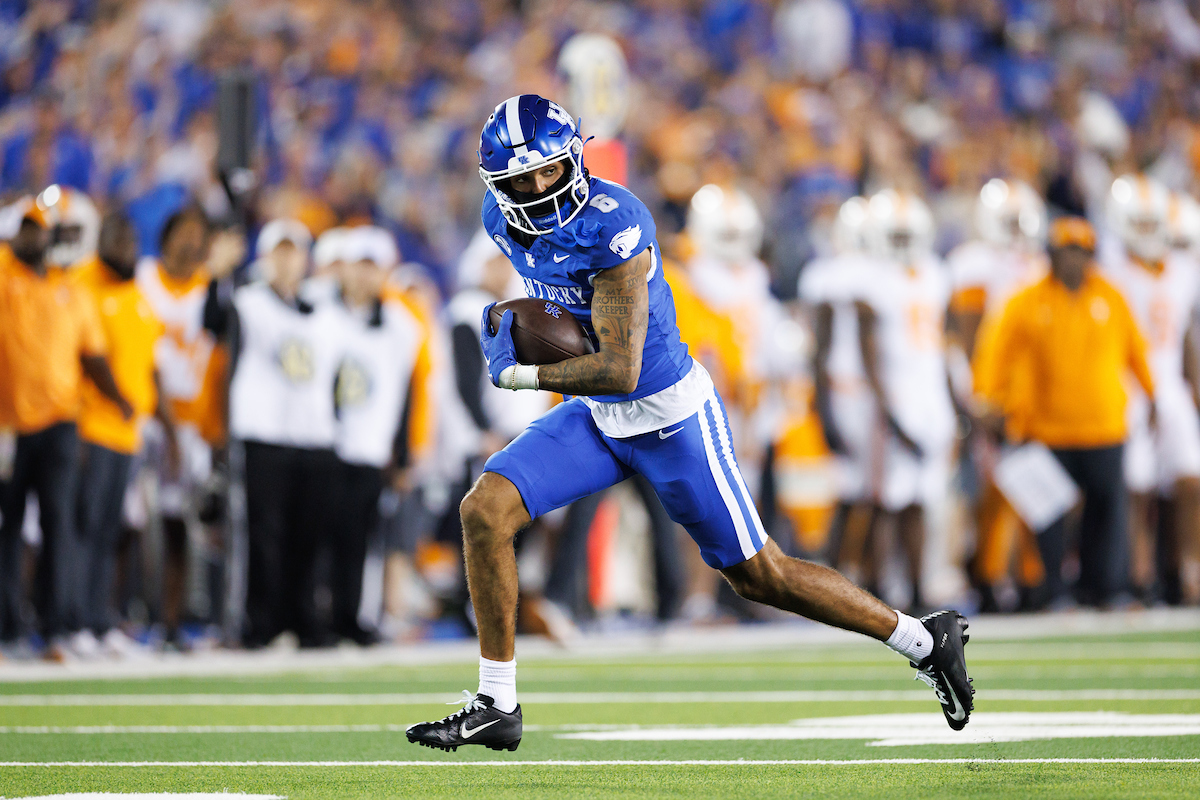 After not getting big production from the passing game in five straight contests, the Kentucky offense got things going through the air on Saturday night. Quarterback Devin Leary had a season-high 372 yards passing and wide receiver Dane Key had his best game of the season.
Still, it was not a complete game on offense. While the passing game showed marked improvement, Tennessee did a good job of shutting down Kentucky's running attack. Ray Davis had 42 yards on 16 carries to lead UK, which accumulated just 72 yards rushing in the game.
Offensive coordinator Liam Coen was pleased with the improvement in the passing game. But Coen still wants to see what would happen if the Cats played a complete game.
"There was still some things in the pass game that we needed to improve and do better at," Coen said. "But it was the run game and the efficiency there that we lacked. That's the message. That we still have yet to put four quarters of balanced, Kentucky football together on offense.  We've done some really good things in specific areas. But we haven't put it all together yet and that's the goal.
"We've run the ball well in specific games and we showed last week that when we're doing all the right things and we're playing at a high level that we can throw ball well," Coen said. "So now, how do we put it all together. That's the challenge going into this week in Starkville."
What can Coen, the offensive staff and the players do to gain the type of balance that everyone wants to see?
"When you make progress, the kids see it is process over results," Coen said. "And the result will come when we all deserve it and we do it the right way. The ball bounces our way, we make a couple of more plays, we make some better calls, the results will come."
This week, Kentucky visits Mississippi State, which plays a unique defense. Coen has studied the Bulldogs on film and he knows that MSU will pose a big challenge.
"It's a pain in the butt," Coen said of the Mississippi State defense. "I have a lot of respect for those guys and what they've done defensively. It's a tough, weird, it's a defense you don't see every week. Different structures every play. They fly around. They play hard. It's making us work."
Coen also knows that the Cats will face a confident group of Bulldogs, who have not lost to UK in Starkville since 2008.
"Any time you have that kind of success against an opponent on your home turf, I'm sure there's some confidence on their end," Coen said. "We know what it's going to be like. You're hoping we go down there and come together as a team."
Coming together, continuing to improve and putting together a full game will give the Cats a chance to break a losing streak at Mississippi State.