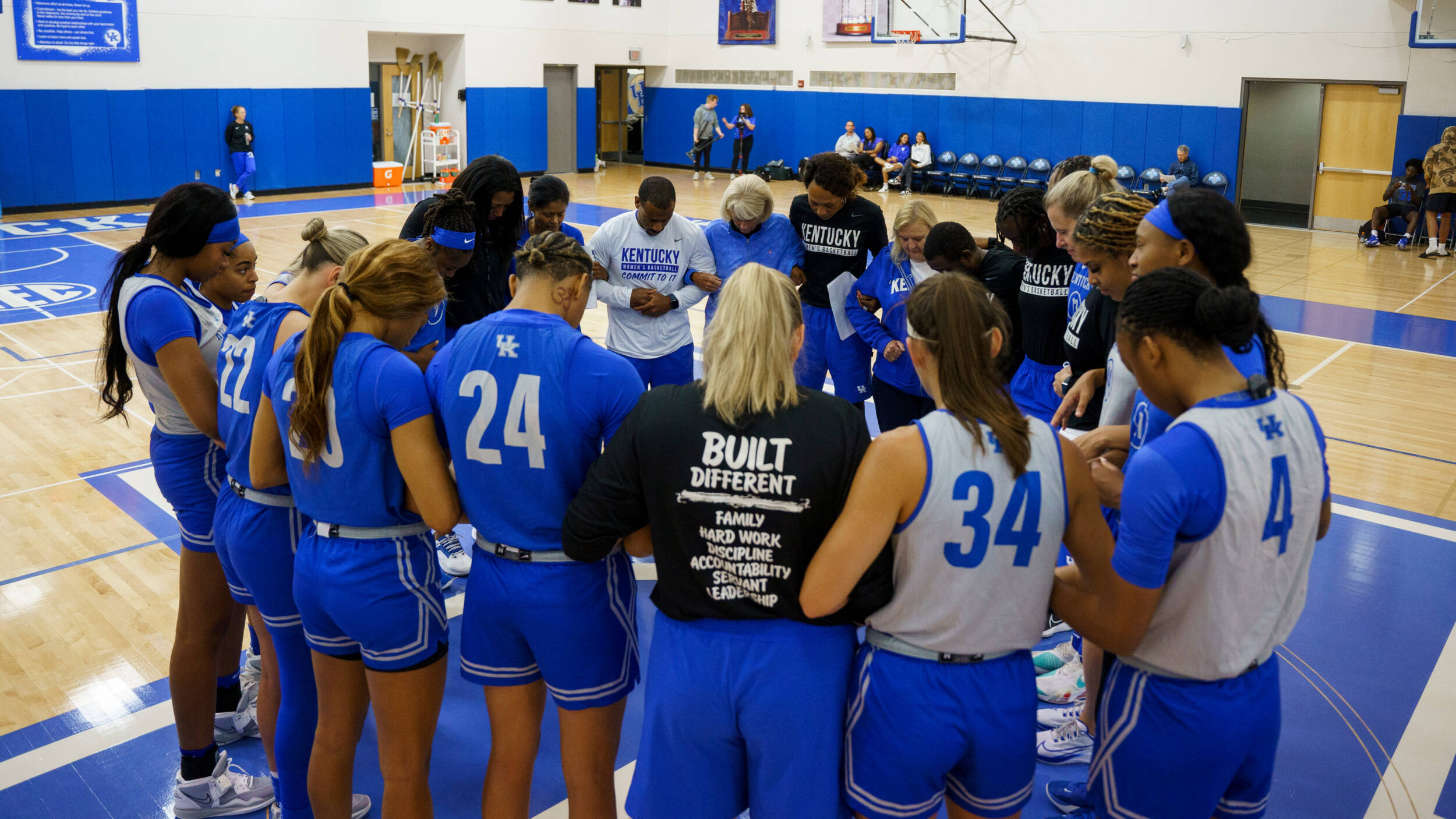 October 31, 2023 - 03:08 PM
Kentucky, Kentucky State Square Off in Exhibition Game in Wednesday Matinee
LEXINGTON, Ky. – The University of Kentucky women's basketball program will play host to Kentucky State in an exhibition game Wednesday, Nov. 1 at 11 a.m. ET at Rupp Arena at Central Bank Center. The contest, which will mark the program's annual education day, will not be televised but it will be featured on 630 AM WLAP and on the UK Sports Network.
The Wildcats are entering their 50th season of varsity basketball, which began in 1974-75 under then-head coach Sue Feamster. Throughout the season, regardless of location, the program will acknowledge and honor the impressive people and the memorable moments that influenced its rich history.
Kentucky will sport a roster that includes 12 players, nine of which are returning from a season ago. UK welcomed three newcomers in 2023-24, too, including freshmen Jordy Griggs and Janae Walker and Tennessee junior transfer Brooklynn Miles.
Of the nine returners, two were regular starters last season. One of those, Nyah Leveretter, is currently inactive because of an ACL tear that occurred last February. The other, Maddie Scherr, rejoins the Blue and White as the team leader in rebounds (5.1), assists (125), blocks (32), three-point percentage (37-110, 33.6%) and free-throw percentage (80-87, 92.0%).
In fact, the senior guard from Florence, Kentucky, set the school record for best free-throw percentage in 2022-23. In the process, she also set the school record for consecutive free throws with 39 straight in the midst of last season.
The Wildcats made several markings in the fact book in 2022-23, including earning 132 blocks last season, which is the ninth-most in a season in program history. Scherr made six of those blocks in a triumph against Alabama in the Southeastern Conference Tournament Second Round, which set a program record in tournament action.
The Blue and White also set a school record for the most points scored in the fourth quarter in program history, racking up 33 against Ohio on Dec. 21, 2022.
Kentucky earned a 12-19 record overall and a 2-14 record in the SEC in 2022-23, while it made another historical run in the SEC Tournament. There, Kentucky, the 14th seed, became the highest seed to reach the quarterfinals after defeating No. 11 Florida in the first round and No. 6 Alabama in the second round. Also after Kentucky defeated Alabama in the second round, head coach Kyra Elzy owned a 7-1 record in the SEC Tournament, which tied Melanie Balcomb of Vanderbilt for the best eight-game start for a head coach in SEC Tournament history.
Big Blue Nation is encouraged to stay up to date with the nonconference schedule promotions and game themes. For the Kentucky-Kentucky State exhibition game, the promotions and game themes are as follows:
PROMOTIONAL(S) / GAME THEMES
Free admission to all fans; no ticket required.
Education Day: UK Athletics is thrilled to welcome 5th graders from across Central Kentucky. In conjunction with Education Day, UK Athletics also will provide classrooms with basic college-prep information.
FAN PARKING
Big Blue Nation may park in the High Street lots beginning three hours prior to the tip time, with free parking provided to all fans attending the women's basketball exhibition game.
For more information on the Kentucky women's basketball team, visit UKathletics.com or follow @KentuckyWBB on Twitter, Instagram and Facebook.