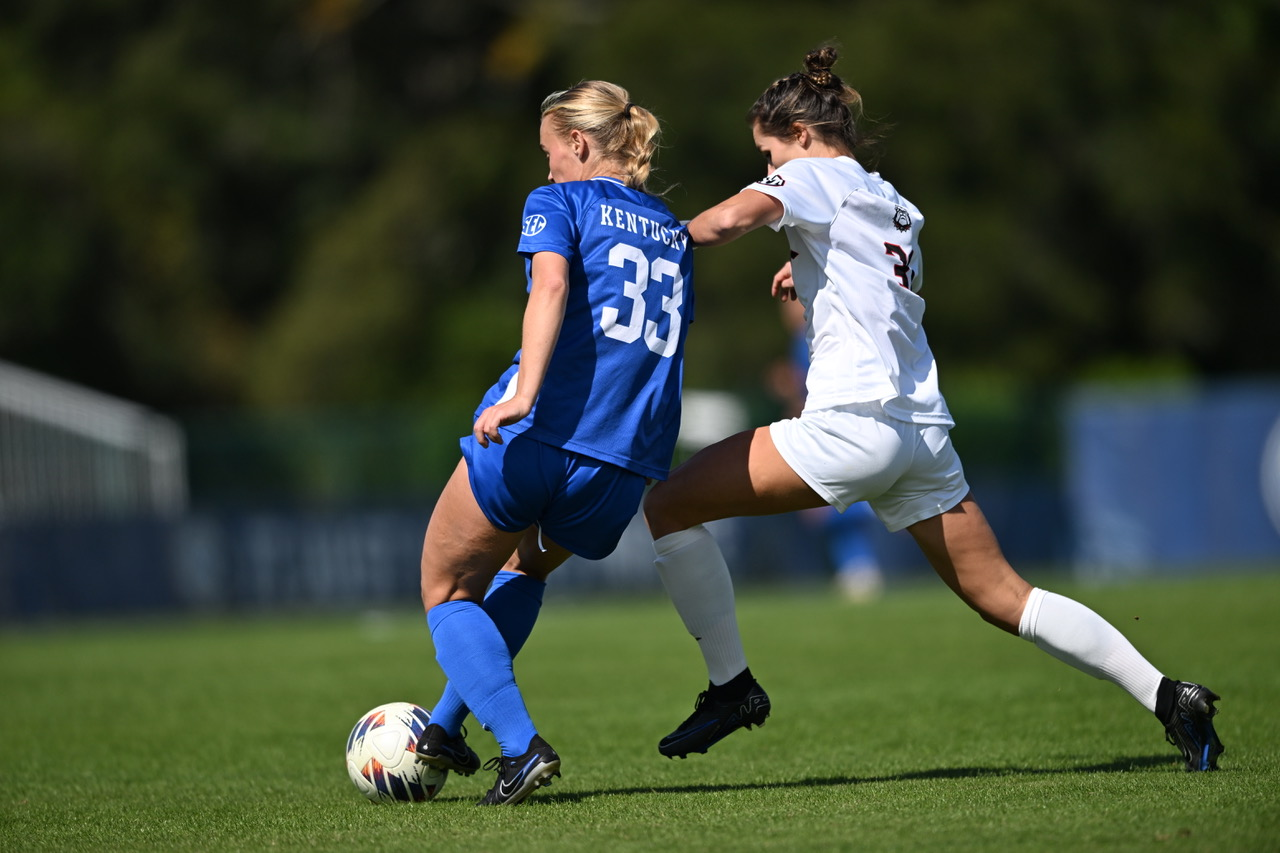 October 31, 2023 - 04:58 PM
Kentucky Falls Short in SEC Tournament Quarterfinal
PENSACOLA, Fla. – Kentucky women's soccer (9-4-6) ended its SEC Tournament run in the quarterfinals with a 2-1 defeat vs. the No. 2 seeded Georgia Bulldogs (9-4-5) on Tuesday at the Ashton Brosnaham Soccer Complex.
Kentucky took an early lead in the 2nd minute on a PK goal from Úlfa Úlfarsdóttir, her sixth goal of the season. A corner kick of Grace Phillpotts found the head of Jordyn Rhodes, who directed the ball on target, where it struck the hand of a Georgia's Summer Denigan on the goal line, resulting in a penalty kick. Úlfarsdóttir made good on the opportunity, burying her third penalty of the season into the bottom left corner. The play also resulted in a red card assessed to Denigan, leaving Georgia with 10 players for the remainder of the game.
The Wildcats maintained their one-goal edge through the 63rd minute when Georgia's Croix Bethune equalized matters, scoring her second goal of the year off a cross from teammate Mallie McKenzie.
Georgia followed that up with a second goal in the 80th minute when McKenzie combined with Nicole Vernis on a give and go to give Georgia the lead.
Kentucky mounted some pressure in the final moments with two shots on goal in the 89th minute. Úlfarsdóttir tested UGA keeper Jordan Brown with a right-footed shot from the left corner of the box, producing a rebound chance for Mia Bookhard that was swallowed up by Brown.
For the day, Kentucky put six shots on goal compared to seven for Georgia. Rhodes and Úlfarsdóttir each had two efforts on target to lead the team.
The Wildcats now await the NCAA Tournament Selection Show, hoping for an at-large bid next Monday at 4 p.m.
For the latest on UK Women's Soccer, follow the Wildcats on X and Instagram at @UKWomensSoccer, on Facebook and on the web at UKathletics.com.