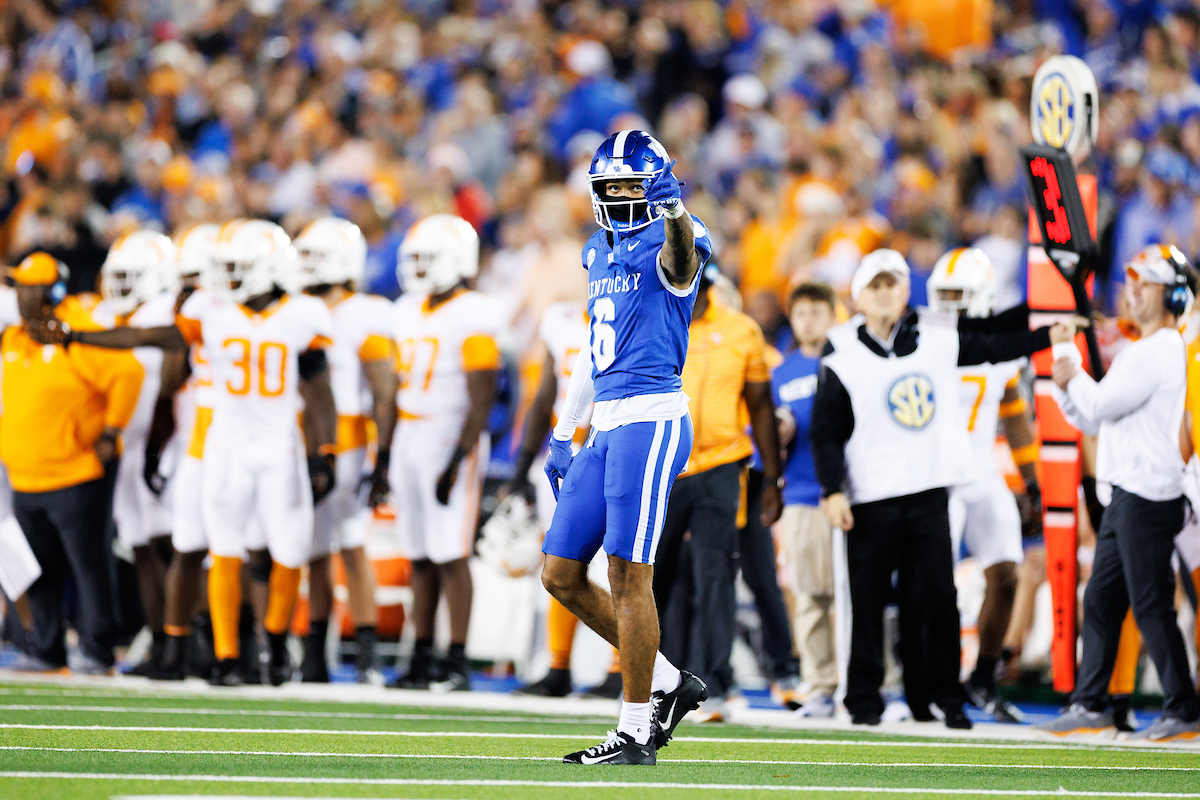 Going on the road in the Southeastern Conference is always a challenge. Playing at the home of a conference opponent, especially in the nation's best conference, comes with a number of obstacles.
That's one part of what Kentucky will face this week as the Cats visit Mississippi State in Starkville on Saturday night (7:30 p.m. ET, SEC Network). The Bulldogs' faithful will have their voices, and their cowbells, ready to challenge the Cats in prime time.
UK head coach Mark Stoops knows what lies ahead for his team this week.
"Another big challenge, going on the road this week, playing Mississippi State," Stoops said. "Traditionally, we have had a tough time down there. So we have to get that fixed and have great preparation this week. It's another SEC team on the road. Going on the road is really not easy. They have a passionate fan base, they have a team that's always long and physical and it's a hostile environment. We've always had good games with them."
The series between the Bulldogs and the Cats is always very competitive. In fact, the two teams have evenly split 50 all-time matchups. In the last eight meetings, the teams have split games, with the home team winning all eight. The last time a road team won in this series was in 2014 when Dak Prescott led No. 1 MSU past Kentucky 45-31 at Commonwealth Stadium. Kentucky's last win in Starkville came in 2008.
In addition to visiting an SEC rival on the road, Kentucky is preparing to deal with two completely different quarterbacks who could play for the Bulldogs. Will Rogers was the starter at the beginning of the season, but he has missed the last two games. Mike Wright has played in all eight games this season for MSU.
Mississippi State runs its offense in two different ways, depending on which quarterback is in the game. Rogers is more of a traditional pocket passer while Wright, who had a huge game against UK last year when he was at Vanderbilt, is more of the running quarterback. Stoops knows the Cats have to be prepared to defend them both.
"I don't know if it will be (Wright) or Will," Stoops aid. "We have to prepare for both. Two different quarterbacks. With Will, he's seen everything. He's seen pressure, he's seen it all. With Mike, it's very different. There's so much eye candy going on and so much in their run game that you have to be very precise. And you have to commit a lot with a quarterback who can run the ball but can also hit you down the field. Different obstacles there with the different quarterbacks."
Stoops said that his team is focused on itself this week as the MSU challenge lies ahead. When asked what the focus is for this week, Stoops looked inward.
"I think the big thing for us is to continue to focus on that improvement," Stoops said. "I look at the preparation, did we have a good plan, were they ready to play. They have been working really hard. We need to stay on that path."
Another part of the game that Stoops is looking for is more offensive balance. Devin Leary and the pass game looked good against Tennessee but the running game was not quite as effective as it has been.
"I'd like to see us have more balance than we did in this game," Stoops said. "I think we have to have that balance and we didn't have it this past Saturday."
The focus on improvement and the quest for more balance on offense will be agenda items for the Cats in practice this weekend. It's a week that ends with a tough trip to Mississippi State and preparing for two different quarterbacks. Or what's simply known as another challenging week in the SEC.