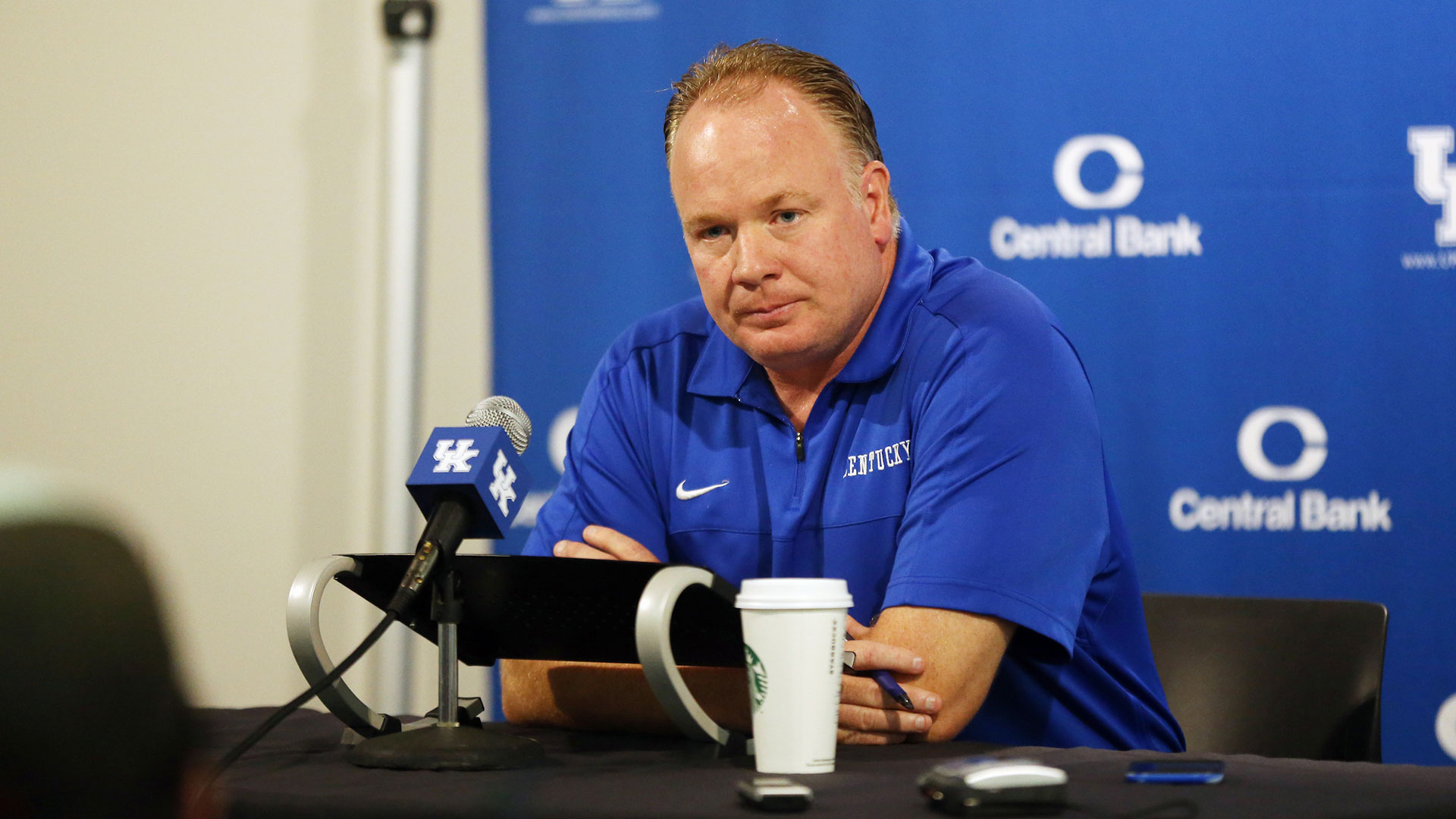 Mark Stoops News Conference
Post-Tennessee, Pre-Mississippi State
Oct. 30, 2023
Opening Statement…
"Again, another big challenge here this week, going on the road, playing Mississippi State. Traditionally, we have had a tough time down there, so we have to get that fixed and have great preparation this week and go on the road and get an SEC victory. It's tough to do. It's a very physical football team, veteran offensive line. [They are] very physical on both sides of the line of scrimmage. It always starts there. [Mississippi State is a] very good team and will be another big challenge.
"As I mentioned postgame, [against] Tennessee, we had our opportunities, Very proud of the way our team prepared, the way we competed, the way they fought. Did some really good things in that game and improved in some areas that we needed to improve in. We have to build on that now. There are always a few plays, a couple series, some things that determine close ballgames. You have to find the recipe to make those plays and put them in the right position to win those type of games."
On losing three in a row in 2021 and then turning it around – any lessons to apply…
"I hope so. I think the big thing for us is to continue to really focus on that improvement. There's a million ways that—you get tired of hearing about (them), we talk about all that, doing those things but it's true. For me, I look at the preparation: did we have a good plan, was the team ready to play, are we in a good mindset. Hopefully, our team will continue that because they have been working really hard. We need to stay on that path."
On what hurt Kentucky against Tennessee after watching the film…
"There's several things. You heard me talk about and my team has heard me talk about this many times. There could be several—any one play could determine the outcome of the game. It's not always the most obvious one because there's plays out there, as we watch the film, there are things there. I think there are a few series in there that bother me. We had a chance for a defensive stop to not let them go up two scores and we let that slip away. We had two opportunities in the high red (i.e., generally around the 30-40 yard line) that we did not get anything from. We didn't convert the short yardage early—the third and short, the fourth and short. Both of those were critical as well in me going for it. I don't know if there's any—there's always plays and series that definitely kind of weigh on you, but I hate to put it on any one thing."
On how you think the defense did against the Tennessee run, other than the one long run…
"Just ok. They create some problems, as we talked about leading into it, with how fast they go with the tempo. They're a little more complex than you would think in the run game with formation, boundaries, and certain things with the tempo. We weren't always precise when it goes very fast. It's a physical group as well. Their O-Line is very physical and their backs are very talented."
On if you have received clarification on the Tennessee catch on the sideline late in the first half…
"I did. I turned it in. I have not heard back from them yet and, when I do, I cannot tell you (laughter from media), whether it is to my liking or not. There's no transparency there with the outside world, or I will be fined, even if I say it in a calm manner. Can't do it, I can't say anything."
On the three-and-out to start the second half…
"The three-and-out was critical to start the second half. It was really big. We held them to the field goal at the end of the first half. There, we had an opportunity to get off the field, possibly, but didn't happen. (It was) better. I don't have the drive chart here. I don't remember if we scored on the first possession of the second half or not."
On how you project Devin Leary to perform at Mississippi State…
"I hope that Devin builds some confidence from this (Tennessee) game. As an offensive unit, for a team that was so disruptive going into it, I thought our offensive line, our group, our plan was very good as far as protection. I want to say they had one TFL (tackle for loss) and one sack, for a group that was very disruptive. You think about Mississippi State defensively and you think about them the same way. Very disruptive guys bringing a lot of different pressures. In a hostile environment, we have to do a great job of making sure we have a great plan. Protect him [Leary] first. I'd like to see us have more balance than we did in this past game. For us to be successful — and you've heard me talk about it for so long– here's a game where Devin throws for 375 yards, but we don't rush the ball effectively and didn't win the game. Tennessee ran the ball effectively and the outcome was on their side. I think you have to — whether it's perfect or whether you always have to be above in the run yardage, I'm not saying that— but we have to have an identity of being physical and have that balance and we didn't have it this past Saturday. Hopefully, we'll continue with the protection, we'll build on some of the pass game. I was very pleased with the unit, with the plan, with the receivers competing, with the receivers making competitive catches to help the quarterback. I thought Devin played a good game."
On if Tennessee wanted to make Kentucky beat them in the air and how difficult it is to run when the opponent is stacking the box…
"They are stacking the box, they're physical guys, they're disruptive up front. We knew that going into it. There are things that we can do better. There are areas where we weren't as good as we've been. We need to do a better job there. Even as we've talked about before, maybe there's some holes where there's three, four (yards), as opposed to zero. Those are some little things that you don't always see. There are some areas to improve in the run game."
On if the receivers were doing anything different against Tennessee to make as many catches as they did…
"I just think the work that you've heard me talk about for three weeks now, about really just getting on the same page in practice and the receivers working hard at the line of scrimmage, (getting) some confidence back with the quarterback and wide receivers, they are going to get open. I thought that Devin (Leary) gave them some opportunities as well. It is just like Barion's (Brown) 50-50, he gave him a good chance to go get that football. Other times, Dane (Key) made some good moves at the line of scrimmage. got open. We had the protection, it was clicking as far as protection. I think it starts with protection and then the receivers have been working really hard. I would like to see them continue on that path and you will see some improvement from our offense."
On eight players catching passes against Tennessee…
"I think it is really important and we got more plays. With that, you are going to see guys get touches. How many times have we talked about that? It starts with getting first downs. I want to say it was tied in that game and you are playing a Tennessee offense that you know is hard to stop. They had 24 first downs, if I am not mistaken, we had 24, we were dead even. So for us, 24 first downs, you are going to get plays, you're going to get guys getting touches, you're going to get yards and all those things. As I mentioned, you put a little more balance in there and you have done some good things."
On what has made Starkville a tough place to play…
"I just think that it's another SEC team on the road. How many times – I mean, you cover us and I see you there in your same spot every week – but if you listen to every SEC coach, it's probably the first thing they are going to say. Going on the road and winning in these venues is not easy. We had a great atmosphere here this past Saturday. I wish we could have delivered the victory for such a great crowd. It was a great atmosphere and a tough place to play and that is what we need and Starkville is the same. They have a passionate fanbase and they have a team that is always long, physical, play very hard and it is a hostile environment. We will have our hands full but that is what you have to prepare for."
On Mississippi State quarterback Mike Wright (who played for Vanderbilt last season)…
"I think that he is a guy that is in, obviously, a different system, but with a guy like Mike, he is a type of guy that can hurt you at any given time with his legs. Whether it is on schedule with design quarterback run or reads, and then just pulling it down and scrambling, can create plays as well. He is a guy you have to keep in the pocket. He is a guy that, much like last year and this year, you see signs of down-the-field passing and he can definitely throw the ball. They are building on that. They always have some playmakers at wide receiver as well. He is growing. You are seeing their offense grow with him under center. I am not for sure 100 percent if it is going to be Mike or if it will be Will (Rogers). They are very different players, obviously, we will have to be ready for all of it."
On what makes Mississippi State's home atmosphere so unique…
"It is just a tough environment. It is a tough environment. Give them credit, we have always had good games with them, always tough, physical games. It is one of those games. It is a team that we play every year and we know each other pretty well and know the personnel. I have a lot of respect for them, they are a tough group."
On Kentucky's defense on "off-schedule" (scrambling) throws against Tennessee…
"I thought that we were better outside of that one that (Joe) Milton really hurt us, when he got outside there and threw it and we dove for it. No. 1, we were plastering to him. We have to get him down. We can't go for a PBU (pass breakup) and let it turn into, whatever it was, a 45-yard gain instead of a 10-yard gain or 12-yard gain. That's No. 1. You can never go for the ball, unless you are going to get the tackle, especially in the middle of the field. That's one I remember off the top of my head. There probably are others. I thought we did a decent job of keeping a quarterback like him in the pocket. They did a nice job. We brought pressure one on third down and got him, sacked him. Then, the next time they hit the back with a nice play and leaked him out on us, anticipating some pressure. Is there any one thing? I think you have to plaster and keep him in the pocket. We have to be very aware of staying with our men at all times, because those type of guys can buy all kinds of time."
On the defense's front seven improving after Tennessee game…
"It is always an emphasis. I think any time, you want to try to disrupt the quarterback. If you are talking this week or last week – last week, a guy like him, they keep you so off-balance with their run game, you have to be so dialed in and precise and tight. Then, obviously, when it converts to pass you have to go. They have different variations, like everybody, quick game or there's some dropback shots. For the most part, I thought that we did a decent job in the pass game. We let them get the one, we let the scramble hurt us certain plays. This week, again, two different quarterbacks, very different. With Will (Rogers), he is a guy that has seen everything. He has seen pressure, he's seen it all, he's seen a million different coverages. With Mike (Wright), it's very different challenge, because there is so much eye candy going on, so much in their run game, that you have to be very precise in your run fits and then you have to commit a lot with a quarterback that can run the ball and he can also hurt you down the field. Different obstacles there as far as quarterbacks."
On preparing for a different MSU team under head coach Zach Arnett…
"We know what to expect going down there. The defense is pretty much the same, very disruptive, very physical. Offensively, it always starts with the offensive line and their offensive line is really an experienced group. I think they have five seniors, if I am not mistaken, and a backup or two that play that are big and strong with a lot of reps under their belt at offensive line, so that's a good place for them to start. It is very different, you know that, anytime you take a guy like Mike Leach out of the equation it is going to be different. It's a different philosophy, different style, but equally as challenging, just in a different way."
On if you saw what Will Levis did Sunday for the Tennessee Titans…
"Liam (Coen) and I were in there in the offensive staff room watching.  We have a TV behind us. When we was playing and doing well, we did, we turned it on.  Whenever they were on offense we were watching that game, when they were on defense we were going back (to UK video; laughter from media).  We are just very proud of him. What a great performance! It was a lot of fun, everybody in the office was rooting for him."
On if Levis' performance can help the UK program…
"I can't see how it can hurt, a guy like that. He looked so good back there.  He looked comfortable, just like we thought.  He's in a great place, he's going to do very well, we're very proud of him."
On if you have talked to Will Levis…
"Not yet, we just text, and he hit me back with a text. I know how that goes, you get 2001 texts when you win, and you don't get very many when you lose (laughter)."
On the morale of the team right now…
"We'll be fine. It is what it is. It is tough, they are hurting, beat up, and bruised physically and emotionally, but you get right back at it and get back to work, and I hope that they take pride in that preparation, and I think take pride in a lot of ways that carries over. Where we fell short, let's get to work on that."
On some of the young guys in the secondary against Tennessee…
"Ty [Bryant] stepped in and played fantastic against a team like that [Tennessee], with how fast they go. The way he played, he was our defensive player of the week. He had a lot of good plays, he had a bunch of production for us, how we keep tallies on production points, he had a lot of production. Did a very good job, so very pleased with him."
On if defensive challenges have been a product of playing outstanding offenses or if your defense could play better…
"Theres always a little bit of both. You know the challenges you go up against each week and we could definitely play better, and I expect this group will. We have to analyze and look at all areas and (determine) why we are falling short – is it personnel, is it coaching, is it position?  Look at every aspect and try to improve on it. This group has always played with a lot of pride, and I expect them to want to bounce back."
On if Kenneth Horsey and Jordan Lovett being out is a long-term situation…
"We'll see."