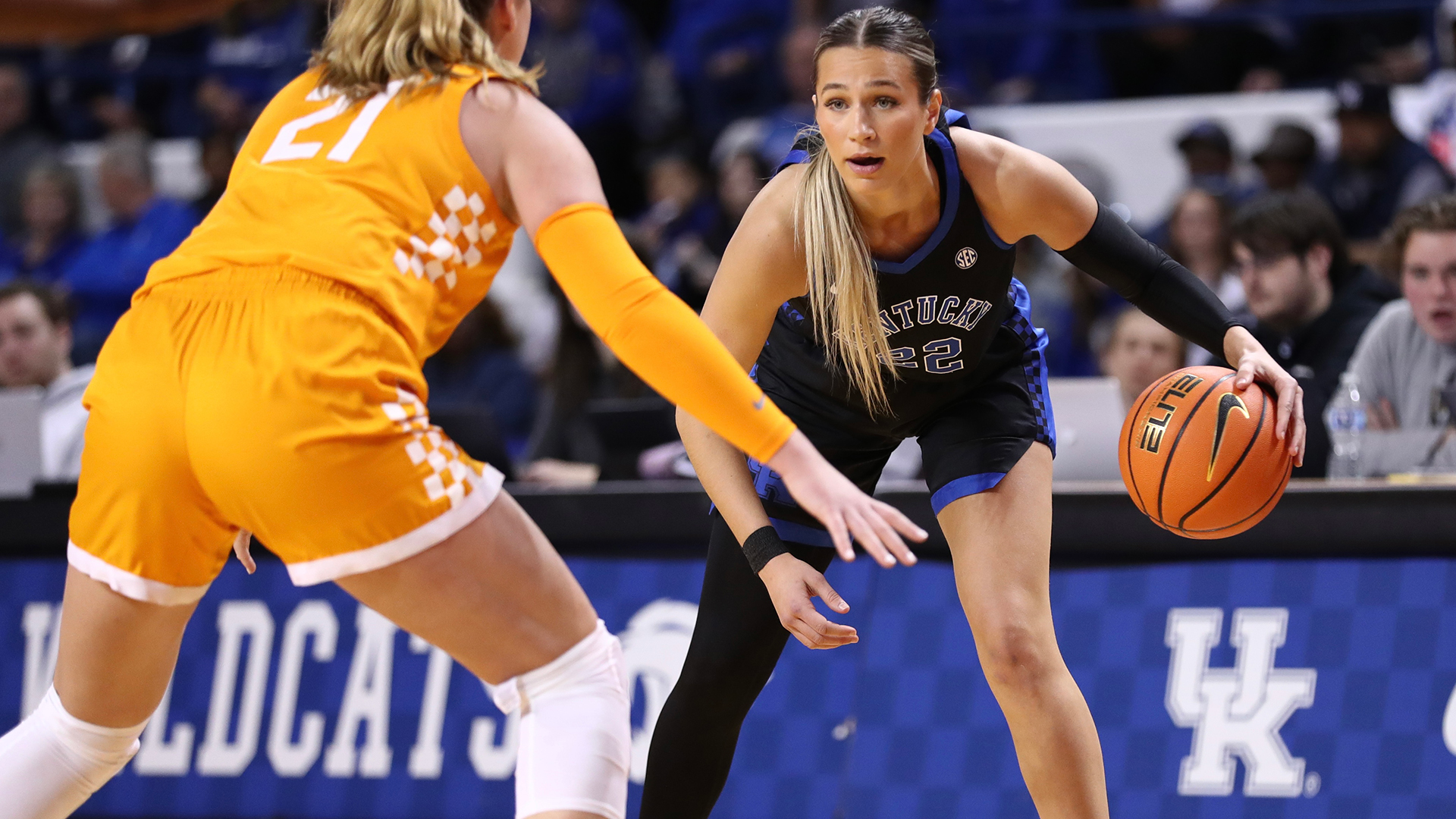 October 30, 2023 - 04:01 PM
Maddie Scherr Sure to Draw Plenty of Attention This Season
Whenever the Kentucky women's basketball team plays this season, all eyes will be on UK guard Maddie Scherr. The eyes of the opponents, the eyes of the fans and the eyes of Scherr's teammates.
Quite simply, Scherr will carry a heavy load for the Cats this season. She's the team's leading returning scorer after averaging 11.6 points per game last season. But she does so much more than just scoring. Scherr also led the Cats with 125 assists in 2022-23.
Scherr is expected to take on an even bigger role this season. It will be a challenge, but it's something that the Florence, Kentucky, native is ready to embrace.
"Yes, I'm definitely ready," Scherr said. "There's a bit more of an expectation (to score). I'm expecting other teams to know that so we're working on things to figure out what to do when that happens. I'm ready and excited for the challenge. I'm super competitive so I'll never back down."
Part of that expanded role is being even more of a leader for the team this year as a senior. Scherr is prepared to take on that responsibility.
"I wouldn't say it changes my perspective. I think my personality and who I am as a person and player, I can embrace that role," Scherr said. "I feel like I'm in a very good position this year to take on that role in terms of on the floor and off the floor. I love all of these girls and I have their backs and they have mine. They make it easy, they hold themselves accountable."
As for being asked to score more while still being a distributor of the basketball, Scherr thinks she will be able to do both.
"I think that's just part of my game. I feel like I'm a pass first player anyway," Scherr said. "I've been told my whole life that I need to shoot the ball more. So, assists, that will come naturally to me. I'm trying not to think too much about it, I'm just going out there and making the right plays and doing whatever it is that the team needs me to do to win."
Kentucky head coach Kyra Elzy knows that she has a special player in the former Kentucky Miss Basketball. Elzy is ready to see Scherr flourish this season.
"Maddie, she's a pro. Playing with a lot of confidence right now," Elzy said. "Really has found her voice and her place as a leader on this team. Looking for her to have a big year."
Much will be expected from Scherr this season. She will be expected to score, to distribute and to lead. And she will most certainly be the center of attention for her opponents, her teammates and UK fans.