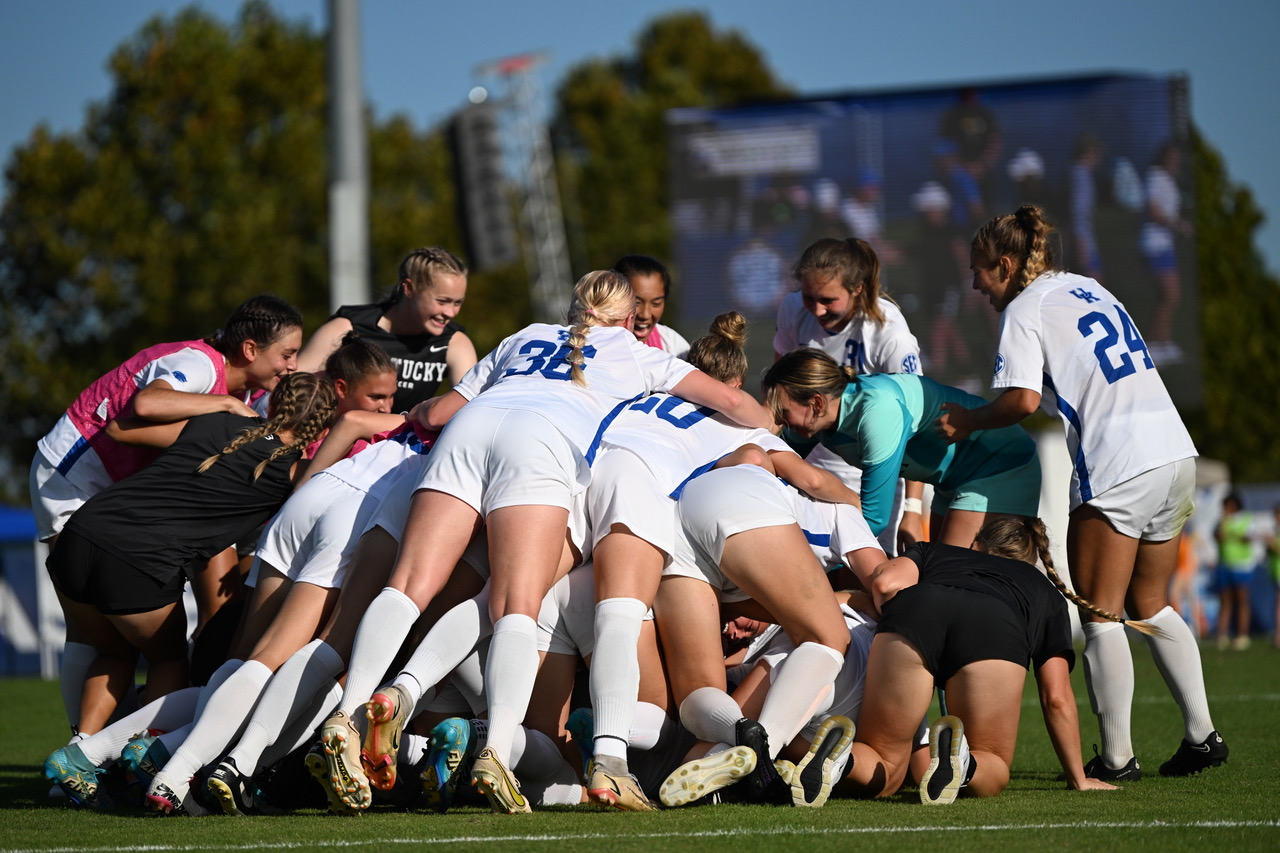 October 29, 2023 - 07:38 PM
Kentucky Advances to SEC Quarterfinals in Penalties vs. LSU
PENSACOLA, Fla. – After 110 minutes of scoreless soccer, Kentucky (9-3-6) earned a thrilling penalty-kick win in the First Round of SEC Tournament, advancing past the LSU Tigers (8-7-4) on Sunday at the Ashton Brosnaham Soccer Complex, 0-0 (4-2 PKs).
Playing a woman down from the 55th minute on, the Wildcats kept LSU off the board for the entirety of regulation and through two, 10-minute overtime periods, bringing the match to a penalty shootout. It was there that UK emerged victorious as goalkeeper Marz Josephson stopped a pair of Tigers' penalties, and four of Kentucky's five shooters found the back of the net to seal the program's first SEC Tournament win since 2014.
The Wildcats owned the attacking advantage for much of the first half, leading in total shots (6-1), shots on goal (2-0) and corners (4-0). Nevertheless, the contest remained scoreless at the intermission.
Kentucky center back, Maggy Henschler picked up her second yellow card of the day early in half number two, putting the Wildcats down a player for the remainder of the match. UK was up to the challenge, however, as Josephson made six second half stops, erasing several quality scoring changes.
The Wildcats nearly found a late winner in the 86th minute off a Grace Phillpotts' set piece which was headed on by UK's Úlfa Úlfarsdóttir to freshman Tanner Strickland at the six-yard mark. Strickland's one-time effort off the bouncing ball went over the frame, however, and the scored stayed, 0-0.
Neither side changed the tally in overtime, sending the match into a shootout, the first for UK since the 2014 NCAA Tournament.
In the first round of penalties, Iceland natives Ulfa Úlfarsdóttir (UK) and Ida Hermannsdottir (LSU) were successful with their efforts. Phillpotts followed with another successful conversion for Kentucky, before Marz Josephson made the first stop on the Tigers' Mollie Baker to give UK a 2-1 edge. Both keepers made saves in round three before the Wildcats' Maddie Eastman slotted home her shot into the bottom left corner. LSU stayed alive with a successful attempt from Sage Glover, but first-team All-SEC honoree Jordyn Rhodes ended the proceedings, burying her penalty to the left of Mollee Swift.
With overtime having been eliminated for regular season contests prior to the 2022 season, Sunday's match was the first overtime contest for Kentucky since Oct. 21, 2021. Per NCAA regulations, the match counts as a draw for record and RPI purposes.
The Cats now turn their attention to the No. 2 seeded Georgia Bulldogs for a quarterfinal matchup on Tuesday. Play will commence at 1 p.m. (ET) back at the Ashton Brosnaham Soccer Complex.
For the latest on UK Women's Soccer, follow the Wildcats on X and Instagram at @UKWomensSoccer, on Facebook and on the web at UKathletics.com.