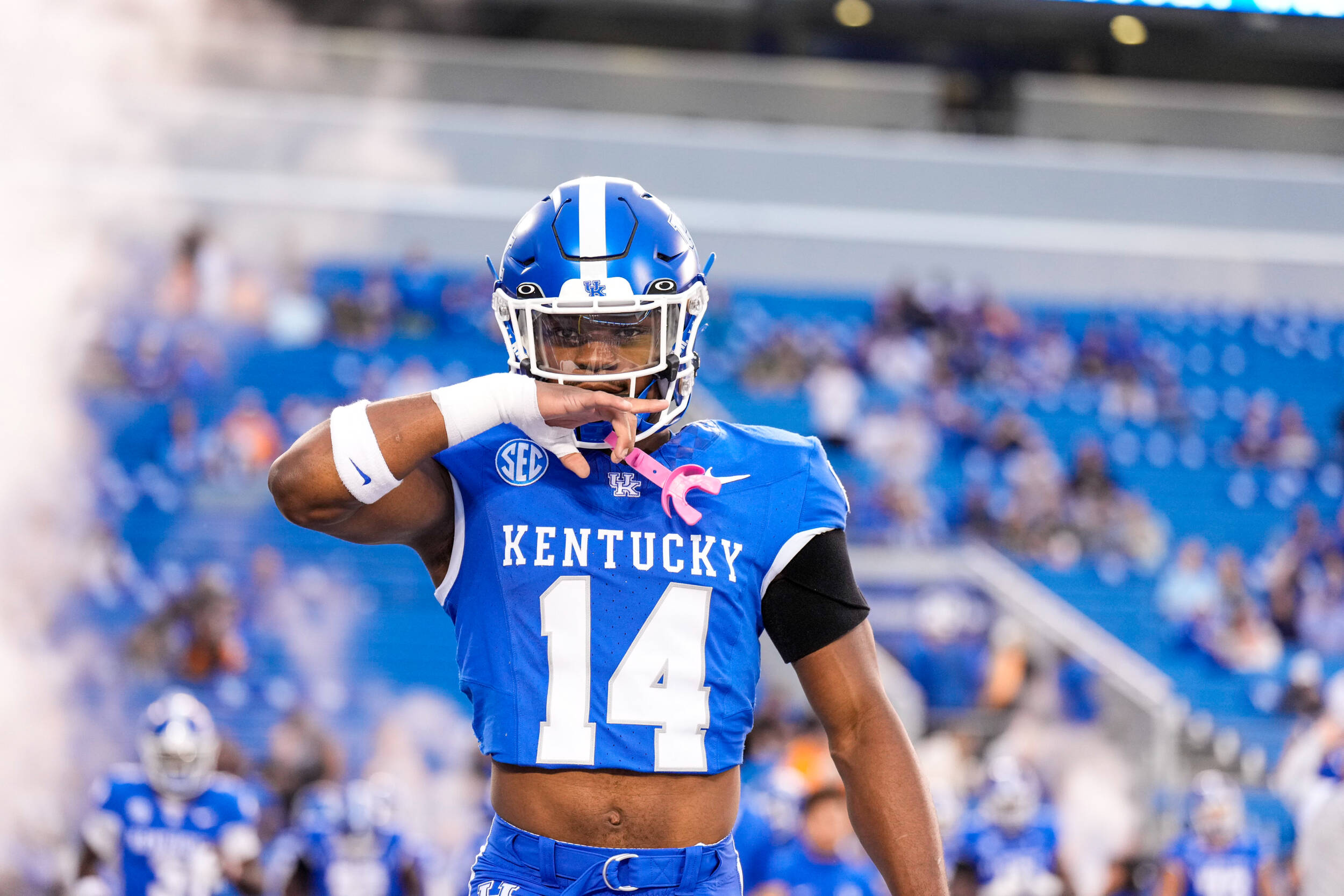 KENTUCKY FOOTBALL POSTGAME NOTES
TENNESSEE at KENTUCKY
KROGER FIELD AT C.M. NEWTON GROUNDS – LEXINGTON, KY
OCT. 28, 2023  
FINAL SCORE: No. 21/20 Tennessee 33, Kentucky 27
Team Records and Series Information
Kentucky is 5-3 overall and 2-3 in the Southeastern Conference, while Tennessee is 6-2 on the season and 3-2 in the league.
Tennessee leads the series, 84-26-9 and has won the last three meetings.

Tennessee leads in games played in Lexington, 40-15-3.

Next for UK: Kentucky plays at Mississippi State on Nov. 4.

Game time is 7:30 p.m. ET (6:30 p.m. CT in Starkville) and it will be televised on the SEC Network.
Team Notes
Kentucky's offense set season highs in passing completions (28), passing attempts (39), passing yards (372), total plays (63) and first downs (24).
The 17 points in the second quarter are the most for Kentucky in any quarter against Tennessee for any game played in Lexington.
The 27 total points are the first time UK has scored at least 27 vs. Tennessee in consecutive games since 1995 and 1997.
It marked the second time that UK has had a 300-yard passing game in consecutive home games vs. Tennessee.

The other occurrence was three times in a row — 1997, 1999 and 2001.
Player Notes
Quarterback Devin Leary completed 28 of 39 passes for 372 yards, all season highs. He threw two touchdowns with no interceptions.

It marked his second 300+ yard passing game at Kentucky and the 10th of his career.

Running back Ray Davis led UK on the ground with 16 carries for 42 yards, including a seven-yard touchdown.

Davis has scored a touchdown in all eight games this season, extending his school record as the first Wildcat to score a TD in the first eight games of a season in school history, based on single-game statistics available since the 1940s.

He is the first Wildcat to score a TD in eight straight games since Randall Cobb in 2009.

Wide receiver Dane Key had a career-high seven receptions for a career-high 113 yards, including a seven-yard touchdown receiving.

The TD reception marked his third this season and the ninth of his career.
It marked his first 100+ yard receiving game of his career.
His seven receptions are a single-game high for Kentucky in 2023.

Wide receiver Barion Brown had five receptions for 58 yards, including an 11-yard touchdown reception.

The TD reception marked his second of the season and the sixth of his career.
He improved his streak of 21 straight games with a reception, which is every game of his college career.
He has 962 career yards receiving, needing just 38 more to become the 33rd player in school history to eclipse 1,000.

Tight end Jordan Dingle had four receptions for 61 yards. Four catches tied his career high.
Running back Demie Sumo-Karngbaye had a season-high-tying three receptions for 24 yards and one carry for two yards.
In his first collegiate start, freshman defensive back Ty Bryant led Kentucky with a career-high 12 tackles.

His 12 tackles tie the single-game high for Kentucky in 2023.

Inside linebacker Trevin Wallace and middle linebacker D'Eryk Jackson had 11 tackles apiece.

Jackson added a team-high and a career-high-tying two tackles for loss (-2 yards). It is his third double-figure tackling game of his career.
It is Wallace's third double-figure tackling game of his career.

Sophomore defensive back Jordan Robinson made his first start at Kentucky.

He had started in 2021 at Livingstone College.

Kicker Alex Raynor hit 2-of-3 of his field goal attempts, including a pair of 28-yard field goals, and 3-of-3 of his extra point attempts.

His first field goal made him 7-of-7 this season, breaking the school record for most consecutive field goals made at the beginning of a career. The previous record of six was held by Joe Mansour (2013) and Miles Butler (all four in 2015, first two of 2018).

Game captains: Deone Walker, Eli Cox, J.J. Weaver, Devin Leary