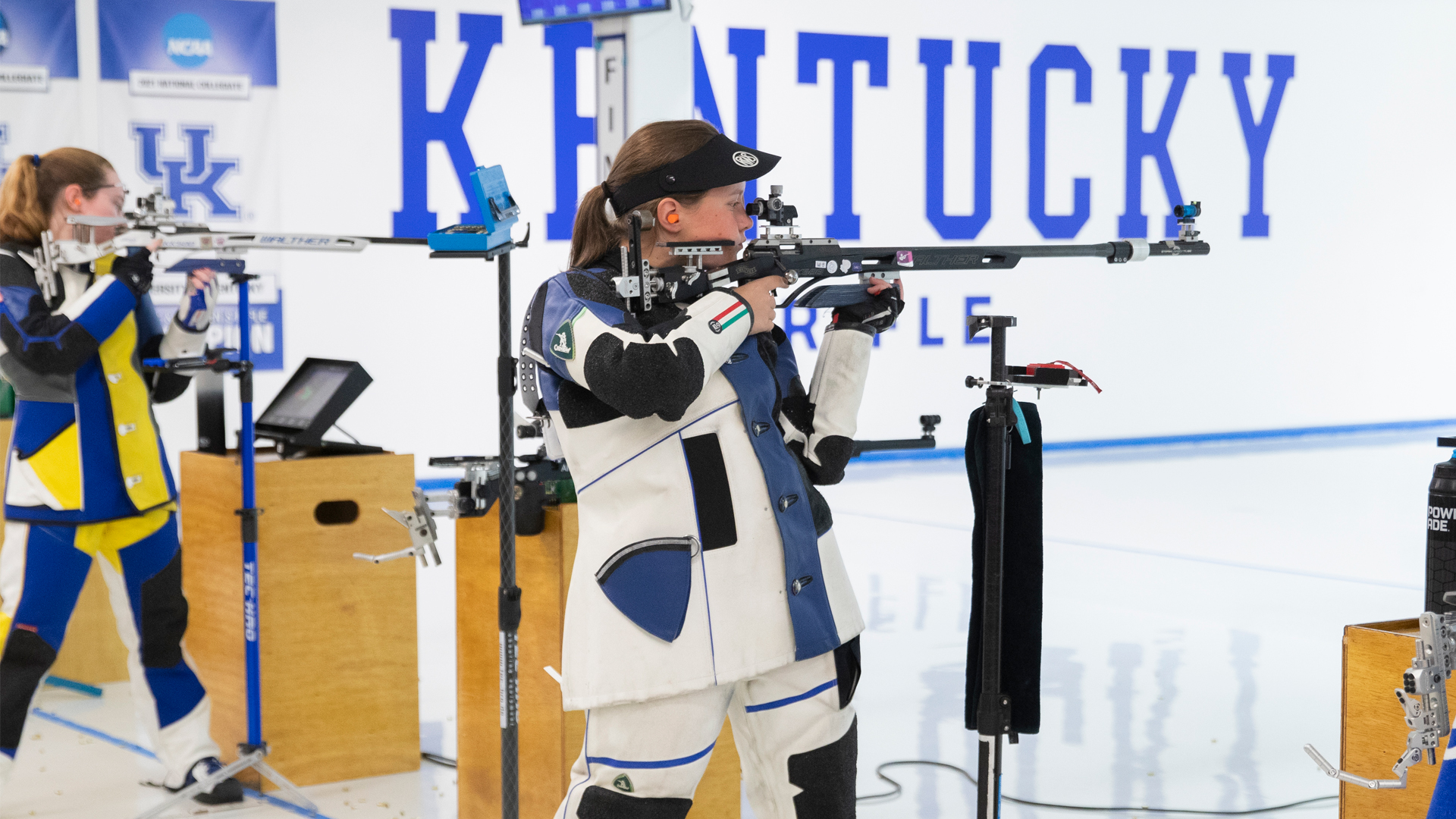 LEXINGTON, Ky. – The University of Kentucky rifle team used a strong performance in air rifle to post its first road victory of the season Saturday, defeating Navy 4707-4701 inside the Bancroft Hall Rifle Range in Annapolis, Maryland.
The match started with Kentucky posting a 2329 in smallbore, while Navy scored a 2336 in the discipline to take a lead heading into air rifle. The Wildcats responded in the second half of the relay, posting a season-high 2378 in air rifle while Navy scored a 2365.
"It is always good to get the first road match of the season under your belt, especially when you can walk away with a win," UK head coach Harry Mullins said. "Even with the win, we know that there are a lot of things we need to work on to get to where we want to be. I was proud to see how we bounced back in air rifle after how things started in smallbore. This early in the season, it's about learning, growing and moving on to the next match. That is what we will do when we get back to Lexington. Hopefully, we can have a good week of practice and have a good weekend of home matches."
For the second straight match, sophomore Sofia Ceccarello led Kentucky and all performers with a 1185 total aggregate. The Italian native scored a 586 in smallbore and another impressive 599 in air rifle. This was the second straight match she has scored a 599 in air rifle and the 10th time in her 15 collegiate matches she has posted a 599. Ceccarello had a perfect prone set in the match, scoring 200.
Fifth-year senior Jaden Thompson continued the strong start to her year with a 595 in air rifle after posting a career-best 596 in her last match. She also had a 582 in smallbore for an aggregate of 1177. Fellow fifth-year senior Emmie Sellers scored a 582 in smallbore and 589 in air rifle for a 1171 aggregate.
Freshman Brade Peiser, who shined in smallbore in his first collegiate match two weeks ago, showed his air rifle ability Saturday, scoring a 594. He added a 578 in smallbore for an aggregate of 1172. Junior Allison Buesseler scored a 580 in smallbore and 590 in air rifle, while sophomore Martin Voss wrapped up the UK scoring with a 579 in smallbore and 589 in air rifle.
Navy was led in the match by Isabella Baldwin, who scored a 1182 aggregate with a 589 in smallbore and 593 in air rifle. Marleigh Duncan scored a 584 in smallbore and 592 in air rifle for a 1176.
UK will return home for its next three matches, starting next weekend vs. Akron on Friday and vs. Ole Miss on Sunday. Both matches will be inside the UK Rifle Range at Barker Hall. UK wraps up the home stretch Nov. 11 vs. Memphis. The fall schedule will conclude with a trip to Fairbanks, Alaska, competing against Akron on Nov. 18 and Alaska and Akron on Nov. 19.
For more information on the Kentucky rifle team, visit UKathletics.com or follow UKRifle on Twitter, Instagram and Facebook.