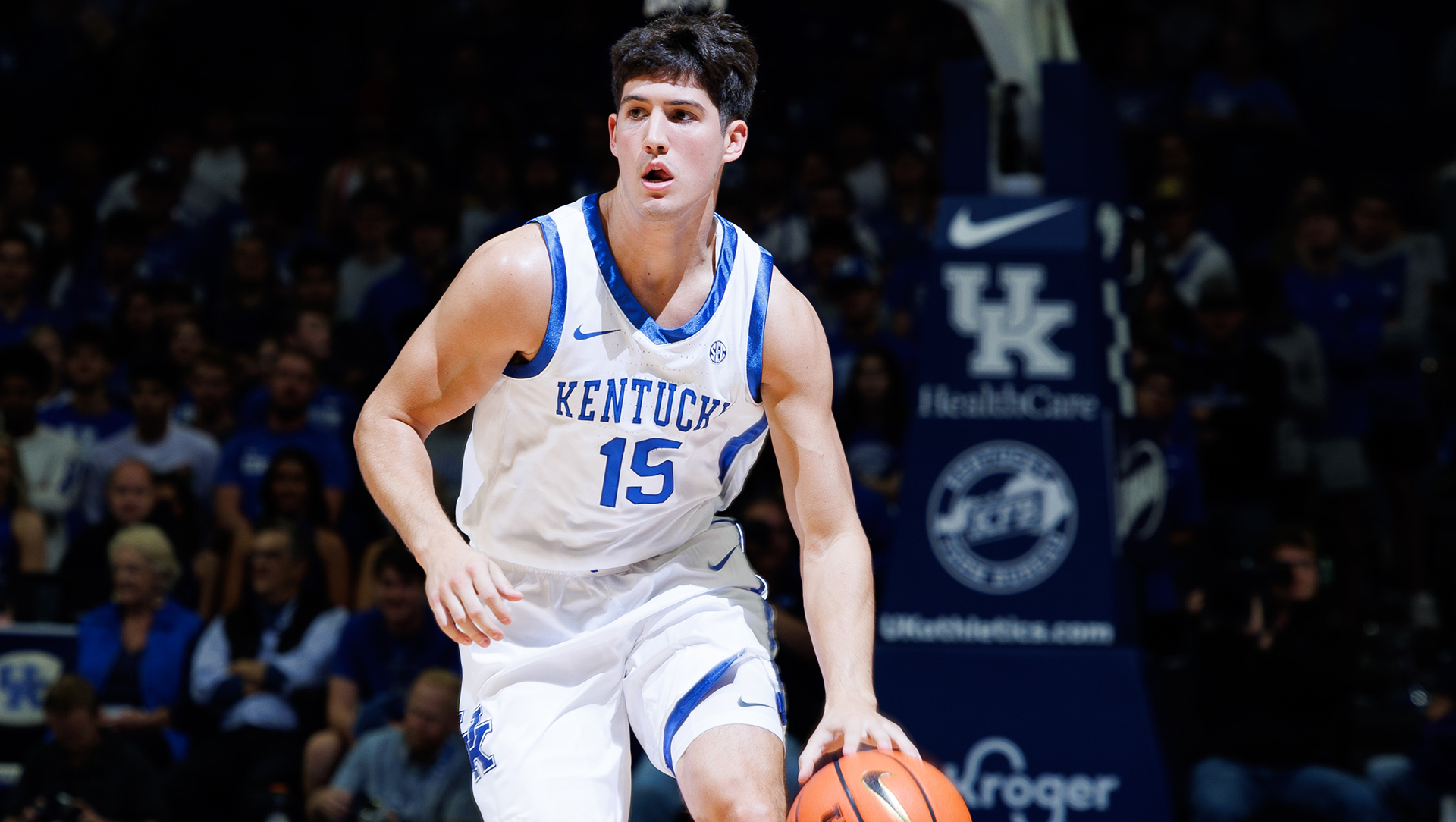 October 27, 2023 - 10:14 PM
Kentucky-Georgetown College Postgame Notes
KENTUCKY MEN'S BASKETBALL POSTGAME NOTES
RUPP ARENA AT CENTRAL BANK CENTER | LEXINGTON, KY.
OCTOBER 27, 2023
ATTENDANCE: 18,454
Final Score: No. 16/16 Kentucky 92, Georgetown College 69
Team Records and Series Notes
UK improved to 151-12 all-time in exhibition games, including 4-0 vs. Georgetown.
The Wildcats are 5-0 in exhibitions this season, including the GLOBL JAM championship in July.
UK has won its last 30 exhibition games dating back to a win vs. Pikeville on Nov. 2, 2014.

The last loss was Aug. 17, 2014, vs. the Dominican Republic in the final game of the 2014 Big Blue Bahamas exhibition tour.

The Wildcats play their second exhibition on Nov. 2 vs. Kentucky State. Game time is 7 p.m. and it will be streamed digitally on SEC Network+.
Team Notes
Kentucky limited Georgetown to 40% from the field (24 of 60), including 18.8% on 3-pointers (3 of 16).
UK controlled the rebounding, 46-32, although second-chance points were even at 12 apiece.
Four Wildcats scored in double figures and two more had nine points.
Player Notes
Tre Mitchell led the way with 22 points, nine rebounds and three blocked shots, all of which were game highs.

He made 4 of 5 shots from 3-point range.

Antonio Reeves tallied 18 points.
Rob Dillingham had 16 points and a game-high five assists.
Adou Thiero had 10 points, including the first five of the second half that created quick separation between the teams. He also had four steals.
Coach John Calipari
UK is 48-1 in exhibition play under John Calipari.
Calipari will enter the season with an 832-253 all-time on-court record and a 365-101 mark at Kentucky.
In the First Half
Kentucky started J. Wagner, Antonio Reeves, Justin Edwards, Adou Thiero and Tre Mitchell.  
Jordan Burks and Rob Dillingham were UK's first substitutions at the 14:39 mark.
Kentucky took a 13-12 lead on a Mitchell 3-pointer with 12:29 and never trailed again.
Georgetown, however, closed the half on a 7-0 run to pull within 35-34 at halftime.
Reeves paced the Wildcats with eight points and Mitchell had five rebounds.
In the Second Half
Kentucky opened with the starting lineup.
Thiero began the half with a driving layup-and-one, followed by a steal and a layup, followed by a Reeves 3-pointer. One minute into the period the margin had ballooned to 43-34.
Long balls by Mitchell and Reeves pushed the count to 54-40, prompting a Georgetown timeout at 15:38.
Georgetown got back within eight points at 56-48 but got no closer.
UK led by as many as 23 points, coming at the final tally of 92-69.