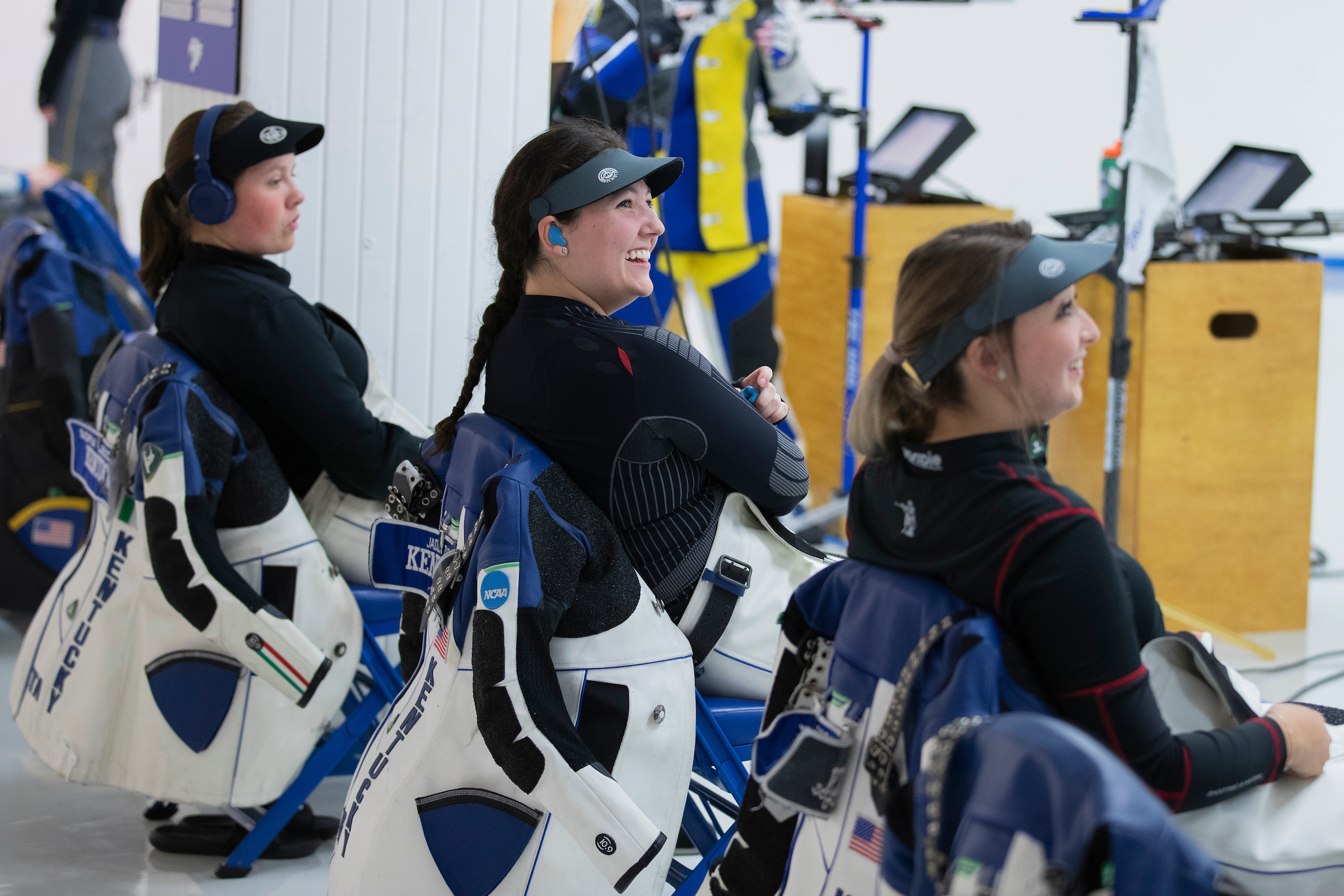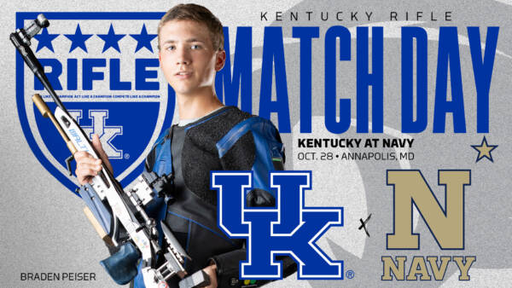 LEXINGTON, Ky. – After starting its season with a strong team aggregate two weeks ago inside the UK Rifle Range, the University of Kentucky rifle team returns to the range Saturday for its first true road test of the season at Navy.
Sights and prep are scheduled to begin at 9 a.m. ET Saturday inside Bancroft Hall Rifle Range in Annapolis, Maryland. The match will start with smallbore and then conclude with air rifle. Live targets and a NCAA Scorecard will be available online at UKathletics.com.
"Like I said two weeks ago, we were happy with how the season started and I think the team took the last two weeks to really try to make some adjustments and get better, which was good to see," UK head coach Harry Mullins said. "The first road match of the season is always good to check off the list because it is just different to compete on the road. The prep work to get ready to travel is different and the match day has a different schedule and feel. So it will be good for us to go through this early in the season and get in a rhythm as we have a lot of road matches in the 2024 portion of the schedule. I think this team will handle all of that well and I am excited to get going tomorrow."
Kentucky started its season in early October with a 4727-4661 win over Morehead State inside the UK Rifle Range in Lexington, Kentucky. The Wildcats posted a 2352 in smallbore and 2375 in air rifle to earn the high team aggregate score. Kentucky is one of five teams in the nation to post a team score of 4727 or higher this season. UK's smallbore score against Morehead State was the sixth highest in the nation this season.
It was sophomore Sophia Ceccarello who led the Wildcats in the season-opening match, earning a 591 in smallbore and 599 in air rifle for an aggregate of 1190. It was the ninth time in her 14 collegiate matches that she has recorded a 599 in air rifle. Fifth-year senior Emmie Sellers tied a career high in smallbore and was just off her career high in air rifle to put together a 1180 aggregate, while fellow fifth-year Jaden Thompson posted a 585 in smallbore and set a new career high in air rifle with a 596, tying her career-high aggregate score of 1181. True freshman Braden Peiser started his collegiate career off strong with a 590 in smallbore and 584 in air rifle, while sophomore Martin Voss scored a 582 in smallbore and 591 in air rifle. Junior Allison Buesseler scored 578 in smallbore and 586 in air rifle to complete the lineup for UK.
UK and Navy competed in Lexington last season with the Wildcats earning a 4742 team aggregate score. Kentucky last competed at Navy in October 2021, earning a 4736 team score, which at the time was the highest team aggregate score in program history. Thompson and Sellers both competed for UK in that match.
Navy enters Saturday's match having competed in four matches already this season averaging a 4693.75 team aggregate. The Midshipmen earned a 4702 in their season opener quad-meet with TCU and VMI men's and women's. Navy then lost to Akron 4682-4695, Ole Miss 4702-4714 and Memphis 4689-4699. Isabella Baldwin is averaging a 589.5 in smallbore and 592 in air rifle this season, while Marleigh Duncan is averaging a 585.5 in smallbore and 593 in air rifle.
Following the match, UK will return home for three straight matches starting Nov. 3 vs. Akron, Nov. 5 vs. Ole Miss and Nov. 11 vs. Memphis. The fall schedule will conclude with a trip to Fairbanks, Alaska, competing against Akron on Nov. 18 and Alaska and Akron on Nov. 19.
For more information on the Kentucky rifle team, visit UKathletics.com or follow UKRifle on Twitter, Instagram and Facebook.