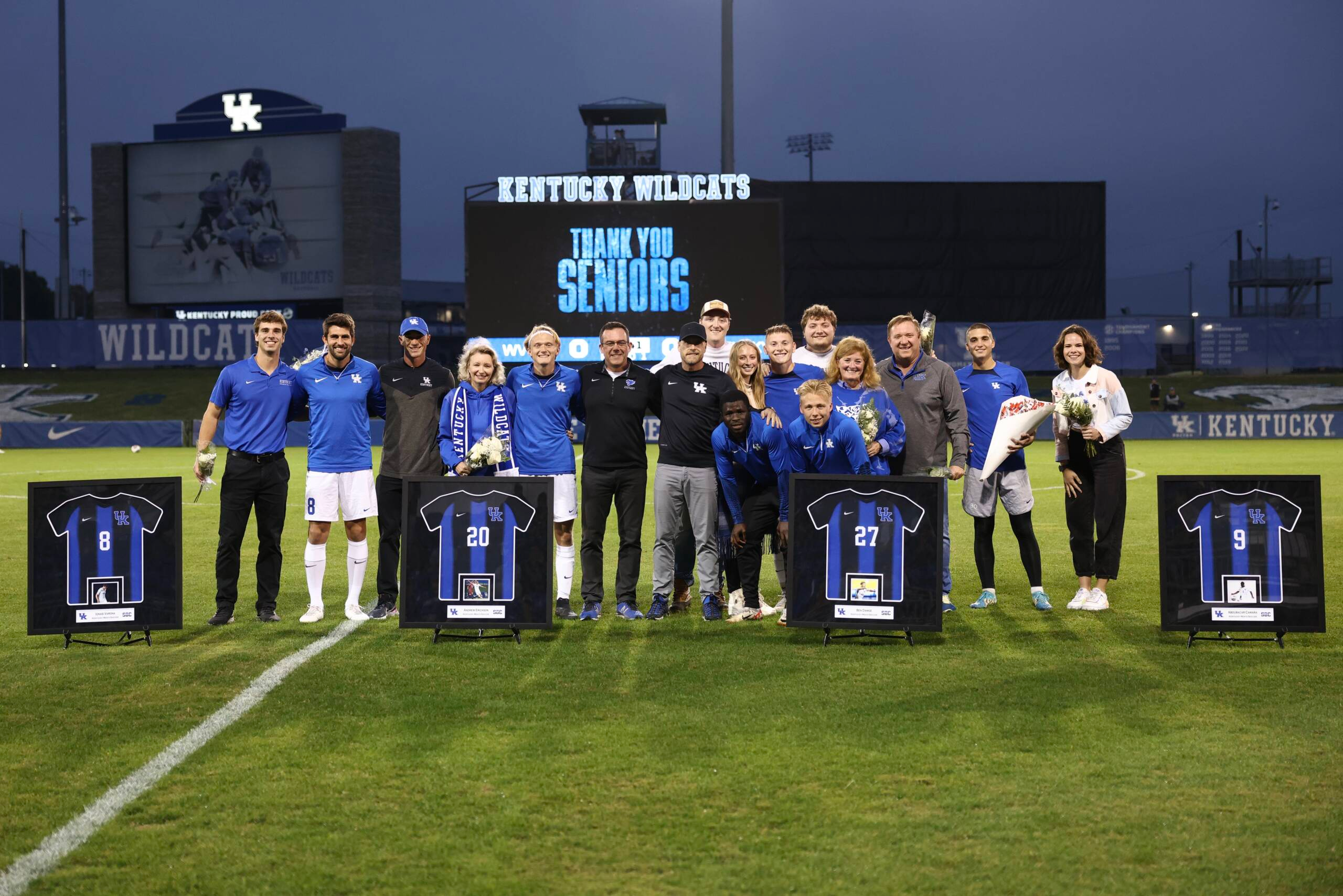 October 27, 2023 - 10:47 PM
Kentucky Celebrates Senior Class with Upset Over No. 2 WVU
LEXINGTON, Ky. – Kentucky men's soccer (5-6-4, 2-3-3 Sun Belt) celebrated its 2023 senior class by upsetting undefeated No. 2 West Virginia (11-1-4, 4-1-3 Sun Belt) 1-0 on Friday night at the Wendell & Vickie Bell Soccer Complex.
Freshman Alfred Baafi scored the lone goal of the night in the 32nd minute to score his first Wildcat career goal. His right-footed shot to the top right of the net was assisted by sophomore Max Miller. The Lexington native currently leads the 2023 squad in assists with six total.
Goalkeeper Casper Mols earned his second consecutive clean sheet to shut out previously undefeated WVU. The sophomore recorded eight saves throughout the match. The last time the Mountaineers were defeated was in the semifinal round of the 2022 Sun Belt Conference Tournament against Kentucky at The Bell. The final score of the contest was 3-0, UK.
In the last two matches, the Wildcats have earned back-to-back upsets over previously No.1-ranked Marshall last Sunday and No. 2 West Virginia this evening. In front of over 1,000 Big Blue fans, the Cats earned the first home victory since Sept. 8 against Lipscomb.
UK will complete its regular season schedule on the road Tuesday at Georgia Southern. The match will determine the Wildcats' fate for the upcoming Sun Belt Conference Tournament.
For the latest on Kentucky Men's Soccer, follow @UKMensSoccer on X, Facebook and Instagram, as well as on the web at UKAthletics.com.