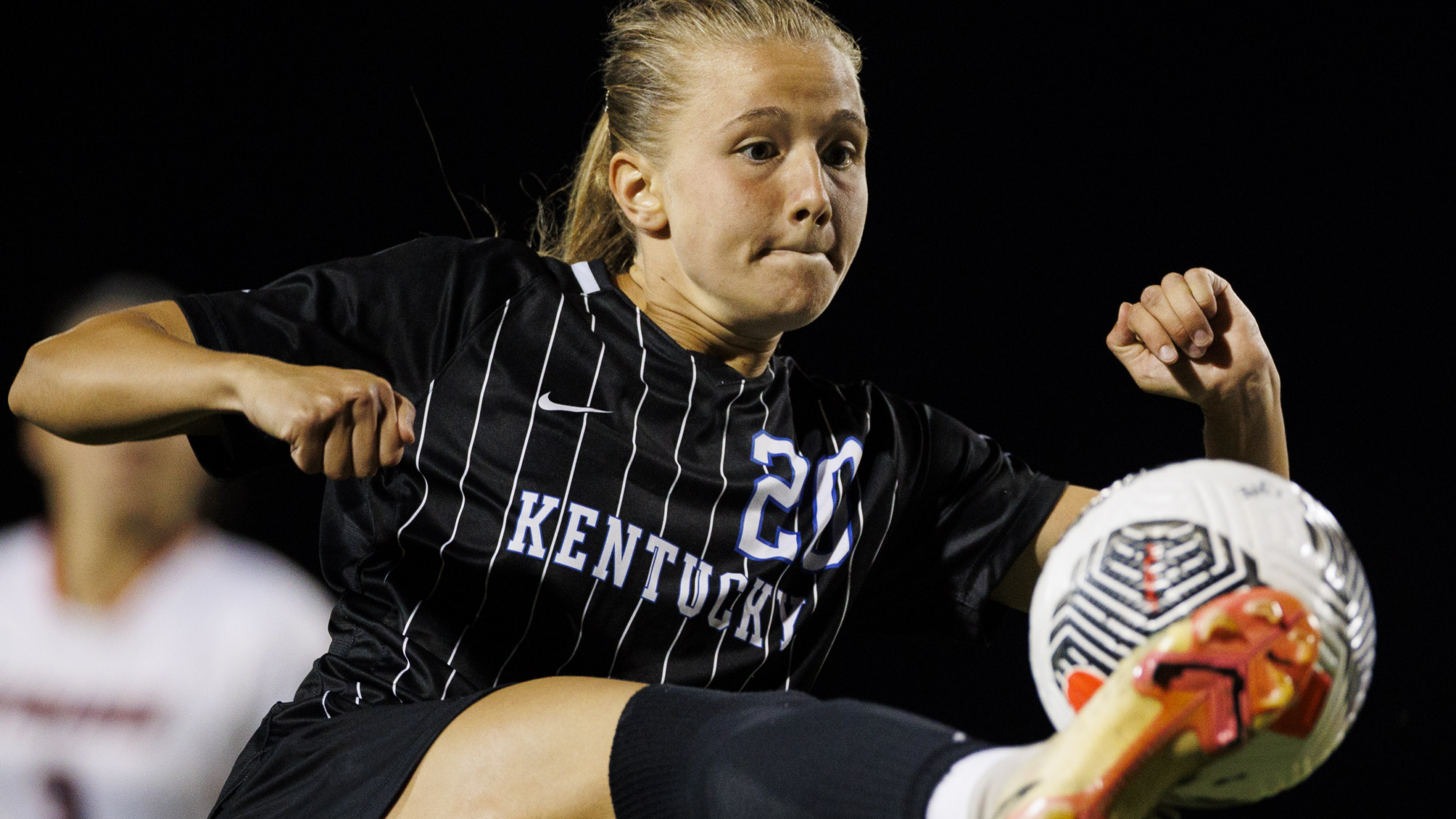 October 26, 2023 - 11:30 PM
Women's Soccer Clipped by Ole Miss, 1-0, on Thursday
LEXINGTON, Ky. – A penalty kick goal in the 86th minute was the difference on Thursday night as Kentucky women's soccer (9-3-5, 3-3-4 SEC) lost its regular-season finale, 1-0, to Ole Miss (7-7-3, 3-5-2 SEC) at the Ole Miss Soccer Stadium.
With less than five minutes remaining in the match, the Wildcats' Tanner Strickland was called for a foul in the box, allowing the Rebels' leading goal scorer, Kelly Brady, to step to the spot. Brady found the bottom right corner on a penalty strike for her eighth goal of the season, breaking a nil-nil tie and ultimately earning the victory for the home side.
In a highly defensive first half, Kentucky had a real scoring opportunity in the 27th minute when Úlfa Úlfarsdóttir found some space in transition and curled a right footed shot just inches outside the left goal post.
Wildcats' goalkeeper Marz Josephson denied several goal-scoring bids, making five saves on the night including one on Rebels' Gili Johnson in the 64th minute after a rebound off the post found Johnson's right foot in a dangerous area.
Following the PK goal, Kentucky's Maggy Henschler came close to leveling the score line with a long-range effort in the final minute which was touched off the crossbar by Ole Miss keeper, Shu Ohba. The ensuing corner kick presented one final opportunity for the Cats, but they were unable to capitalize as the final whistle blew.
Total shots for the match were 12-7 (6-2 shots on goal) in favor of Ole Miss. Each team had four corner kicks in the contest.
Kentucky's finishes SEC regular season play at or above the .500 mark for the first time since they went 8-3-0 in the conference in 2014. Their 13 points earned in league play are also the most for the program since that 2014 season.
UK will now head to Pensacola, Fla. for the 2023 SEC Tournament, its first appearance in the event since 2020 and its first with the 10-team format since 2015. The Cats, the No. 7 seed in the tournament, will face No. 10 seed LSU on Sunday, Oct. 29 at 2 p.m. The action will air live on SEC Network.
For the latest on UK Women's Soccer, follow the Wildcats on X and Instagram at @UKWomensSoccer, on Facebook and on the web at UKathletics.com.