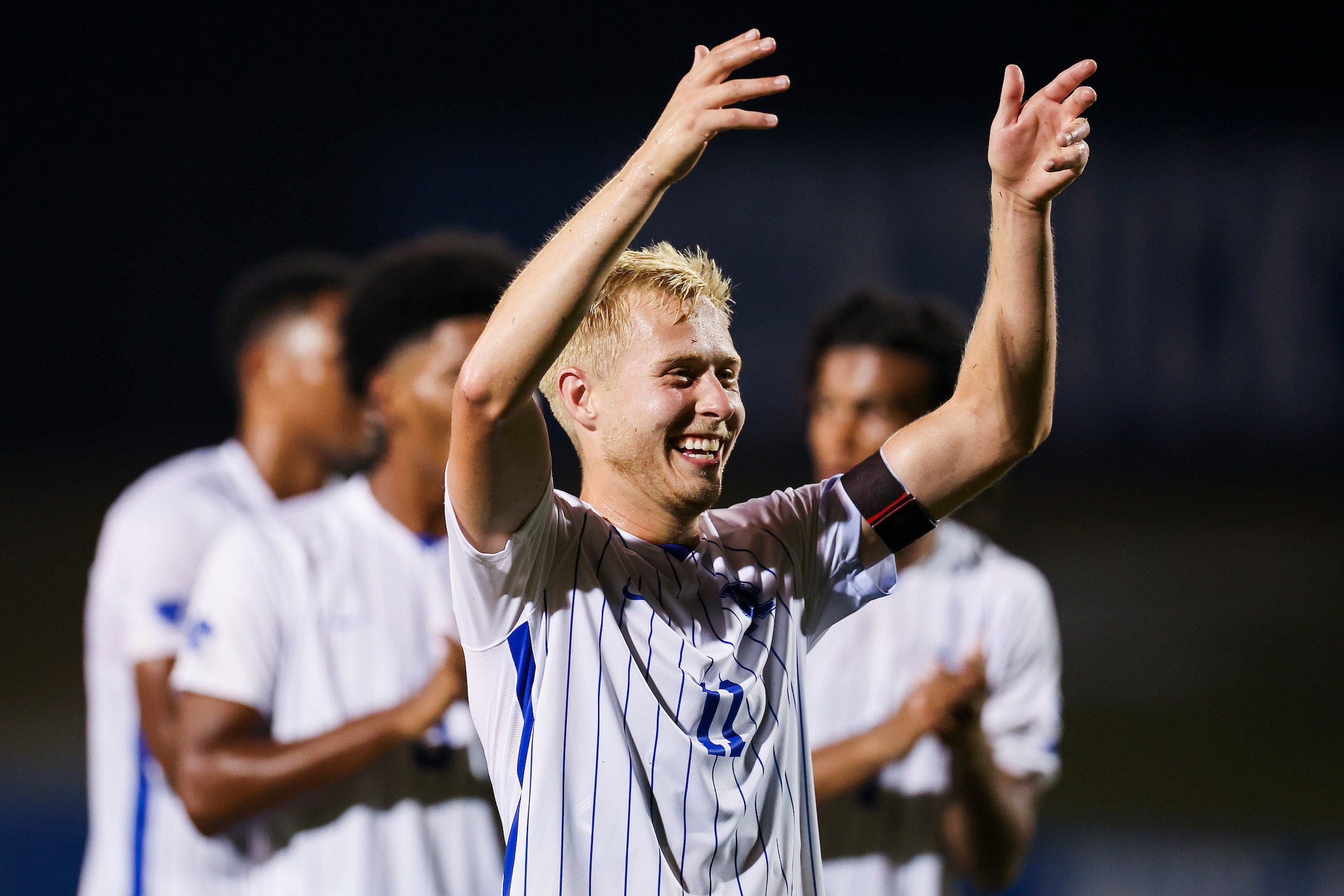 October 22, 2023 - 09:50 PM
Men's Soccer Leaves No. 1 Herd Thunderstruck with Upset
HUNTINGTON, W.Va. – Kentucky men's soccer (4-6-4, 1-3-3 Sun Belt) upset No. 1 Marshall (12-2, 5-2 Sun Belt) 2-0 in a Sunday evening contest at Hoops Family Field.
Redshirt fifth-year senior Mason Visconti scored a brace to secure the first victory for Kentucky since Sept. 8 against Lipscomb. Sunday's match was also the first road win UK has recorded this season.
Sophomore Casper Mols shut out The Herd with four saves in 90 minutes of regulation. Marshall had not been shut out in 14 matches, since Nov. 27, 2022 in the NCAA Tournament against Indiana, and had not been shut out at home since the first round of the Sun Belt Conference Tournament last year against James Madison. The victory was the biggest upset to date in Kentucky program history.
In front of a sold-out crowd, the Wildcats entered a tough environment of Green and White fans as they stepped onto the pitch for battle against a longtime rival. A fast-paced physical first half led to a foul by Marshall's Braian Amaro inside the box which resulted in a penalty kick opportunity for Kentucky. Prior to tonight's PK, Kentucky had missed three in the 2023 match slate. With that pressure on his back, Visconti stepped up to the line. His left-footed rocket soared past MU's goalkeeper to put the Cats up 1-0 in the 22nd minute.
Nearly 15 minutes after the first goal, Visconti scored again to put Kentucky up 2-0 over its top-ranked opponent. A foul by The Herd's Adam Aoumaich awarded sophomore Max Miller with a free kick. Senior Aboubacar Camara connected with the pass to assist Visconti who sent the ball into the bottom left of the net from his right foot. The Kansas City, Mo. native has now tallied three goals in two matches, while Camara earned his second assist of his senior season.
The remaining minutes of the match were left scoreless as Marshall struggled to find an opportunity to get on the board and break the 2-Nil deficit. The loss was the second of the week for the previously undefeated Thundering Herd.
The Wildcats and Thundering Herd hold a longtime rivalry dating back to 1991. The two programs were previously in the Mid-American Conference (MAC) and Conference USA (C-USA) together before transitioning to the Sun Belt last year. After tonight's match, UK and MU hold an all-time series record of 22-12-5 (UK).
The Wildcats will return to the Wendell & Vickie Bell Soccer Complex on Friday to face No. 5 West Virginia for Senior Night ending the 2023 homestand.
Big Blue Nation can purchase single match tickets for Friday by clicking here. Tickets will also be available for purchase upon arrival to The Bell.
For the latest on Kentucky Men's Soccer, follow @UKMensSoccer on X, Facebook and Instagram, as well as on the web at UKAthletics.com.