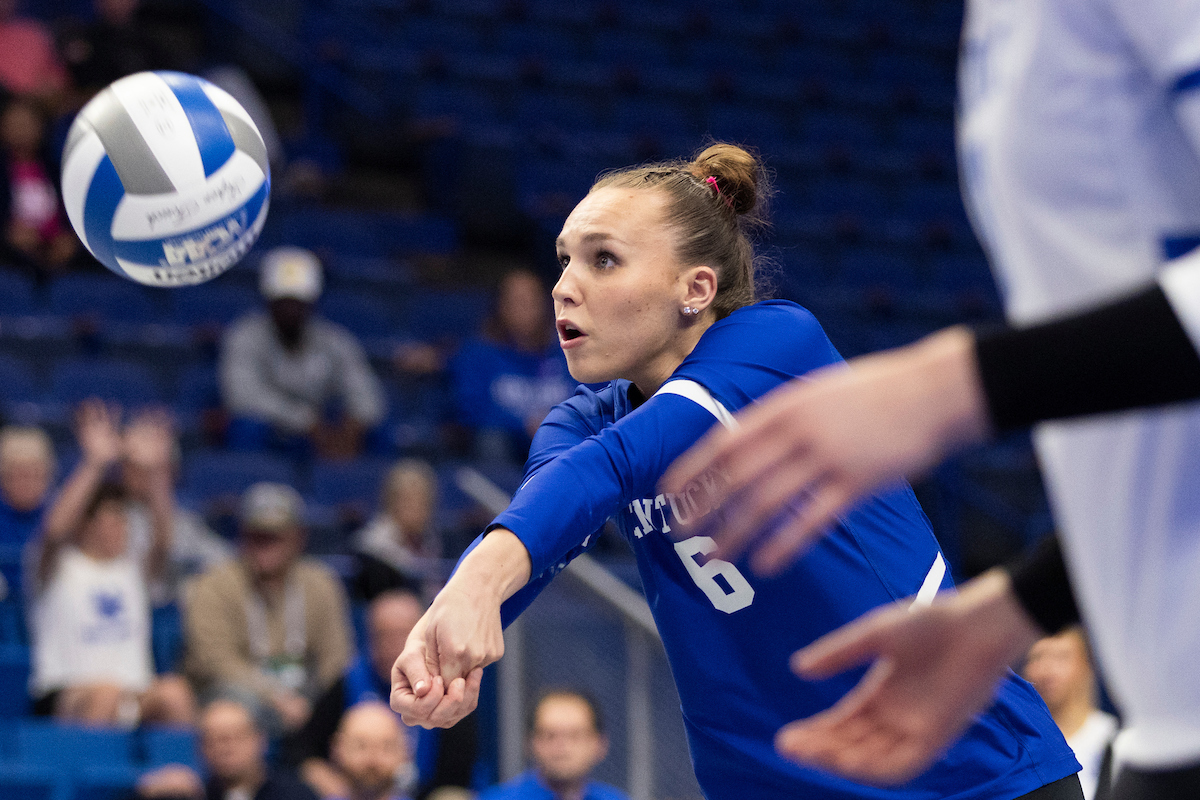 October 22, 2023 - 05:31 PM
Beavin, Back Line Help Cats Top Hogs in Five
Heading into Sunday's match, No. 20 Kentucky knew it would be in for a fight. The Cats' opponent was 10th-ranked Arkansas, a team that had only lost twice all season, both against top-ranked Wisconsin.
On the line was the lead in the Southeastern Conference volleyball race, as the Razorbacks entered the match undefeated in league play and in first place. Kentucky was second in the league standings and looking to grab a share of the league lead.
In what turned out to be one of the best matches in the league so far this season, it was the Kentucky back line that made the difference as UK topped Arkansas in five sets. Junior libero Eleanor Beavin led the way with a career best 30 digs, the first time a UK player has had at least 30 digs in a match since Gabby Curry did it against USC in 2019. For Beavin, it's something she can't remember ever doing.
"Probably never," she said when asked the last time she had 30 digs in a match. "I love playing Arkansas. They are a very scrappy team so defensively, you get a lot more chances than in a regular game when it's a lot of first ball kills. I feel like once you get in a rhythm at some point after the third set, you're going to get every ball up, it's just in your DNA at that point."
UK head coach Craig Skinner was pleased with his team's defensive effort, while also praising Arkansas' defense as well.
"It felt like they were digging everything, too. I think our team settled in and started doing our job. Eleanor with 30 digs, pretty amazing match. You've got to make plays against top 10 teams and that's what we did today."
While Beavin's numbers stood out, she was not alone. Sophomore defensive specialist Audrey Whitworth had a career high 18 digs in the match, impressing Skinner with her big effort.
"I just looked at the stats and she had 18 digs and she only plays half the time that Eleanor does," Skinner said. "That's a big night for a defensive specialist. She's our best or second best server on our team. She's calm and even if she doesn't feel like she's playing well, it's better than she thinks. Hers is at a higher level."
Freshman Molly Tuozzo, another defensive specialist, had 15 digs for the Cats. In total, UK had 85 digs, the most that Kentucky has had in a match since 2019.
Kentucky lost the first set, then won the next two before dropping the fourth. Arkansas seemed to have momentum heading into the final stanza but Skinner liked how his team stepped up.
"Super proud of the way we responded in set five after the fourth set," Skinner said. "We didn't start out great and in those situations you can pack your tent in and go home or you can get to work. Our team has chosen to get to work."
That work continues to pay off as the Cats are now tied for the lead in the SEC after Sunday's huge effort by the defensive back line.