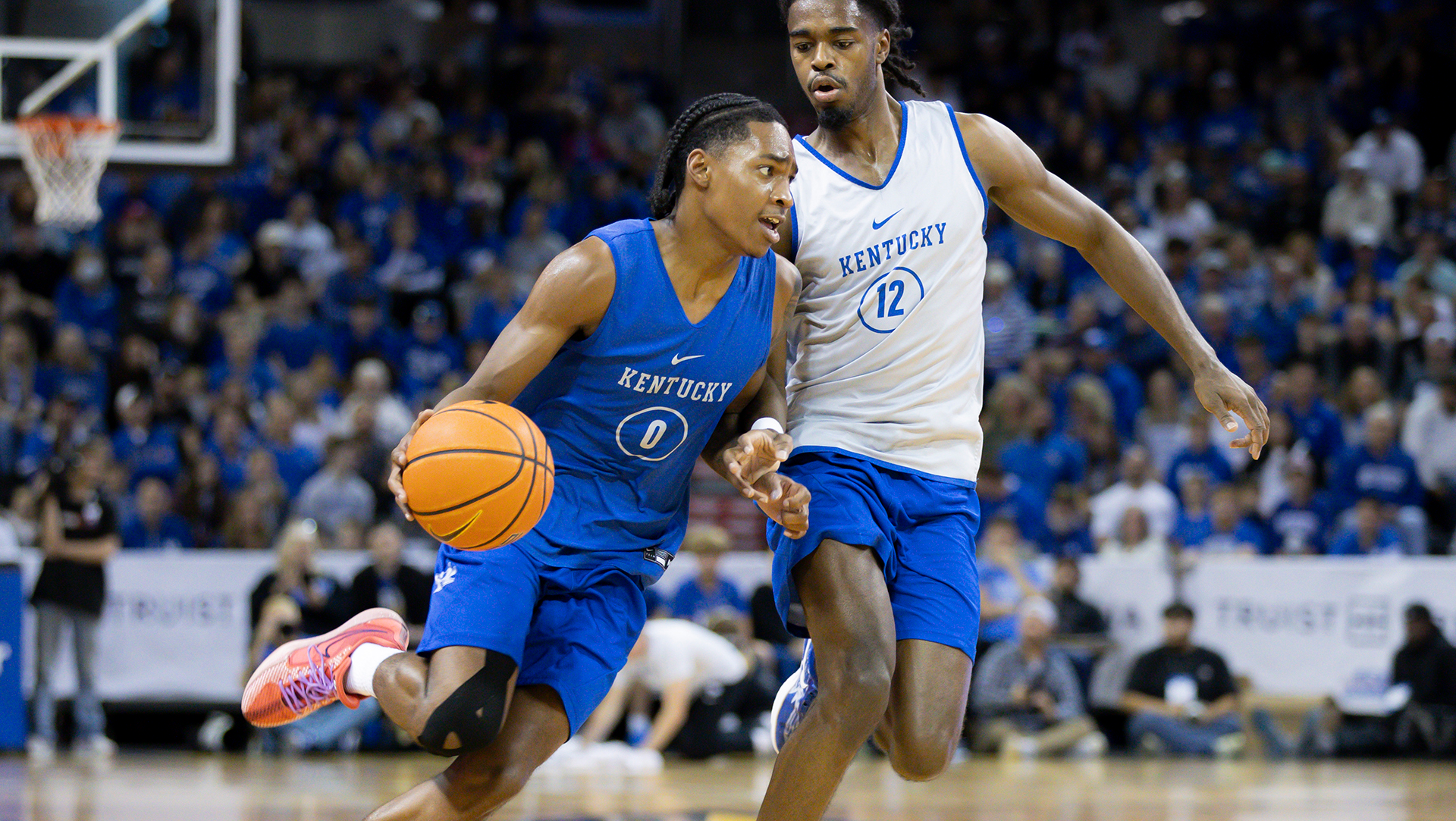 October 21, 2023 - 08:11 PM
Dillingham's Big Night Leads Blue Past White
Rob Dillingham scored 40 points, leading his Blue team to a 100-89 win over the White squad Saturday night in exhibition basketball action at Truist Arena.
The freshman from Hickory, North Carolina, made 14 of 23 from the floor, including three of seven from behind the arc, and made nine of 12 at the free throw line. He added seven assists, five rebounds and four steals.
Dillingham had a huge first half, making nine of 16 from the floor, including two of five from behind the arc and four of five at the free throw line, on his way to 24 points in the first 20 minutes. The freshman also added four assists and three rebounds in the first half as Dillingham's Blue team took a 54-41 lead into the break.
Adou Thiero had 26 points and nine rebounds for the Blue team while Jordan Burks had 20 points for the victors.
Freshman Justin Edwards led the White team with 26 points, including 18 in the second half. Edwards also had 10 rebounds. Fellow freshman D.J. Wagner had 25 points for the White team. Wagner also had seven rebounds and six assists.
Antonio Reeves had 17 points for the White squad, while Tre Mitchell had a double-double for the White team with 14 points and a game-high 14 rebounds.
The Blue team hit 37 of 66 (56.1 percent) from the field, including 10 of 22 (45.5 percent) from behind the arc. The White team made 34 of 72 (47.2 percent) from the floor including six of 24 (25 percent) from long range.
The Blue team had a 35-7 advantage in fast break points, many of which were scored by Dillingham.
The Cats were without big men Aaron Bradshaw, Zvonimir Ivisic and Ugonna Onyenso on Saturday for various reasons.
Kentucky plays its next exhibition game on Friday, facing Georgetown College at Rupp Arena. Tipoff for that contest is set for 7 p.m. ET and the game can be seen on the SEC Network.