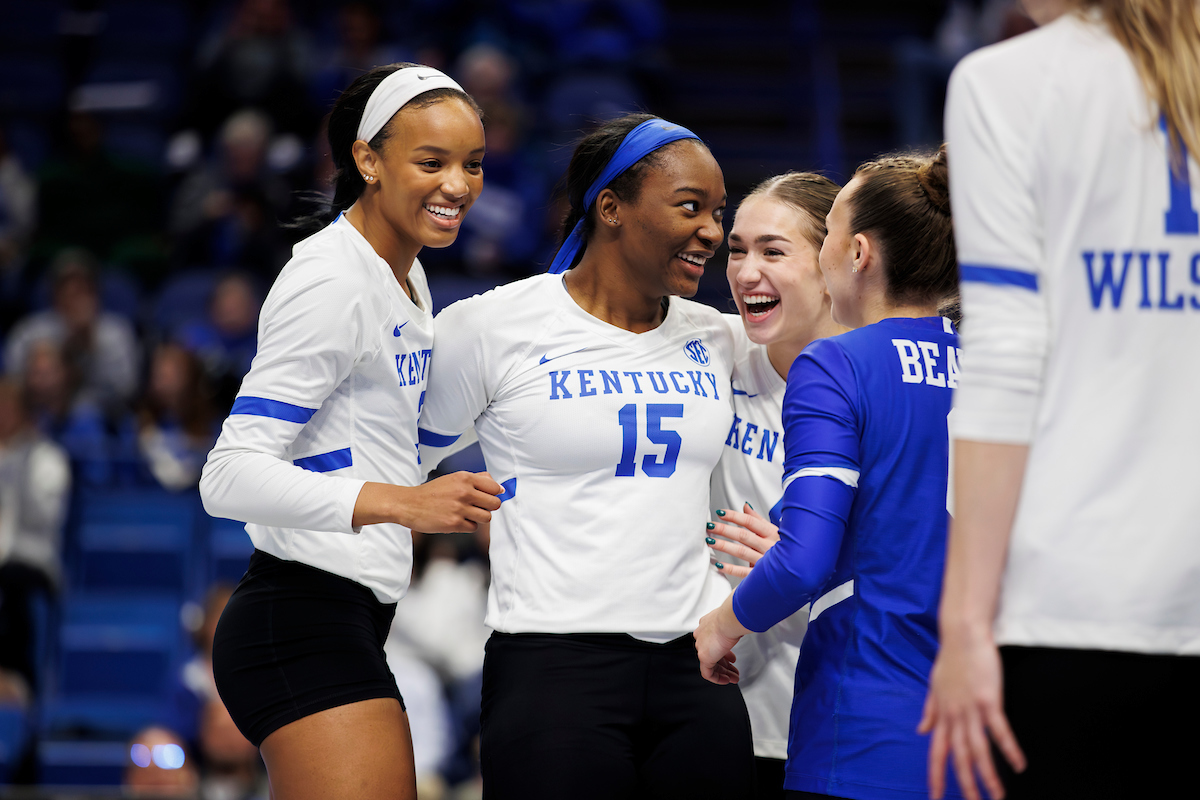 October 20, 2023 - 09:31 PM
Balanced Offense Leads Cats Past Bulldogs on Friday
In college volleyball, the days of having one or two dominant offensive players are basically gone. The best teams in the country have multiple offensive weapons, making those teams both tough to prepare for and tough to defend.
Kentucky displayed that type of balance on Friday night in a three-set sweep of Mississippi State at Rupp Arena. The Cats had five players with at least seven kills in the match, and three players in double figures in kills, as UK won its sixth match in a row. Kentucky has won its last eight sets in a row on its way to wins over Ole Miss, Tennessee and MSU.
Junior transfer Megan Wilson had one of the best matches of her UK career on Friday. The Kingwood, Texas, native had 14 kills and four errors on 26 swings (.385 hitting percentage).
In her second match back after missing three weeks, Reagan Rutherford had another solid outing. The lefty had 10 kills and just one error on 22 swings (.409).
Fifth-year senior Azhani Tealer also got in on the offensive act for the Cats. Tealer had 10 kills and no errors on 14 swings (.714), while adding a pair of block assists.
Freshman Brooklyn DeLeye started slowly but got things going in set three. The Topeka, Kansas, native ended the match with seven kills and added a career-high 17 digs, marking her fourth double-double in the last six UK matches.
Defending SEC Offensive Player of the Week Elise Goetzinger had seven kills and four block assists in the match.
Kentucky head coach Craig Skinner liked how the Cats were able to get the ball to multiple hitters on Friday.
"(We were) spreading the offense around," Skinner said. "Megan had a great night along with Reagan and Z. You never know which night someone needs to step up and tonight was their turn."
Wilson, who has double figure kills in four of UK's last five matches, attributes her recent success to chemistry with her setter.
"Me and Emma Grome's connection has gotten a lot better offensively," Wilson said. "We're just super locked in and communicating to each other a lot more than we did before. I think the chemistry overall with everybody is growing and our mindsets are pretty locked in right now."
Wilson believes that the competition level in practice is making her a better player.
"I feel like, through practice just competing every day and our level of competition is really high and it grows your confidence," Wilson said. "In doing well in practice you get comfortable with things and transfer it to the game and it's a lot easier."
Kentucky returns to action on Sunday, facing 10th-ranked Arkansas in a crucial Southeastern Conference match. The Cats hope to bring the same kind of balance they showed on Friday into Sunday's match against the Razorbacks.