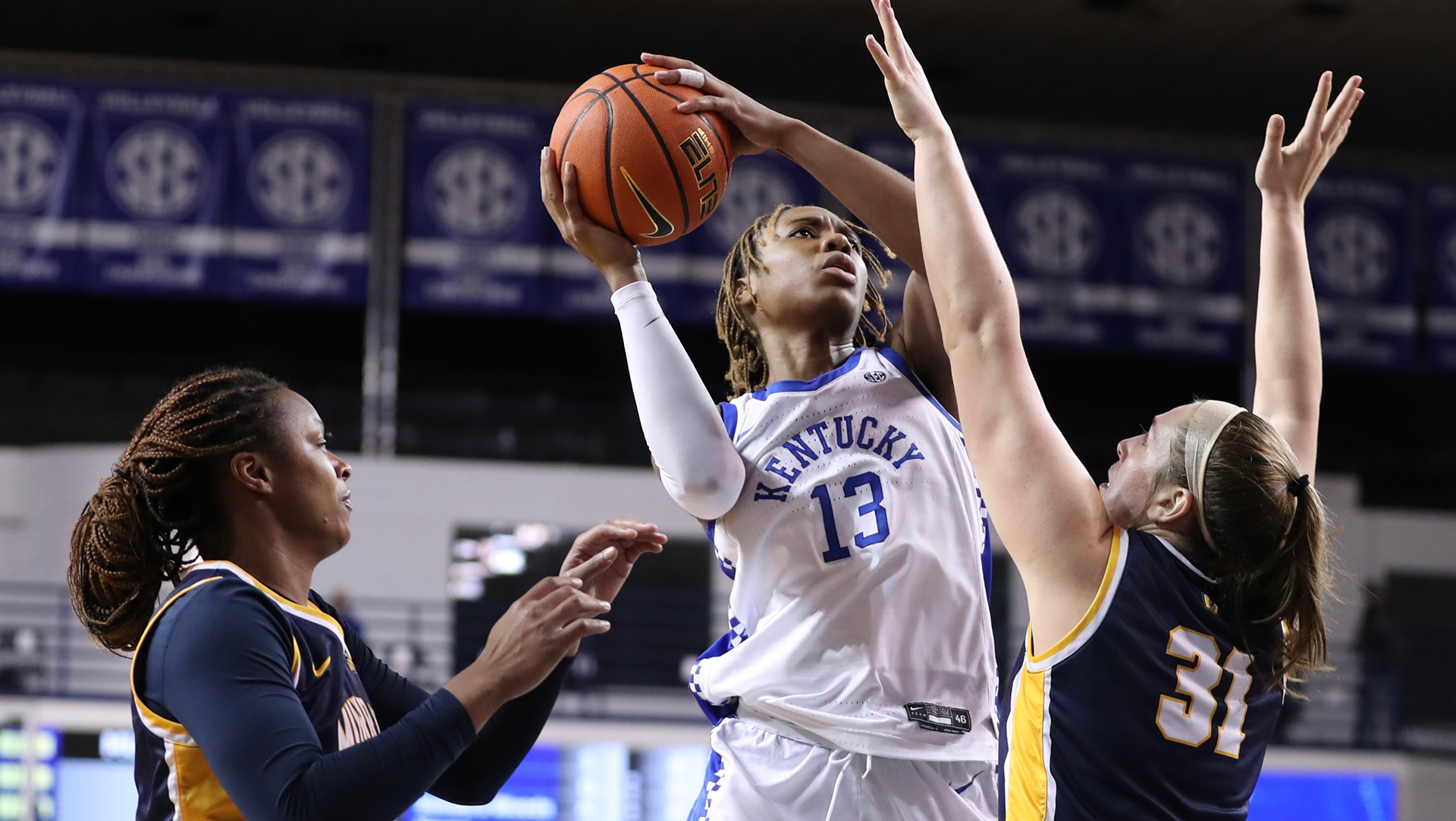 October 18, 2023 - 02:25 PM
New Mentality Helping Petty Excel on the Court
Ajae Petty transferred from LSU to Kentucky and was expected to be a key contributor for the Cats last season. Things started off well for Petty, who scored in double figures in six straight games, and seven of eight, early in the season. Perhaps the highlight was a 16-point, 12-rebound effort in the Cats game at Minnesota.
But as last season went on, Petty's contributions dwindled. There were five games in which she didn't score. There were 12 other games when she scored five or fewer points.
In the offseason, UK head coach Kyra Elzy challenged Petty to be better. And, according to Elzy, Petty has responded.
"Let's talk about Ajae Petty. She has made a transformation, mind and body," Elzy said. "She had an unbelievable summer. I'm proud of her. Really committed. We had a tough conversation at the end of last year and what I can appreciate about her, she embraced it, she took it and ran with it."
What, specifically, did Petty do to improve herself since the end of last season?
"She looks like a different person on the floor," Elzy said. "She can sprint up and down the floor. She committed to getting in shape, she committed to eating right. And also, mindset. It's not an attack, we're just pushing her to be better."
For her part, Petty admits that she has vastly improved in the offseason.
"I think just changing my mentality on a lot of things," Petty said. "Just focusing on getting better every single day, eating better, focusing on my fitness, being able to get up and down the floor."
Kentucky will need Petty to increase her points per game (5.7) and rebounds per game (4.7) from last year. Petty will be the main interior presence for Elzy's team this year and should join with guard Maddie Scherr to provide the Cats with an inside-outside combination that will be tough for opponents to defend. Petty is ready to take on that challenge.
"I feel like I can step into that role," Petty said. "But I also think that a lot of my different teammates are also stepping up and everyone is coming into their roles."
With the team in the midst of fall practice, preparing for the season, Petty knows that hard work and focusing on the little things will need to be the focus for this team.
"We're all just putting our head down and working," Petty said. "Focusing on rebounding, focusing on everybody stepping into their role and doing everything they can to help the team win."
Petty has done a number of things in the offseason to make herself better. The Cats hope that those improvements will be on display when the season begins in November.