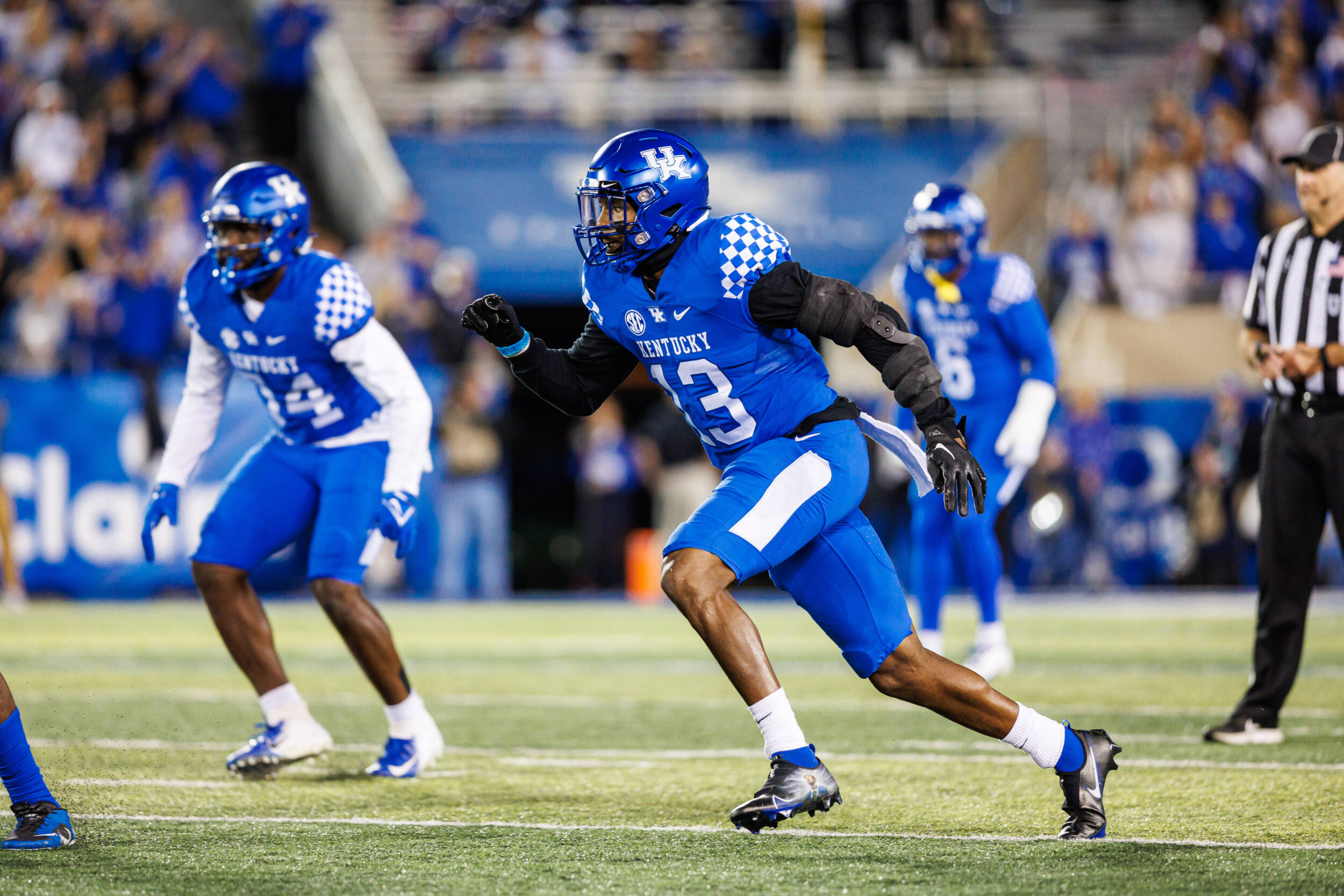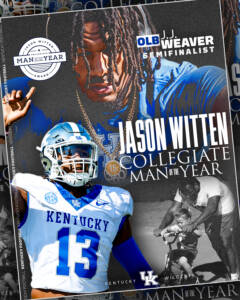 Kentucky senior outside linebacker J.J. Weaver has been named one of 20 semifinalists for the seventh annual Jason Witten Collegiate Man of the Year award.
Compiled by a subset of the Jason Witten Collegiate Man of the Year Selection Committee, the semifinalists have all demonstrated a record of leadership by exhibiting exceptional courage, integrity and sportsmanship both on and off the field.
Weaver, a native of Louisville, Kentucky, is a veteran leader for the Wildcats' defense this season. The two-year team captain has totaled 22 tackles, 3.5 tackles for loss, 2.0 sacks, two pass breakups and a quarterback hurry this season.
In addition, the work he's doing off the field also deserves notice.
Weaver, who was born with polydactyly, a condition in which a person or animal has more than five fingers or toes on one, or on each, hand or foot, has had to face many obstacles in his lifetime. With six fingers on his right hand, he was bullied and ridiculed in grade school for being different.  But that obstacle was nothing compared to what he was about to face during his collegiate years.
From July 2020 to August 2021, Weaver lost his father to homicide, sustained a season-ending knee injury and then lost his beloved high school football coach to cancer.
Grief and anger started taking over his life and it became noticeable to those who knew him best. After being confronted by then-head athletic trainer Gabe Amponsah and a timely heart-to-heart talk with head coach Mark Stoops, who could relate after losing his father to a heart attack in college, Weaver agreed that counseling would help. And boy, did it ever.  Inspired by the help he received, J.J. has become an outspoken advocate for mental health and counseling. This fall, with help from the Kentucky Center for Grieving Children and Families, he started a peer-led grief counseling group on UK's campus, the first of its kind.
Weaver's non-profit organization, "The Perfect Fit," which he started in high school, has organized several community service projects, including one this summer, "The Perfect Fit Bike Drive." Weaver and his family donated 111 free bicycles for kids in his hometown of Louisville.
Weaver is on track to graduate this December with a degree in community leadership and development.
The full list of semifinalists includes: DeWayne Carter (Duke), Matthew Cindric (California), Brian Dooley (Eastern Michigan), Jordan Travis (Florida State), Dylan Leonard (Georgia Tech), Jack Freeman (Houston), Isaiah Williams (Illinois), J.J. Weaver (Kentucky), Josh Williams (LSU), Blake Corum (Michigan), Xavier McDonald (Navy), Joe Shmiko (North Carolina State), Sam Hartman (Notre Dame), Cade Stover (Ohio State), Caleb Williams (Southern Cal), Joe Milton III (Tennessee), Tony Bradford, Jr. (Texas Tech), Mike Hollins (Virginia), Zach Frazier (West Virginia) and Chimere Dike (Wisconsin).
 Three finalists will be named for the award on Wednesday, December 13. The winner will be announced at the award ceremony in Frisco, Texas, on February 15, 2024.
Last year, Deslin Alexandre of Pittsburgh won the sixth annual award. The first five Jason Witten Collegiate Man of the Year awards were presented to Shaquem Griffin of UCF in 2017, D'Cota Dixon of Wisconsin in 2018, Trey Smith of Tennessee in 2019, Sam Ehlinger of Texas in 2020 and Joshua Paschal of Kentucky in 2021.
The award, presented by Albertsons and Tom Thumb, is the first college football honor to focus primarily on a player's leadership, both on and off the field. Leadership is a term synonymous with Jason Witten, who, in addition to becoming one of the best tight ends in the history of the sport, served as one of football's most prominent role models during his 16-year pro career. In addition to winning the Walter Payton NFL Man of the Year Award in 2012, Witten also received the Bart Starr Award, Pro Football Weekly's Humanitarian of the Year Award, Home Depot NFL Neighborhood MVP and the Bob Lilly Award, among many others. All of those honors have recognized his work in the community, achievements on the field and dedication to his teammates and family.
The winner of the Jason Witten Collegiate Man of the Year will also receive a $10,000 contribution in his name to his school's athletic scholarship fund. The contribution will be made by Jason Witten's SCORE Foundation, the official charity of Jason and his wife Michelle. The SCORE Foundation, founded in 2007, has positively impacted tens of thousands of children and families in Texas and Tennessee over the last 16 years. The foundation operates its nationally-recognized SCOREkeepers program, which places trained male mentors on staff to work with children at family violence shelters, at nine shelters in the two states.