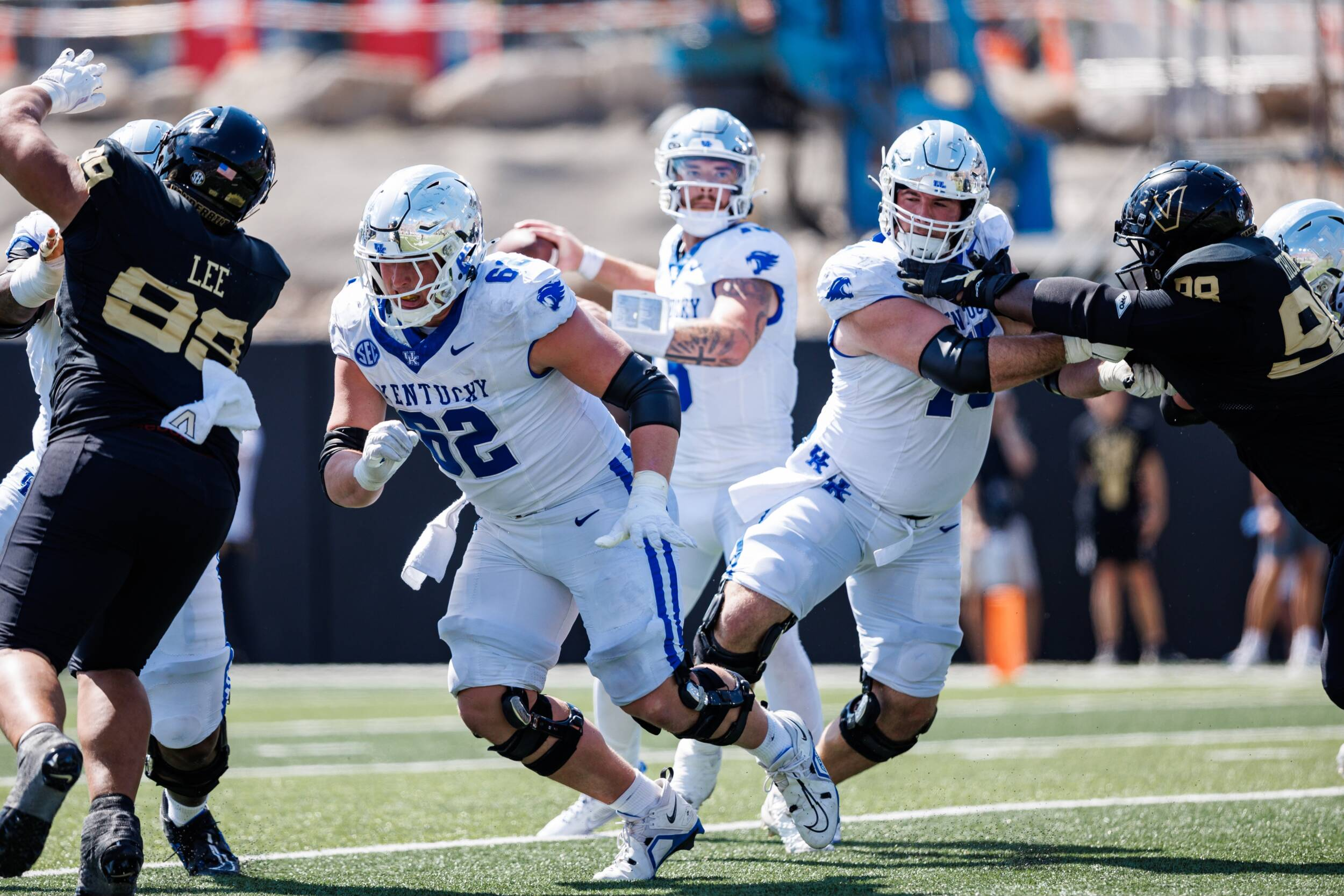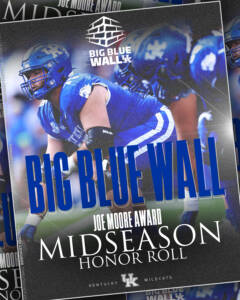 The Kentucky offensive line is one of 23 units named to the midseason honor roll for the Joe Moore Award, recognizing the Most Outstanding Offensive Line Unit in college football, it was announced Tuesday by The Foundation for Teamwork.
This is the fifth time in the last six seasons that the Kentucky offensive line, known as the Big Blue Wall, has been named to the honor roll.
Behind Kentucky's talented Big Blue Wall is running back Ray Davis, who leads the Southeastern Conference in rushing (111.57 yards per game) and rushing scores (8). He is sixth nationally in total rushing yardage with 781, having 111 attempts and averaging 7.0 yards per carry. The Big Blue Wall has only allowed 11 sacks this season which ranks third in the SEC. The Wildcats have only allowed 32 tackles for loss, fourth-best in the league.
UK linemen, led by offensive line coach Zach Yenser and graduate assistant coach and former Wildcat center Drake Jackson, were chosen SEC Offensive Lineman of the Week two times so far this season.
Senior center Eli Cox, who earned SEC Offensive Lineman of the Week after the EKU game, was a preseason third-team All-SEC selection by the league coaches, media and CBS Sports and he has played in 38 career games with 29 starting assignments. Senior right tackle Jeremy Flax was named the Outland Trophy National Player of the Week and SEC co-Offensive Lineman of the Week after the Cats' win over No. 22/23 Florida. He has played in 31 career games with 19 starts.
Senior Kenneth Horsey returned to the starting lineup last week vs. Missouri and now has 35 starts in his six-year career. Sophomore Jager Burton had started in 19 consecutive games before missing last week's game with injury.
UK welcomed senior Marques Cox, junior Courtland Ford and sophomore Dylan Ray from the transfer portal this season. Cox, a transfer from Northern Illinois, brought a wealth of experience and now has 41 total career starts under his belt. Ford, a transfer from North Carolina, has 13 career starts and Ray, a transfer from West Virginia, has seven starts, all coming at UK.
All totaled, the Wildcats have 163 combined starts on the offensive line.
The Joe Moore Award is named after Joe Moore, widely regarded as one of the best offensive line coaches in college football history, most notably for his work at Notre Dame and the University of Pittsburgh. Over 18 seasons, Coach Moore sent 52 players on to the NFL, including Bill Fralic, Mark May, Russ Grimm, Jimbo Covert and others.
The Joe Moore Award voting committee judges solely on six criteria: toughness, effort, teamwork, consistency, technique and finishing.
Evaluations for the midseason honor roll were made solely through weekly review of actual game film and offensive line coach-provided cut-ups.
The Joe Moore Award trophy, crafted by legendary sports sculptor Jerry McKenna, is the largest trophy in college football, standing at a height of 6 feet and weighing in at 800 pounds. The perpetual trophy is made available for display by the winning university until the conclusion of the following college football season.
These units have gained the attention of the Joe Moore Award voting committee as it moves closer to announcing the selection of semifinalists on Nov. 14 and finalists on Dec. 5. Selection of the 2023 Joe Moore Award winner will be made public after a surprise visit to the winning university's campus in late December.
The Joe Moore Award voting committee comprises 10 individuals who are highly knowledgeable about offensive line play, including former linemen, coaches, talent evaluators and media analysts. This group conducts in-depth analysis by reviewing game tape every week of the season to assess both the fundamentals and subtleties of overall offensive line performance.
The 2023 voting committee includes Chairman Cole Cubelic (Auburn, SEC Network); Charles Arbuckle (UCLA, Indianapolis Colts); Randy Cross (UCLA, San Francisco 49ers); Gerry DiNardo (Notre Dame, head coach at LSU); Mike Golic, Jr. (Notre Dame, ESPN); Duke Manyweather (Humboldt State, player and coach); Geoff Schwartz (Oregon, Carolina Panthers); Phil Steele (publisher of Phil Steele's College Football Preview, ESPN); Aaron Taylor (Notre Dame, Green Bay Packers); and Lance Zierlein (NFL draft analyst, NFL.com).
Find out more at joemooreaward.com and follow the Joe Moore Award on Twitter (@joemooreaward), Instagram (@joemooreaward), and Facebook (facebook.com/JoeMooreAward).
2023 Joe Moore Award Midseason Honor Roll
No. 22 Air Force
Clemson
No. 16 Duke
Florida
No. 4 Florida State
No. 1 Georgia
Kansas State
Kentucky
No. 21 Louisville
No. 19 LSU
Miami
No. 2 Michigan
No. 20 Missouri
No. 15 Notre Dame
No. 3 Ohio State
No. 9 Oregon
No. 12 Oregon State
No. 7 Penn State
No. 17 Tennessee
No. 8 Texas
UCF
No. 5 Washington
Wyoming