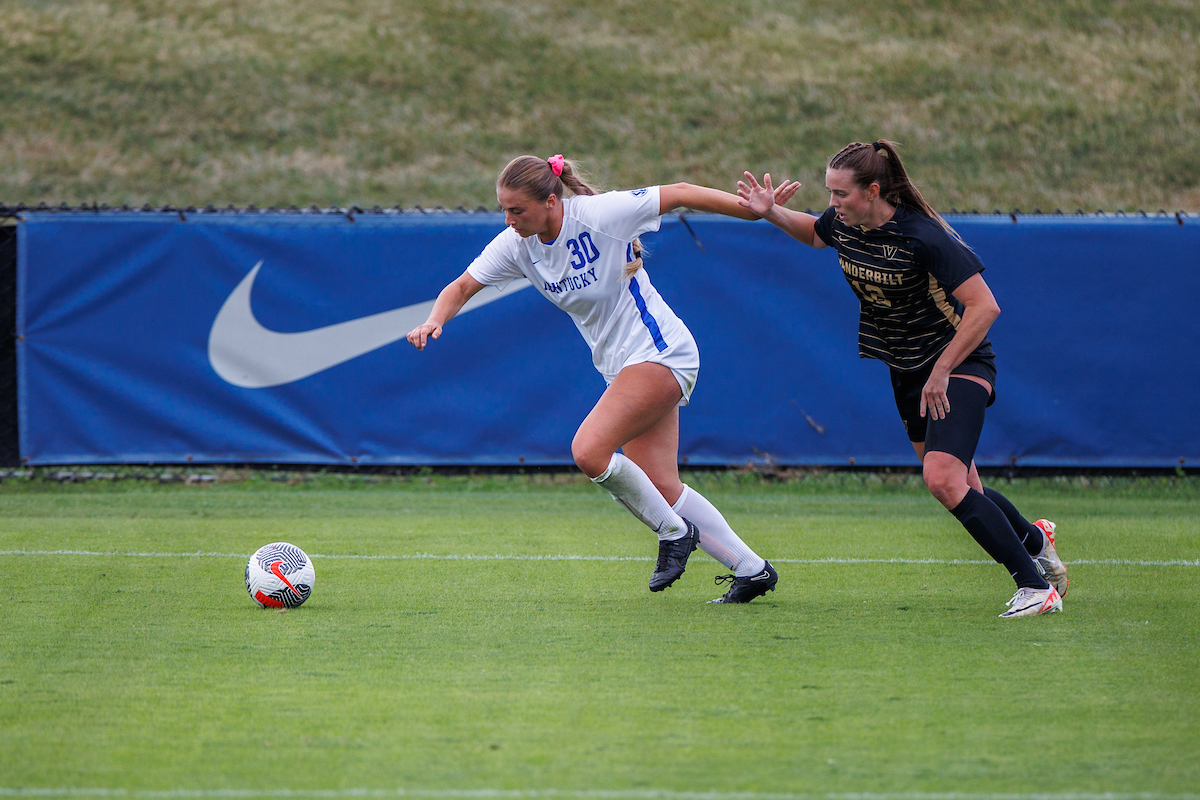 October 17, 2023 - 01:14 PM
Jordyn Rhodes Looking to Add Team Success to Individual Accolades
Life has thrown curveballs – both good and bad – at Jordyn Rhodes. Through it all, the fifth-year senior soccer player at Kentucky has learned one important lesson.
"Enjoy the moment and (don't) dwell on anything that happens," she said.
So excuse Rhodes if she doesn't want to dwell on recently becoming Kentucky women's soccer's all-time leading goal scorer.
In a game against No. 9 Alabama, Rhodes notched two very significant goals. The first goal tied the previous record of 44 goals, held by Kim Labelle. Rhodes' second goal, scored from a corner kick, broke the record. It didn't really hit Rhodes as far as what she had accomplished.
"I still haven't wrapped my head around it to be honest," the Ohio native said. "I was not expecting to score, let alone score twice."
Kentucky head coach Troy Fabiano knows that Rhodes has great instincts as a goal scorer.
"She has a knack to score goals which I hate to say it, we can't teach that, either you have it or you don't," Fabiano said in an interview on the UK Sports Network. "She does have the ability to score goals and she's proven that."
But Rhodes is not necessarily focused on individual goals as much as she's all about the success of her team. Rhodes said she's had a lot of teammates and none of this would be possible without them.
"Without team success, no individual rewards are going to come," Fabiano said.
A successful career to say the least, but how did she get here?
During her sophomore year of high school, Rhodes had her future planned. After graduation, she would be wearing Indiana crimson and cream. However, during her senior year of high school, the Hoosiers underwent coaching changes, which left Rhodes to look for a new home.
After having her plans disrupted, former UK head coach Ian Carry reached out to Rhodes after the news broke and, before you know it, Rhodes was on her way to Lexington.
"It means a lot to be able to represent a school that took a chance on me for five years," Rhodes said.
Rhodes spends most of her time on the turf, but off the field, she sees herself as an easy going, go with the flow person. She also said her coach puts it best, "never too high, never too low."
Growing up as one of six siblings, Rhodes said her older brother opened the door for both she and her twin sister Sydney to play the sport.
The sisters played three different sports but only played soccer together for two years.
Rhodes said she remembers when Sydney assisted her first goal, it was like a "party."
"Everyone was so excited, she was excited, I was excited," Rhodes said. "So finally actually getting to play soccer with her was very fun."
She credits some of her success to her teammates but most, if not all, of it to her family.
"My family means everything to me, they've helped me emotionally, physically, financially," she said. "They mean everything to me and I definitely would not be here without them."
Not only is Rhodes a big sister in her family, but career-wise she is too. In these last five years, Rhodes said she has seen herself grow in many ways. One of those ways is as a leader.
Gravitating towards the older girls in her first few years in the Bluegrass, she is now trying to do the same thing for the younger players.
"I know what I needed when I was a freshman and just being able to help them figure out what they need as a freshman," the senior forward said. "Because obviously the transition is hard, and they probably weren't expecting (it)."
Serving as a guide for the younger players Rhodes said when she leaves UK, she wants the freshmen to be able to lead as they progress.
While trying to reach new heights with the team, she reiterated that despite not having soccer success, each team she has been on, the girls have been close.
If there is one thing Rhodes is happy to dwell on, it's a potential trip to the NCAA Tournament, something, UK hasn't done since 2014.
"I'm just glad that we're finally breaking through." she said. "I love Kentucky, I love this program, obviously with Troy and his staff these last two years, it's been great."
Perhaps Rhodes and the Cats will earn that postseason nod in her final year in the Bluegrass.