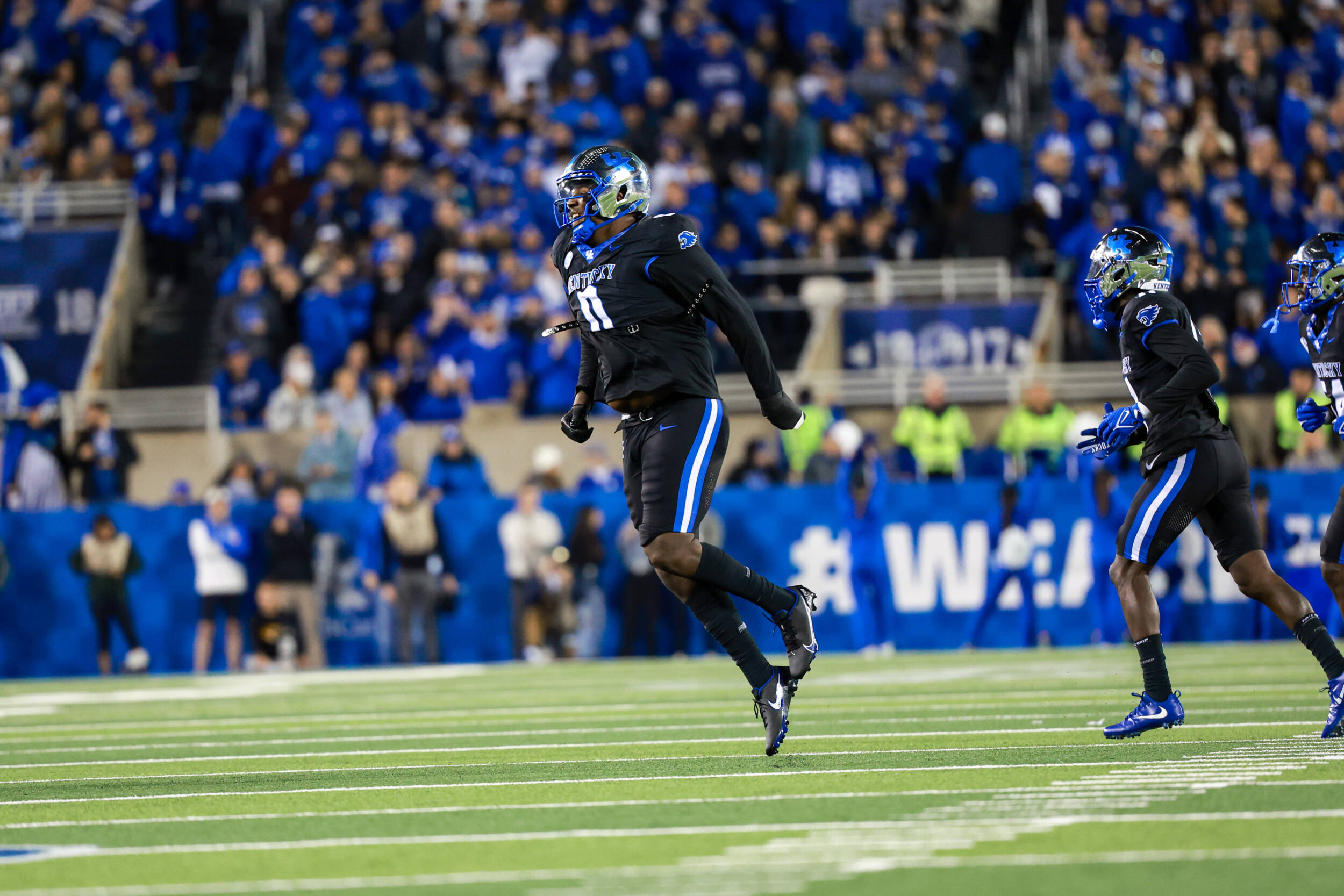 UNIVERSITY OF KENTUCKY FOOTBALL MEDIA CONFERENCE
October 14, 2023
Lexington, Kentucky
Coach Mark Stoops Press Conference 
Missouri 38, Kentucky 21
MARK STOOPS: I give credit to Missouri for beating us and playing better than us. We need to get to this off week and take a good look at ourself and improve in a lot of areas, you know, starting with the discipline of this team. You know, there are a lot of penalties and things that are happening, the football, a lot of areas that we can go through, and I'm sure you will ask questions on, and we need to address and work on to improve. And I anticipate we will.
But the discipline, the lack of discipline is really something that's standing out and bothering me. We have not been perfect over the years by any stretch, but we've had more discipline than we had right now and that is something that is inexcusable. We have to take care of the football and we have to eliminate penalties and then, obviously, get to work and get better in certain areas.
And as I told the team, that this is not fun, it is a tough loss, especially when you have a team at home and we don't play our best. But we have an opportunity to bounce back. And, you know, I think the bye week comes at a good time. Our players need to get healed up. We are down a bunch of guys. But that is no excuse. We have plenty of players that can step in and play better than we did. And we will use this week to coach better, develop the guys that we have, and try to get some guys healthy.
Q Well, Mark, after all week talking about responding to adversity, it felt like things fell apart with the fake punt really quickly.
How concerning is that?
MARK STOOPS: Yeah. Yeah. I think it definitely doesn't feel very good, when you feel like you get out fast, have an opportunity to start really fast with defense, starting with a three and one, driving it down the field, overcome a penalty on both of the touchdown drives and start 14 nothing and then the fake punt definitely. It is one of those plays that feels like it punches you right in the gut. And we didn't respond very good after that.
Q Mark, you lost some good leaders off this team, guys who were better this year and developing leadership. Do you think at this point some of that lack of discipline goes back to lack of leadership on the team?
MARK STOOPS: I don't want to point the fingers at the team and the lack of that. I have to own that myself. And we will. Like I said, through the years we have been far from perfect. But we have been unselfish and played for each other. And that's the message and we will get that across. I think frustration is a big piece of some of this tonight. Guys are frustrated and, you know, I think we all are frustrated but we have to handle the situation better than that.
Q Offensively, do you feel like you are struggling to find the right balance with runn or pass after those scripted draws?
MARK STOOPS: Yeah, I do. And I think, you know, Liam (Coen) will be the first one to tell you, when things don't go well it is difficult. It is just like late when Devin (Leary) had somebody right in his face on the boot and after a first down run, I think you saw when we have success in the run game it sets everything else up. And you watch a lot of the games. With playing a night game, we had an opportunity to watch others and you see other teams in the league making a lot of hay on first, second down. When we got in predictable situations and behind, even the pressures and all of that, there is going to be protection things that we will look at and head scratchers. Because we worked on them, you know, and didn't look good. So…
Q Mark, how concerning is the pass protection? Because, I mean, you guys had maybe second and five and second and six at times and he still had people in his face.
MARK STOOPS: Yeah, I think it definitely showed up tonight.
You know, that's things that we have got to look at and make sure, you know, we're keeping people off balance, too, the right way. And, you know, credit them, you know, tonight for sure. And there's going to be plays, and I am not pointing fingers at Liam, offense and defense and special teams and us coaches, we look at things and we will be like, you know, what-if. Do you know what I mean? That's not good enough and we have to get things corrected and we have got to be better.
Q Mark, is there anything that can be taught or is it all of the players not responding?
MARK STOOPS: I did talk to the players about that. I was like, listen, it starts with me. I'm the head coach and we've got to get the discipline under control. But, those players have to help, too, yes. They have to hold each other accountable as well. It is their football team.
Q Is Jager (Burton) injured, is that why he didn't play?
MARK STOOPS: Yes.
Q A long-term thing?
MARK STOOPS: I hope not. I hope not. He wanted to try to play desperately, but he could not go.
Q Defensively there were some — as bad as things were, the stretch in the second quarter, it was still a six point game in the third quarter. How do you keep the defense from maybe pointing fingers when the game was still within reach there for a while?
MARK STOOPS: Well, you know, it's easy. I mean, just look a week ago, you know, and the defense didn't play very good. So we are in this together. There's frustration across the board. But there won't be finger pointing about one side or the other. We know that script can flip at any moment.
Q Mark, two more drops on what I think would have been third down conversions today. Do you still have numbers in that wide receiver room, because some of them transferred out. How do you hold guys accountable and push there and fix the issue that has been a problem?
MARK STOOPS: Yeah, we have to fix that issue. We do. You know, the guys that are here, you know, we have to try to get healthy. With Tayvion and Barion not being 100 percent, that hurts with their conditioning, with the way they practice, you know, and they're battling and trying to get through the games. And when we give some other guys opportunities, they have to step up and we have got to make plays. We have to help the quarterback more. And, you know, right now we are not doing that on a consistent basis.
Q Mark, obviously it was a tough night. The second straight game, it seems like you were in tough spots. Do you open that position up or?
MARK STOOPS: Yeah. Yeah, it has frustrated me as well. And, so, you know, we have to look at all options and we will see, yeah.
Q Mark, coming off a 38-21 loss, the fans will be frustrated. But what would you say as a mentor?
MARK STOOPS: They have every opportunity to be frustrated. And our team, I just talked to many of the guys after, you know, in smaller groups. And the players, you know, our players will be frustrated. At first right now they have got to cool down, go back home and come in tomorrow and watch the film. And we will get together Monday as a unit, and it starts with looking at your individual performance and what area you can do better. With the fans, I mean, what do you want me to say? It is frustrating and I understand that. And, listen, I've been here 11 years and I've taken the good with the bad. And, you know, either way I will hold my head up high, try to coach the team, work my butt off to get them right. And like I told the team, the next opportunity we have in this stadium, after a bye week, is a big game.
And I also told the team, when I show them the standings when we take the field against that team in two weeks, there's going to be, what, 3, 4, 5 teams in our league with a better record. I mean, it's tough. It's tough. This is a tough league. And we beat each other up and right now we are a little bit battered and we have got a bye week and we have to become a better football team and we have to get some guys healthy.
Q Mark, in the first quarter (inaudible) and something happened that really changed and they lost some footing.
MARK STOOPS: You know, there are a variety of things that happened, whether penalties, protection, a drop, or you name it. We definitely have to help Devin, you know, some more. You know, there is enough blame to go around that we have to look at every area and put him in a better position to be successful. I thought we did that in the opening drives. And as you mentioned, we have got to continue that through the game and we have to respond better.
Q What about Trevin Wallace, what is his situation?
MARK STOOPS: We definitely missed him, you know, just his play, his leadership, all of that. You know, it is not good. And, you know, Tre'vonn and Keeshawn, I don't think they played a snap tonight.
They were dressed. We were going to try to play them, but I don't think they played.
Q Wallace, do you expect him back after the bye week?
MARK STOOPS: I hope so. Yes.
Q All right. Anyone else?
MARK STOOPS: Go ahead.
Q In helping out Devin, he did a lot of good things tonight, what do you say to him when he did good things for the offense?
MARK STOOPS: Well, I think that he understands that and, you know, he starts with owning his mistakes. And then there's areas tonight, confidence this week, I thought he was really turning the corner and we have to help him as the whole organization, whether protection, play calls, or catching the ball. And we need to step up and work and develop, and that's what we have to do here this week. We have to get guys healthy but we have to get some of the other guys better to finish this season off.
KENTUCKY FOOTBALL POSTGAME QUOTES
KENTUCKY VS. MISSOURI
KROGER FIELD – LEXINGTON, KY.
OCTOBER 14TH, 2024
UK Student-Athletes
#17, Daveren Rayner, ILB
On correcting discipline …
"You know we gotta hold each other accountable in all aspects, on all sides of the board. I think that's something that will get fixed together as a unit, as a team, you know, individually. Whatever it takes, I think we will figure it out."
On the biggest things that need to be worked on heading into the bye week…
"I think we just need to get back to playing our version of football, you know. Like he said earlier, we can't allow stupid penalties to get in the way of anything so, I think it comes from holding ourselves accountable and, like I said, being the best versions of ourselves."
On being frustrated on starting off as a promising team but losing it the last two games …
"I wouldn't say it's frustrating at all because, you know, it's two games and it's a long season. We obviously didn't have the outcome of those games that we wanted, but I mean to base the first half of our season just solely off two games, when there's still so many more games to be played is kind of, you know, a reach to me."
#0, Deon Walker, DL
On it being vital to clean up silly penalties …
"It's very vital. We got to be more disciplined as a team. That's on the leaders and on the captains, there's only so much the coaches can do and that is something we have to take more pride in as a team, so worry about getting better for our team's sake and stopping the emotional penalties, there were a lot of them. We got to learn to play with passion, not emotion."
On the message regarding the penalty issues …
"With Coach Stoops, it was just we got to work on us, we lost us the game. Missouri is a great team, everyone knows that, but there were times where we just shot ourselves in the foot and that's leadership, like I said. We got to work on us, work on our discipline, work on when we get mad not lashing out, stop playing with emotion and play with more passion and just being more together as a team."
On a tough last couple weeks how the team rebounds …
"I mean our number one is to get healthy. We wanted to go six one going into the bye week. It doesn't pan out. We are going to work on recovery and have a short-term memory, and just work on getting better."
#75, Eli Cox, OL
On the last couple of weeks and how you stop it from snowballing …
"We just have to get back to work, you know. That wasn't really our best foot forward that game. We really let it slip away from us. It just goes back to the details and discipline that you build in practice. It's just something we're going to have to get back to work and [back to] the drawing board during the bye week. We've got some extra time to focus on stuff like that. Not as much on the game plan. So, it's really what we need to be doing in the bye week. Focusing on those little things."
On the difference between when things are going right vs. wrong …
"Yeah, I think when things are going right you've got the momentum. SEC home game, you have to keep it. I think it speaks to that sometimes as a team you need to grow up in some areas. It's a four-quarter game. They responded. Missouri was down 14 to nothing in the first quarter. You can flip it that way and they responded and we didn't. And when they punched us, we didn't respond. I think that's something as a team we need to grow up and realize it's a four-quarter game. There's so much football to be played. And we can't let one mistake become two and three."
KENTUCKY FOOTBALL POSTGAME QUOTES
KENTUCKY VS. MISSOURI
KROGER FIELD – LEXINGTON, KY.
October 14, 2023
Missouri Head Coach Eli Drinkwitz
Opening Statement …
"Yeah I mean there's so much to be proud of for our football team, you know, I think that's really what it comes down to is just how proud I am of those men in that room. From the coaches to the players you know, down 14 nothing, not playing good ball at all and we just needed a spark and really proud of Coach Link for identifying that as the fake and knowing we could get it and then we had to execute it, and that just changed the momentum. I think we went on a 38-7 run right there. Defense forcing big time takeaways, which is what we stressed all week. You know, we can still be a good football team, but we got to improve in some of those areas and they took it to heart. I mean, Phillip Roche came in with a big sack there, Marcus Clarke with an interception, Joseph Charleston forcing a fumble, obviously Kris Abrams-Draine with another one. It wasn't our cleanest day offensively, but on the road in this environment, to get a win versus a really good football team, really, really proud of those guys, and we're going to celebrate it and we'll look forward to come back to homecoming. So I'll open up for questions."
On wanting to play complimentary football in three phases, and what it looked like today …
"It looked like it to me. Yeah, and really, you know, special teams, we challenged them. Obviously we didn't get the, oh we got the blocked field goal, but the punt, the fake punt right there to spark us was unbelievable, and that's all we needed. We just needed something to believe in and that's what good football teams find a way to do is all three phases. When somebody's not performing one of those phases step up and we are really proud of Eric."
On what led to calling the fake punt in the second quarter…
"We just knew from scouting that there was an opportunity. They go safe defense once you cross the 50. So, we knew anytime we crossed the 50 if they went safe defense that we had that call on and we've practiced it all week, and you know, down 14 nothing what do you have to lose at that point, so we said let's roll it and Luke made an unbelievable throw and Marquis made a great catch. Luke celebrated so much that he wasn't out there as the holder for the extra point because he didn't understand that if you throw a touchdown then you're supposed to go be the holder. So heads up play by Sidney to get out there, oh sorry Riley, to get out there and hold for us, but we'll make him do his up downs on Sunday."
On gap integrity along the D-Line and how the defense responded to Ray Davis's big first drives …
"Yeah, I thought they did a nice job of settling in, he was kind of getting lost behind the line of scrimmage behind some offensive linemen. But what really flipped the script for us was being able to create pressure on the quarterback when they were trying to get into their first and second down pass game and getting them behind the chains and kind of got them out of the run game, it was when we flipped the game. We put the game by getting the score right before half to take the lead into halftime. And I knew when we were running off the field and they were booing, you know if the home team was booing them, we were going to win. That's when I knew."
Missouri Student-Athletes
#12, Brady Cook, QB
On how you think the offense did as a unit tonight …
"I think we did well. We played complimentary football. It really started with defense and special teams tonight. It wasn't a crazy offensive game, and we didn't do anything super special, but when they needed us and when we needed to put the game away, I thought we did just that."
On how you were able to rally the team when you were down 14-0 and 21-20…
"We prepared all week for that type of game; we keep going back to referring to this game as a street fight. We knew it was going to be a street fight. We didn't start fast; I turned the ball over and they [Kentucky] put up two quick touchdowns. We knew it was going to be a long game and we were going to have our opportunities, we just had to stay in it."
On how you think you and your team responded in a hostile environment [Kroger Field] …
"I thought we did well. I thought we did a good job of limiting penalties and keeping our composure while handling the environment well. More so we enjoyed the environment, it was fun out there. It was definitely an SEC football game, you can feel that, but I thought we did a good job of handling."
#93, Luke Bauer, P
On being antsy throwing the football for the trick play…
"No, growing up I played baseball, so I know I could throw it."
On being seen throwing in the tunnel…
"Yea. We ran it all week, so I had a good feeling we were going to run it, and it worked out."
On the atmosphere of playing in Kroger Field
"It was a good atmosphere, and I just knew how to go out there and put the ball in the right spot."
#6, Darius Robinson, DL
On what was positive about tonight's performance …
"We won. We won the game. Everybody's playing really hard and everybody's just so happy right now. You know, a lot of times, I love this stuff, we overthink it, but yeah, we're just kids play football. And we just play and we're going to start a little slow, but we played well and just had fun together. Everybody was just bought it, no matter if we were up or down. Everybody's wanting to keep playing and that's all you really cherish in these moments."
On what adjustments were made after the first couple of drives…
"Oh, just energy. You know, they started hot, you know, they are at home. They came out hot. We weren't ready and we got to the sideline, everyone knew. It's like I told you last week, a lot of self-inflicted stuff, but we corrected it much faster than we did last week. So that's something we improved on and were able just to get back on and, you know, I'm excited."
On clinching bowl eligibility this early in the season …
"Great. I mean, when I really thought about coming back to college, this is what I envisioned. Honestly, I envisioned being a team that can start fast, win games early and get good momentum. I think that last year, Arkansas, I mean we fought for our lives out there just to go to the bowl game and now, like, we're here, but now we can't ease up. Now it's time to turn it up even more. So, I told Coach Russell, you know, I'm ready to get back to workouts on Monday. We get back to meetings on Monday because, you know, South Carolina was a really good team. And you know, we've got the opportunity to be seven and one and my whole career is one and this two and this three and this and I'm trying to be seven and one is like, beyond blessing, but I noticed what happened. I knew with everybody coming back to school. I knew everybody with the right mindset, with our coaches, that this is possible, but like I said, we've still got a lot more work to do to be where we really want to be."