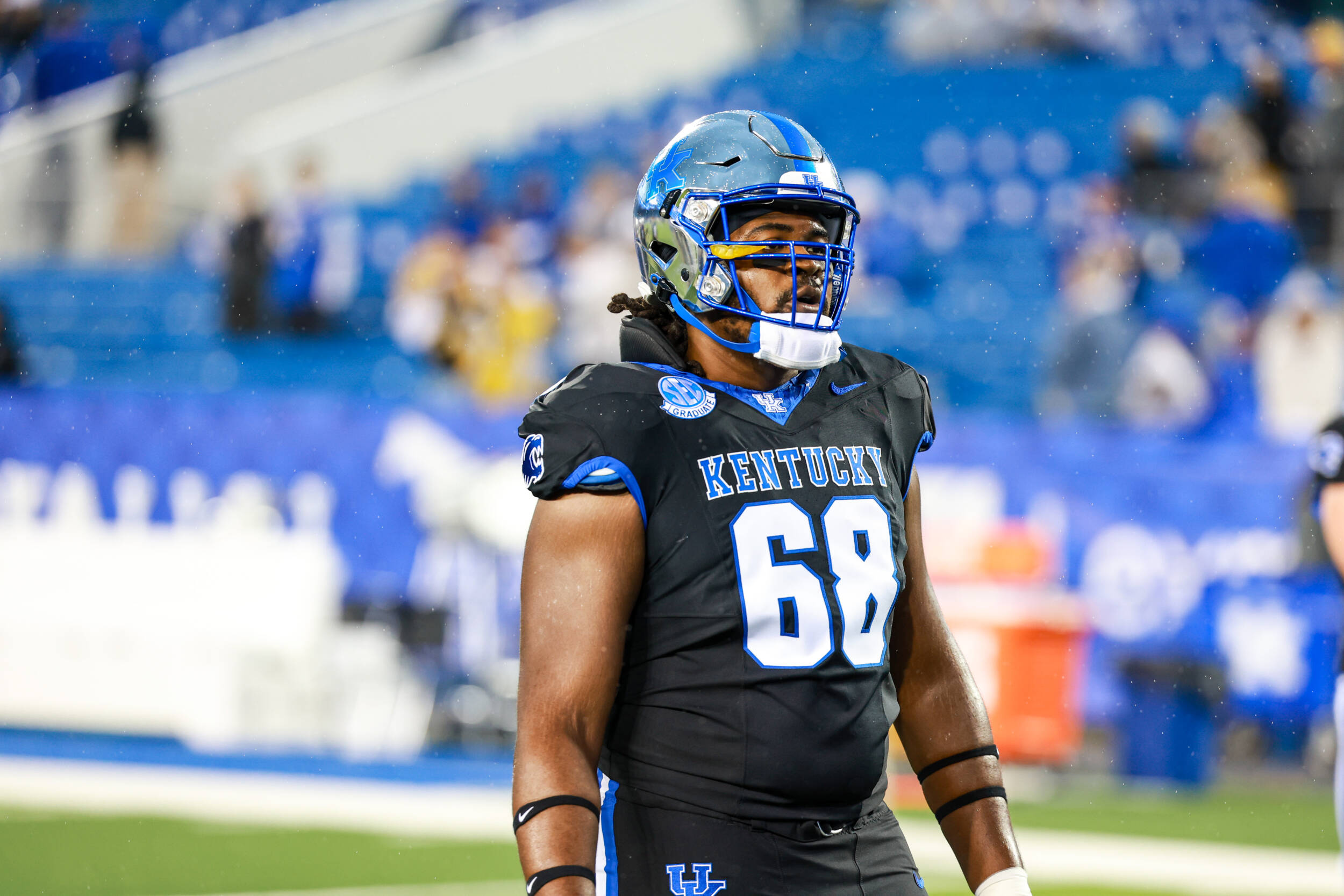 KENTUCKY FOOTBALL POSTGAME NOTES
MISSOURI at KENTUCKY
KROGER FIELD AT C.M. NEWTON GROUNDS – LEXINGTON, KY
OCT. 14, 2023
FINAL SCORE: Missouri 38, Kentucky 21
Team Records and Series Information
Kentucky is 5-2 in 2023 and 2-2 in the Southeastern Conference, while Missouri is 6-1 on the season and 2-1 in the league.
Kentucky remains the leader in the all-time series, 9-5.

Kentucky remains the leader in games played in Lexington, 5-2.

Next for UK: Kentucky has an open date before playing host to Tennessee on Oct. 28.

The game time and television assignment will be announced Monday.
Team Notes
UK has forced 11 turnovers in the first seven games, most in its first seven games since 2017 (13).

UK has forced at least one turnover in each of the first seven games for the first time since 2014.
UK has forced a turnover in 11 consecutive regular-season games for the first time since a 15-game stretch in the 2007-08 regular seasons.

Kentucky has scored on its opening drive in five of seven games this season after Ray Davis' touchdown reception on UK's first series.
Kentucky had a 100-yard rusher for the fourth consecutive home game vs. Missouri.
Player Notes
Quarterback Devin Leary completed 14 of his 27 passing attempts for 120 yards and two touchdowns.

He had his first rushing touchdown of the season, and the sixth of his career, on his 13-yard scamper up the middle on the second possession of the game.

Running back Ray Davis had 20 carries for 128 yards.

It marked his third 100-yard game of the season and the 12th of his career.
Davis has scored a touchdown in all seven games this season, the first Wildcat to score a TD in the first seven games of a season in school history, based on single-game statistics available since the 1940s.

He is the first Wildcat to score a TD in seven straight games within the same season since Randall Cobb in 2009.
He is the first Wildcat to score a TD in seven straight games since Benny Snell tallied the last six games of 2017 and first game of 2018.

Wide receiver Anthony Brown-Stephens had a 4-yard touchdown reception, the first score of the freshman's career.
Wide receiver Barion Brown had three receptions for 18 yards.

He improved his streak of 20 straight games with a reception, which is every game of his college career.
He has 904 career yards receiving, needing just 96 more to become the 33rd player in school history to eclipse 1,000.

Running back Demie Sumo-Karngbaye had one rush for 28 yards and he had a season-high three receptions for 13 yards.
Inside linebacker Daveren Rayner led Kentucky with a season-high 10 tackles, including five solo tackles.

He added one tackle for loss (-1 yard) and his first quarterback hurry this season.

Defensive back Maxwell Hairston had three tackles and an interception.

He had his fifth interception this season, including his fourth in league action.

His five interceptions are tied for fifth-most interceptions in a single season in program history.
His five in a single season are the most since Sam Maxwell in 2009 (6).

He has totaled 131 interception return yards this season, most since Greg Long had 176 return yards in 1981. (School record is 197 by Dave Hunter in 1968.)

Defensive lineman Tre'vonn Rybka blocked a field goal in the third quarter.

It is the first blocked kick of his career.
It's UK's second blocked field goal of the season, including Octavious Oxendine against Ball State.

Coming off a season-high 11 tackles at Georgia, inside linebacker D'Eryk Jackson had nine stops against Missouri.

He added a quarterback hurry.

Game captains: Eli Cox, Devin Leary, Kenneth Horsey, Zion Childress