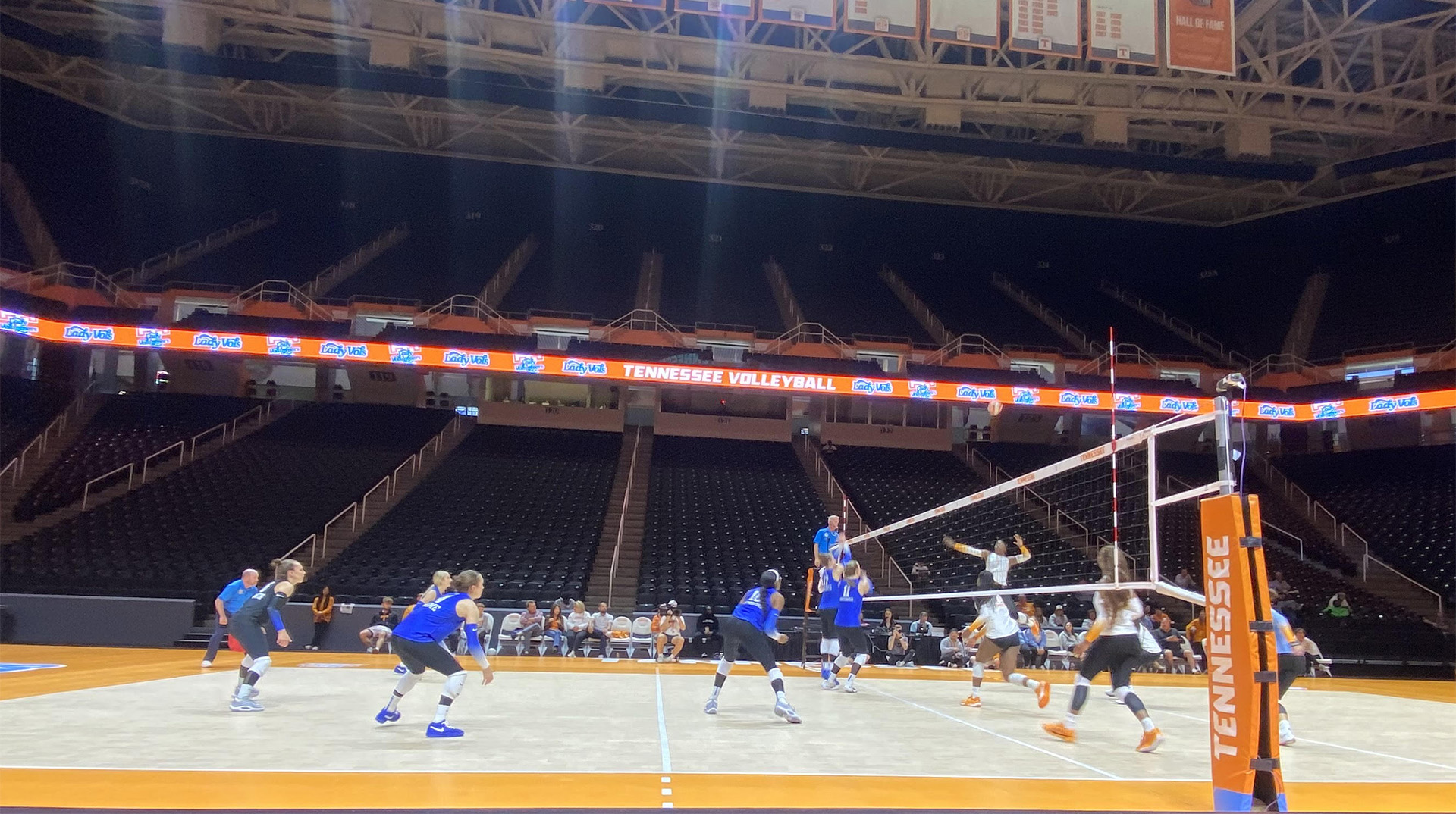 October 15, 2023 - 07:17 PM
Kentucky Flips Script on Tennessee on Sunday
Exactly three weeks ago, the Tennessee volleyball team came to Rupp Arena and swept Kentucky. The Lady Vols beat the Cats in every phase of the game on the way to the victory.
But when the two teams met again on Sunday in Knoxville, it was a completely different story. Kentucky, which was without Reagan Rutherford in the first matchup, got the senior back and the Cats returned the favor by sweeping 10th-ranked Tennessee in a crucial Southeastern Conference match inside Thompson-Boling Arena.
Freshman Brooklyn DeLeye led UK with 13 kills, while Elise Goetzinger and Azhani Tealer each had 12. In her first match back after missing six consecutive matches, from an eye injury, Rutherford had eight kills.
Rutherford was happy to be able to get back on the court on Sunday.
"I just wanted to come and unload," Rutherford told the SEC Network following the match. "We knew it was going to be a really fun match for the SEC. I just wanted to show up for my team because I've been out for a while. Getting back on the court felt really good."
Rutherford got things going early, earning kills on all six of her first set swings. Goetzinger also got off to a hot start, with kills on each of her first five swings.
Rutherford said that the production of Goetzinger and Tealer was part of the strategy on Sunday.
"We knew Tennessee was a big block so we needed to work on spreading it out," Rutherford said. "We started by working the middle, then going out to the pins. Our middles just put it away so we couldn't stop feeding them."
Tennessee had lost just one match, and just seven sets, all season on their way to a 16-1 record. But on this day, Kentucky was clearly the best team on the floor. The Cats hit .356 as a team compared to just .274 for the Lady Vols. Kentucky also outblocked Tennessee on its way to a fifth straight win. It was the first time this season that Kentucky has swept an opponent.
Kentucky played a brutal nonconference schedule, facing four Top 10 teams prior to SEC play. Sunday was the first time this season that the Cats were able to get a win against a Top 10 foe, something that Rutherford took great pride in accomplishing.
"We learned a lot this season," Rutherford said. "It's been incredible to learn from our failures and showing where we are now."
Where the Cats are now is squarely in the middle of the SEC race, as UK aims for a seventh straight conference title. Sunday's win was a huge step in that direction.