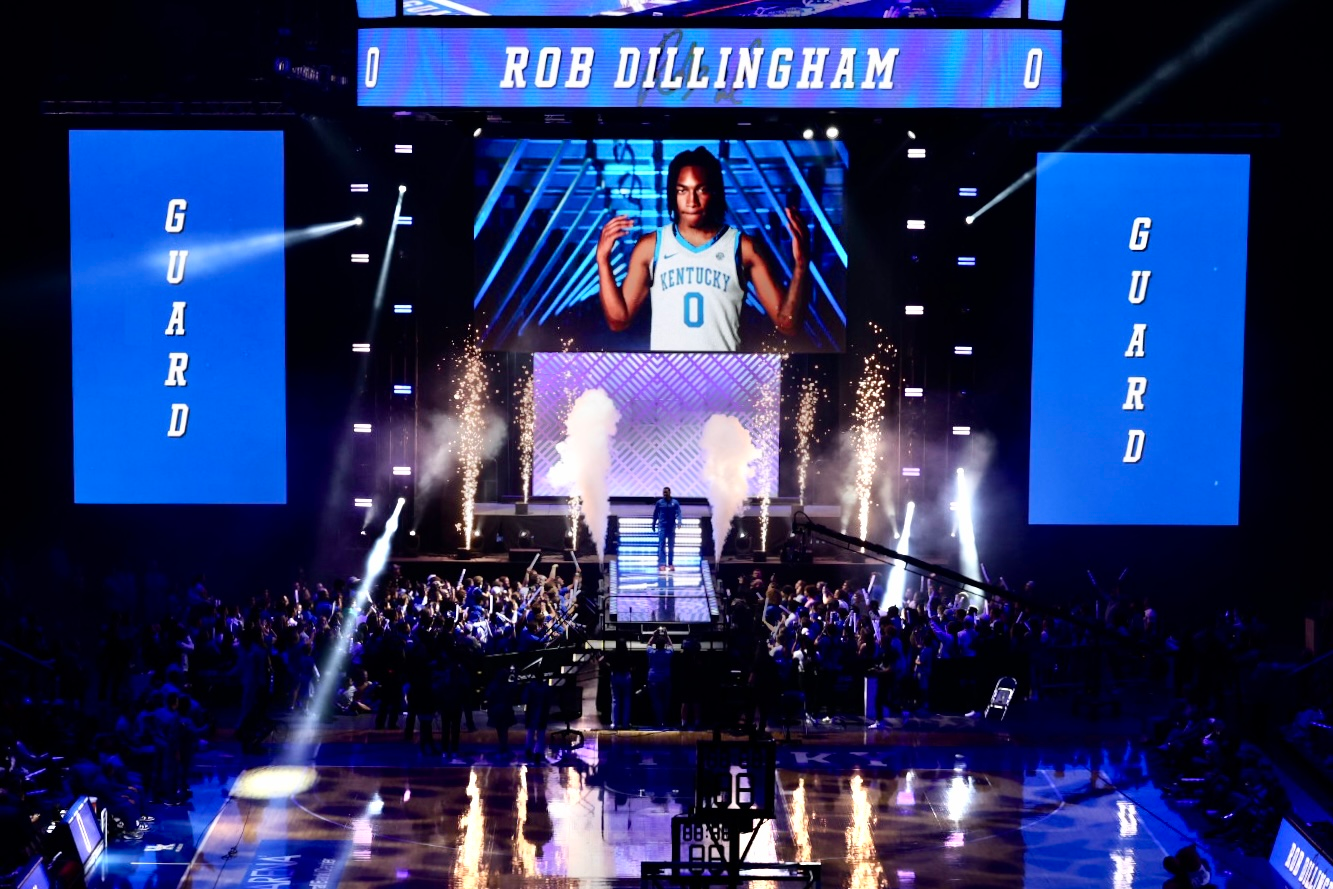 October 13, 2023 - 10:30 PM
Top Moments from 2023 Big Blue Madness
Basketball season is officially here and the Kentucky men's and women's teams got things started on Friday night with their annual Big Blue Madness at Rupp Arena. Both Kyra Elzy and John Calipari showed off their 2023-24 squads at the event, which again drew a full house at the venerable downtown arena.
As always, there were tons of highlights from the event. Here are some of the top moments from Big Blue Madness 2023.
Boogie in the House
DeMarcus Cousins , who played for Calipari's first Kentucky team in 2009-10, returned to Big Blue Madness on Friday night. An NBA veteran, Cousins was on hand to introduce the UK head coach to the Big Blue Nation.
Special guest @boogiecousins making a comeback to introduce @UKCoachCalipari at #BBM2023. pic.twitter.com/QPlSF4z8vF

— Kentucky Men's Basketball (@KentuckyMBB) October 14, 2023
The Debut of "Big Z"
Zvonimir Ivisic has only been in the United States for a few days, but he was in uniform at Big Blue Madness on Friday night. The 7-2 Croatian had limited participation, but his presence was a welcome sight for the Big Blue Nation.
Reeves Repeats as Three-Point Contest Winner
Antonio Reeves beat Reed Sheppard to win the men's version of the three-point contest on Friday night. It came down to the final rack, where Reeves rallied to slip past Sheppard to the title.
.@ToniooReeves repeats as the 3-point contest champion at #BBM23. pic.twitter.com/jy82x5rVhf

— Kentucky Men's Basketball (@KentuckyMBB) October 14, 2023
Surprise Winner in Dunk Contest
The dunk contest was a three-man race between 6-8 Jordan Burks, 6-8 Justin Edwards and 6-5 Joey Hart. After struggling at the beginning of the competition, Hart rallied and, according to the fan vote, was the winner.
.@joey_hart32 stole the show during the #BBM23 dunk contest. pic.twitter.com/etbsR1qlMS

— Kentucky Men's Basketball (@KentuckyMBB) October 14, 2023
Women's Basketball Coaches Return
In celebration of 50 years of UK women's basketball coaches, a number of the program's former head coaches were in attendance on Friday. Sue Feamster, Terry Hall (represented by her sister Marty), Sharon Fanning, Bernadette Mattox, Mickie DeMoss and Matthew Mitchell joined Elzy on the stage prior to the women's team taking the floor.
Scherr Wins Three-Point Title
Maddie Scherr is expected to be among the leading scorers for Kentucky this season. She showed plenty of that scoring ability on Friday night, beating out Emma King, Cassidy Rowe and Saniya Tyler in the three-point contest.
Cheerleaders
The 24-time UCA National Champion UK Cheerleaders performed a very difficult, high energy routine on Friday night, displaying elite athleticism and technique. Kentucky will shoot for title number 25 at the UCA national competition in Orlando in January.
Dance Team
The UK Dance Team performed a "Barbie"-themed hip hop routine during Friday's festivities. The UKDT will participate in the UDA national championships in Orlando in January.