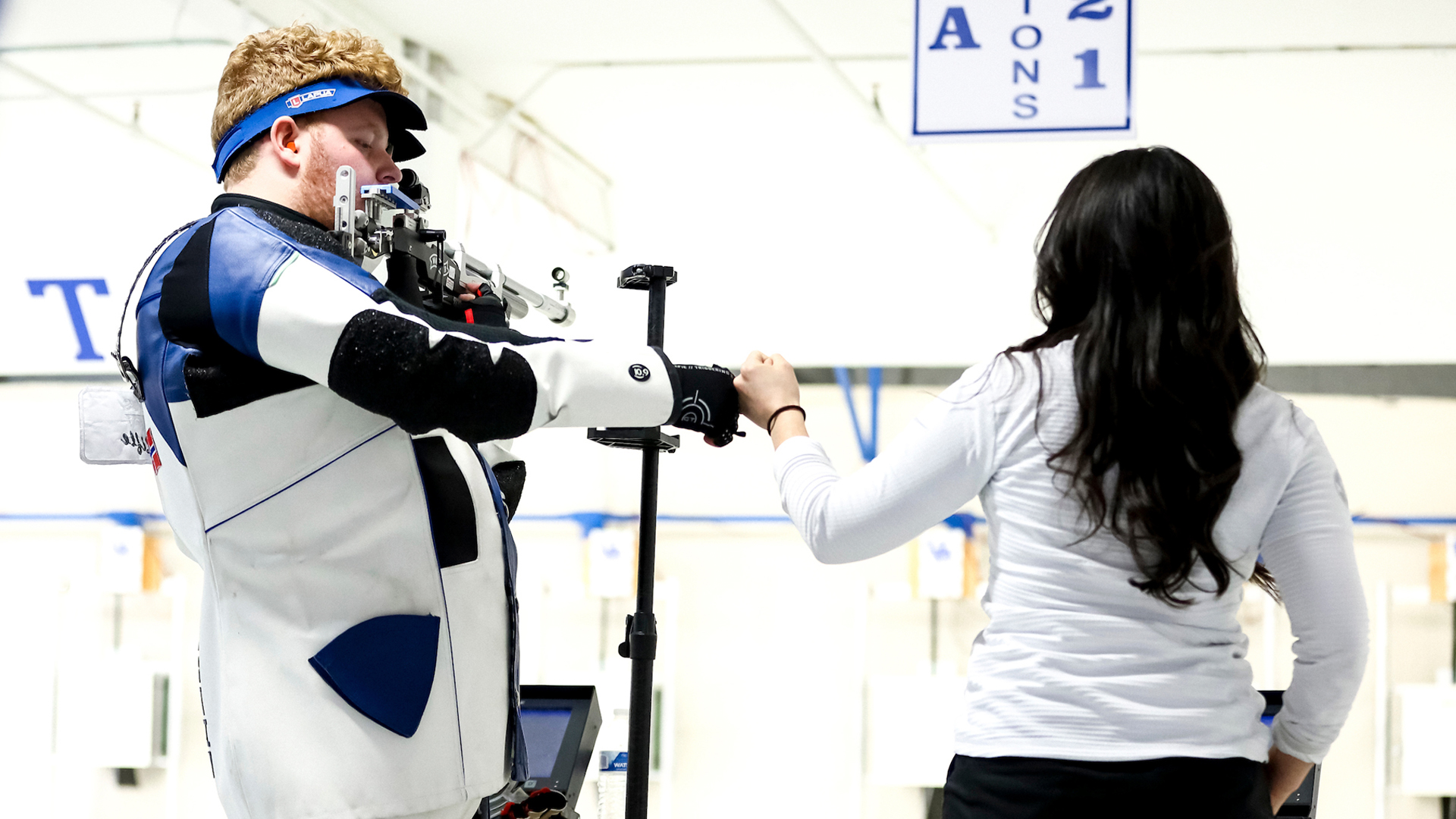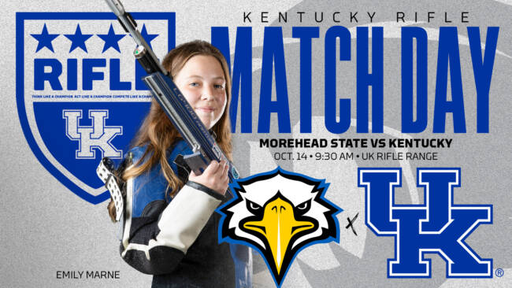 LEXINGTON, Ky. – All the preparation and offseason work will come to a close Saturday as the four-time national championship University of Kentucky rifle team opens its 2023-24 season vs. Morehead State inside the UK Rifle Range at Barker Hall.
Sights and prep for the first relay, which will start with smallbore, will begin at 9:30 a.m. ET. The first air rifle relay should begin at approx. 11:30 a.m. ET with the second relay getting underway at approx. 1 p.m. ET. Spectators are invited to watch smallbore scores up in Barker Hall and enjoy free breakfast during the first part of the relay. The range will be open to spectators for air rifle. Admission is free.
New for fans this year both in-person and watching at home will be live commentary online to help provide a breakdown of the action and how the teams and competitors are performing. Former UK All-American Billy Azzinaro, who helped lead UK to the 2018 NCAA Championship, will be providing commentary of the first relay on Saturday. The live commentary will be available online at UKAthletics.com, along with live targets and a NCAA scorecard.
"We are excited to be back in the range in front of our fans for the season opener Saturday," UK head coach Harry Mullins said. "I think Big Blue Nation is really going to like this team. We have some familiar faces that have been with us for a while and some new athletes that we are excited about. This first match is always a good test to see where you are at in your training. Morehead State is a great team and it will be important for us to come out and compete hard and see what things we need to continue to work on as we prepare for the championships in March."
Kentucky had a solid 2022-23 season, finishing third overall at the 2023 NCAA National Championships. It marked the 22nd time the Wildcats have finished top five at the national event. UK has finished on the podium in each of the last three national championships, winning the title back-to-back in 2021 and 2022. UK has won three of the last five titles overall and were the undefeated favorites in 2020 when the championships were canceled due to COVID-19. UK's four national titles is the third most in NCAA history.
Prior to the NCAA Championships last season, Kentucky won its fourth straight Great America Rifle Conference Regular-Season Championships. It was the first time in program history that UK has won four straight regular-season championships and it was the program's 10th regular-season title overall. All 10 titles have come under Mullins.
UK returns a majority of its 2022-23 roster, including last year's team leader in smallbore and air rifle average and three-time first-team All-America Sofia Ceccarello. Ceccarello won gold at the GARC Championships in air rifle, but did not compete in the NCAA Championships due to a prior international obligation. Fellow sophomore AJ Hotko and Martin Voss are also returning, along with juniors Allison Buesseler, Kayla Kalenza and Tori Kopelen. Fifth-year seniors Emmie Sellers and Jaden Thompson anchor the returnees and are poised for strong seasons.
The Wildcats added two rookie stars to this year's team in Braden Peiser and Emily Marne. Both come to Lexington with a length list of accomplishments and are expected to have strong freshman campaigns.
This will be the third match of the season for Morehead State, who competed twice last weekend in Murray, Kentucky, against UT Martin and Murray State. The Eagles won both matches on the weekend, defeating Murray State on Saturday 4662-4638, and UT Martin on Sunday 4667-4620. Freshman Maria Koenig was the leader on the weekend with an aggregate average of 1169, earning a 586 average in smallbore and 583 average in air rifle. Graduate student Grace Weber was just behind her at 1168.5, while sophomore Adrianna Beard averaged a 1168.
Saturday is the first of seven matches for Kentucky this fall and the first of four home matches inside Barker Hall. UK will compete again Saturday, Oct. 28 at Navy and then return home for three straight matches starting Nov. 3 vs. Akron, Nov. 5 vs. Ole Miss and Nov. 11 vs. Memphis. The fall schedule will conclude with a trip to Fairbanks, Alaska, competing against Akron on Nov. 18 and Alaska and Akron on Nov. 19.
For more information on the Kentucky rifle team, visit UKathletics.com or follow UKRifle on Twitter, Instagram and Facebook.