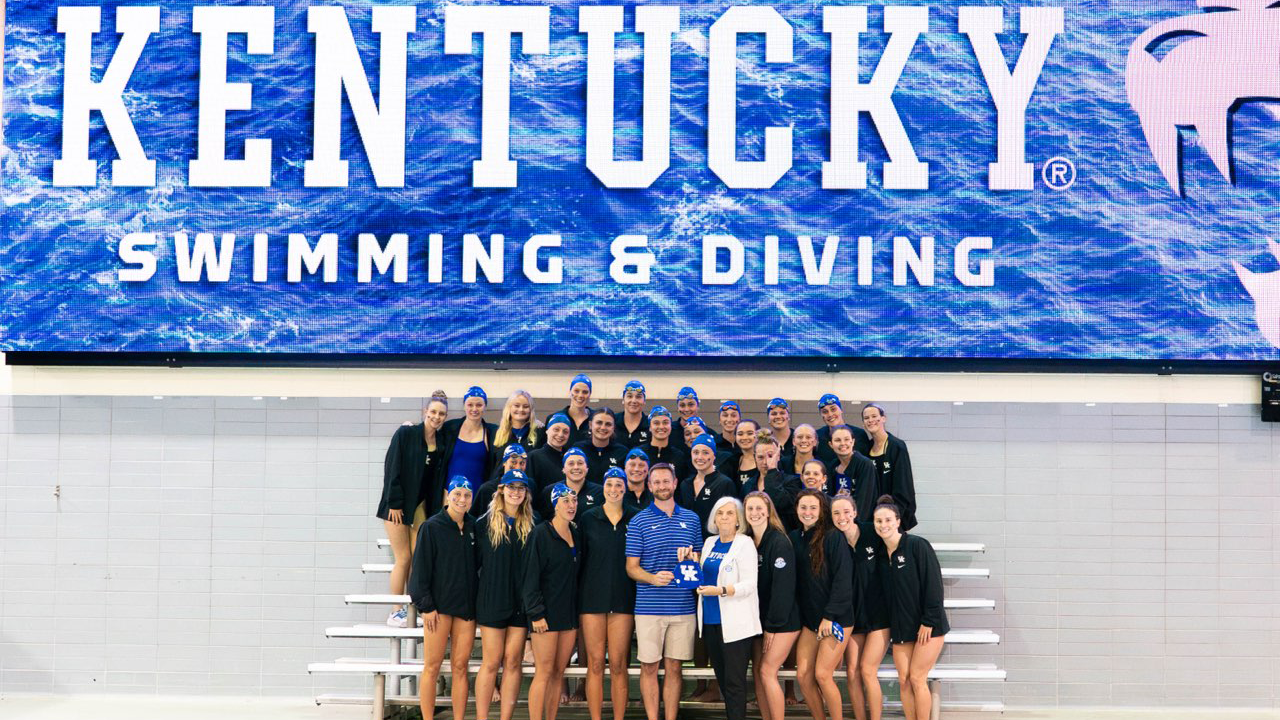 October 13, 2023 - 10:21 PM
Bret Lundgaard Earns First Win as Head Coach, Wildcat Women Top EMU
LEXINGTON, Ky. – The Bret Lundgaard era of Kentucky swimming & diving saw its first dual meet win on Friday night as the UK women earned a 179.5 – 93.5 victory over Eastern Michigan inside the Lancaster Aquatic Center.
Kentucky student-athletes placed first in all 16 of the dual's events with Caroline Benda, Grace Frericks, Lydia Hanlon and Bridget Engel each earning two individual wins to lead the way for the Wildcats. The dominant performance saw UK sweep the podium in nine total events.
Benda, a junior from Parkton, Md., continued her strong start to the 2023-24 season with victories in the 1000 free and 400 IM, giving her five total individual wins in the team's three duals this season.
Frericks, a 2023 All-American Honorable Mention on UK's 800 freestyle relay last year, had her strongest showing of the young campaign with a sweep of the 100 and 200 freestyles. Hanlon, a fellow sophomore, also won her first two races of the season, touching first in the 100 back and 100 fly, while Engel took first in the 100 and 200 breast.
In diving, freshman Kristy Pfaff had a standout performance on the 3-meter springboard, posting an NCAA Zone Qualifying mark of 286.35 to take first among 12 competing divers. Junior Abby Devereaux turned in the top score on the 1-meter (272.78), with freshman Devynn Bishop also registering a zone cut total of 266.85.
For the night, a total of ten different Wildcats won individual events, including two freshmen – Pfaff and Libby Grether. Three others contributed to relay victories – Torie Buerger, Lauren West and Lily Delong.
The Kentucky men also competed on Friday in an exhibition, intrasquad meet.
Next up for the Wildcats is a tri-meet with Tennessee and Florida, Saturday, Nov. 4. The action will begin at 11 a.m. in Knoxville inside the Allan Jones Aquatic Center.
Kentucky Event Winners:
200 Medley Relay: Buerger, Engel, Hanlon, Daly (1:42.39)
1000 Free: Caroline Benda (10:02.44)
200 Free: Grace Frericks (1:51.34)
100 Back: Lydia Hanlon (56.43)
100 Breast: Bridget Engel (1:02.39)
200 Fly: Kristyn Sabol (2:04.77)
50 Free: Kaelan Daly (23.67)
1-Meter Diving: Abby Devereaux (272.78)*
100 Free: Grace Frericks (51.21)
200 Back: Libby Grether (2:00.36)
200 Breast: Bridget Engel (2:17.06)
500 Free: Madeline Welborn (5:01.19)
100 Fly: Lydia Hanlon (56.14)
3-Meter Diving: Kristy Pfaff (286.35)*
400 IM: Caroline Benda (4:24.38)*
200 Free Relay: Frericks, West, Delong, Daly (1:35.40)*
*Was not used for team scoring
For the latest on UK Swim & Dive, follow the Wildcats on X and Instagram at @UKSwimDive, and on Facebook at Kentucky Swimming and Diving.