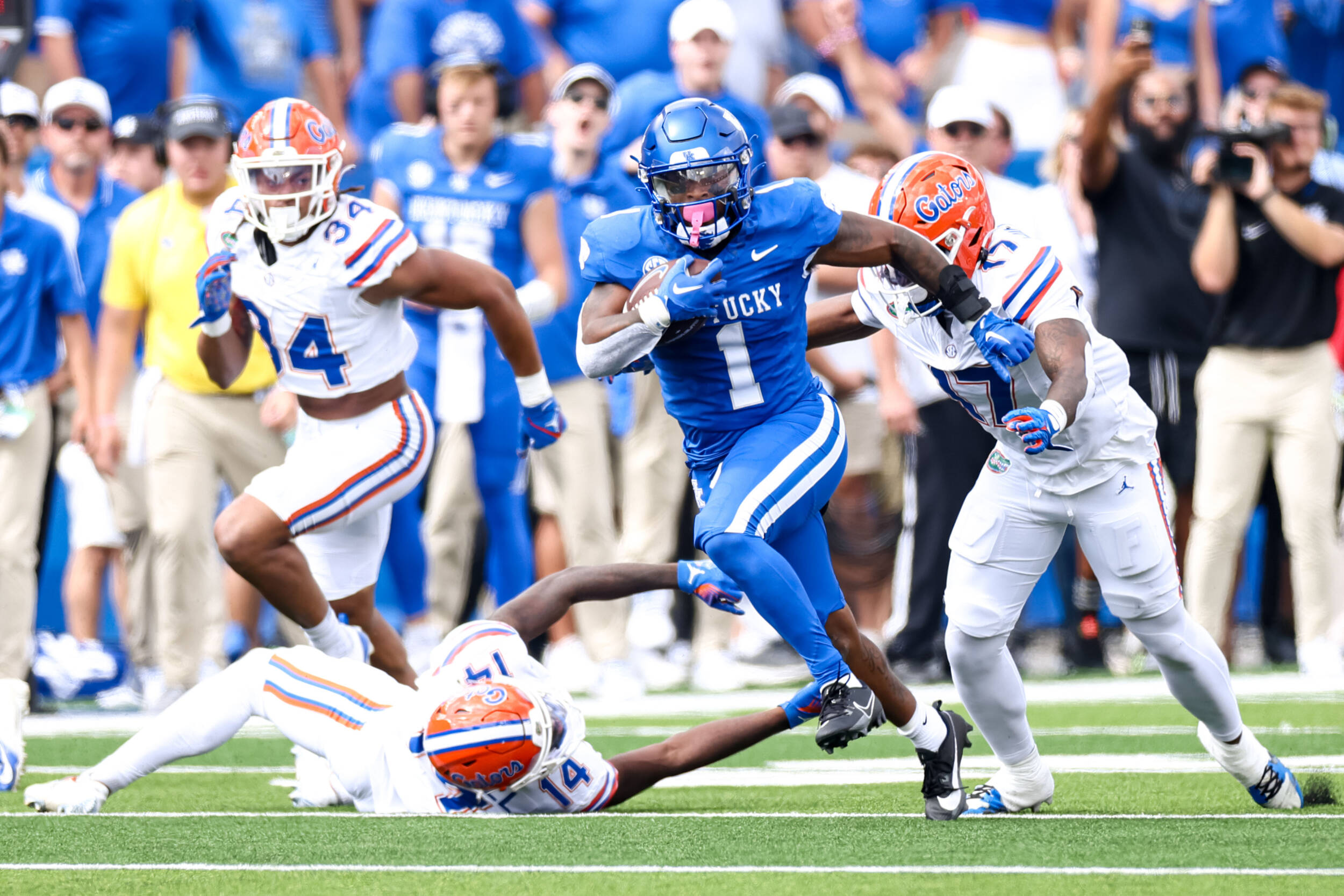 Kentucky running back Ray Davis has been named to the Reese's Senior Bowl Midseason All-America Team, it was announced Wednesday.
The 2023 Senior Bowl Midseason All-America team is chosen from the best-of-the-best in college football who are eligible for the 2024 Senior Bowl.
Davis, a 5-foot-10, 216-pound senior from San Francisco, is off to an electrifying start through the first six games of the season for the No. 24/23-ranked Wildcats, who are 5-1 on the season. He has rushed 91 times for 653 yards and eight rushing touchdowns, averaging 7.2 yards per carry. He also has caught 13 passes for 182 yards and four receiving touchdowns. Davis has scored a touchdown in each of Kentucky's six games this season, making him the only Wildcat to do that in program history (with single-game statistics available to the 1940s).
He currently leads the nation in scoring (12.0 points per game), total touchdowns (12) and total points scored (72) and ranks fourth nationally in rushing TDs (8), ninth in rushing yards (653) and 11th in rushing yards per game (108.8)
Additionally, he leads the Southeastern Conference in scoring TDs (12.00), rushing yards per game (108.83), yards per rush (7.2), total rushing yards (693) and rushing TDs (8).
Davis' journey to Kentucky has been nothing short of remarkable. After growing up in the foster care system as a young boy, Davis moved from California to New York to attend Trinity-Pawling School, an all-boys preparatory boarding school. After three seasons, he moved to Blair Academy in New Jersey for a post-graduate year before signing to play football at Temple. After two seasons with the Owls (2019-2020), he transferred to Vanderbilt where he played two seasons (2021 and 2022). He then elected to return for a fifth season, taking advantage of the NCAA's ruling to grant an extra year of eligibility due to the COVID-19 pandemic, and decided to take his talents to the Bluegrass.
One of the greatest performances in Kentucky football history happened just two weeks ago when Davis ripped off 280 yards rushing yards and four touchdowns in a 33-14 win over then-No. 22/23 Florida. The rushing yards are the third-most in a game in program history, and were just 19 short of the school record. His four touchdowns tied the school record for the most total touchdowns in a game.
Davis currently ranks second on the NCAA's active career total rushes list (638), is fourth in career rushing yards (3,150), 11th in career all-purpose yards (3,771) and 24th in career rushing TDs (23). He also is one of just five active FBS players with 3,000 or more career rushing yards.
He's also received midseason honors from College Football Network as the Midseason Transfer Impact of the Year, Midseason Offensive Transfer of the Year, Midseason Running Back of the Year and Midseason First-Team All-American Offense.
2023 REESE'S SENIOR BOWL MIDSEASON ALL-AMERICAN TEAM
OFFENSE
QB         Jayden Daniels                  LSU
RB         Marshawn Lloyd               USC
RB         Ray Davis                            Kentucky
WR        Xavier Leggette                South Carolina
WR        Rome Odunze                    Washington
WR        Roman Wilson                   Michigan
TE          Erick All                              Iowa
OL         Olu Fashanu                       Penn State
OL         Taliese Fuaga                     Oregon State
OL         Sedrick Van Pran               Georgia
OL         Brandon Coleman             TCU
OL         Ajani Cornelius                  Oregon
DEFENSE
DL         T'Vondre Sweat                 Texas
DL         Howard Cross III               Notre Dame
DL         Tyler Baron                         Tennessee
DL         Laiatu Latu                         UCLA
LB          Tyrice Knight                     UTEP
LB          Payton Wilson                   North Carolina State
LB          Tommy Eichenberg          Ohio State
DB         Tyler Nubin                        Minnesota
DB         Jaylin Simpson                   Auburn
DB         Josh Newton                      TCU
DB         T.J. Tampa                          Iowa State
DB         Mike Sainristil                    Michigan