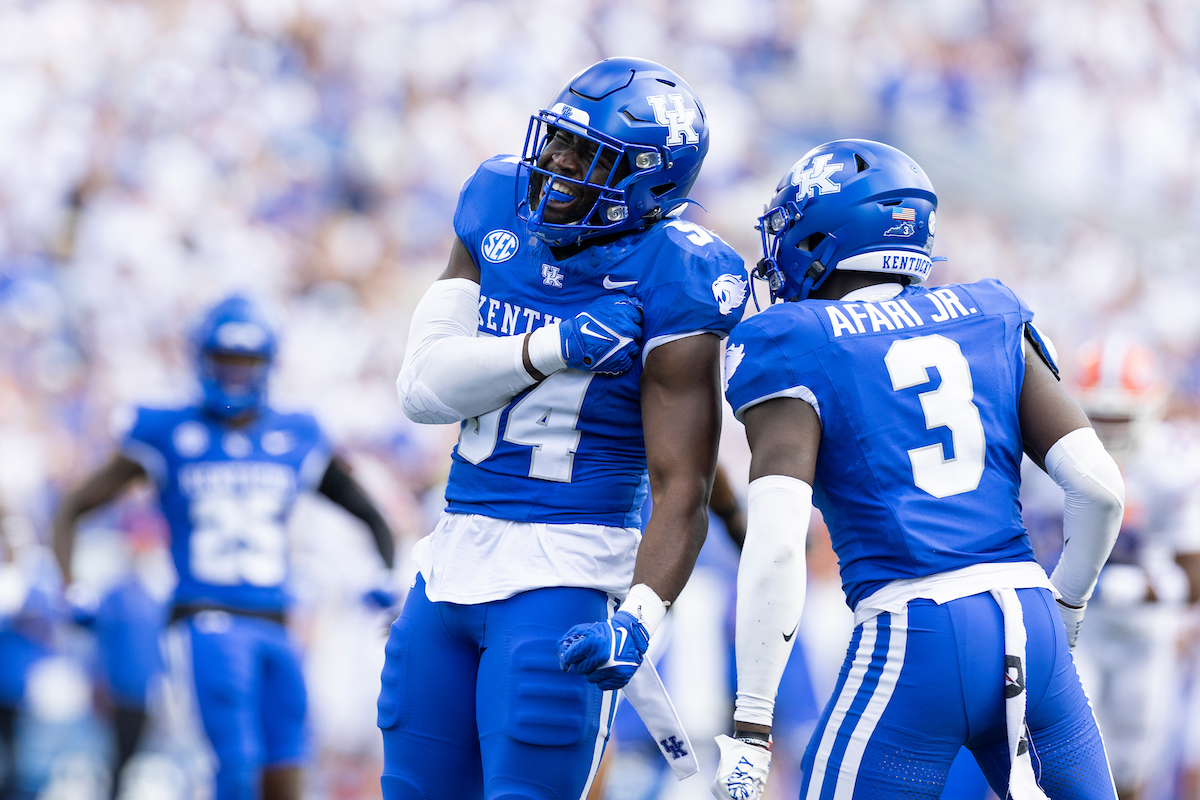 After playing solid defense through five games, Kentucky gave up a season high 51 points in Saturday's loss at Georgia. Now, the Cats must find a way to learn from their mistakes and move forward.
Defensive coordinator Brad White put it simply when discussing Saturday's game at Georgia.
"Not the performance that we wanted. I think everybody in that defensive unit, coaches, players, everybody involved, are embarrassed by how we performed," White said. "But that is last Saturday and now it's our job to step up and respond and that's what we've got to do. I think no one played particularly well on Saturday. To a man, myself included, I don't think anyone would say that (we played well)."
White knows that the defense must work together in order for the Cats to perform at its highest level.
"We've got to do better. We've got to be able to help in the back end and the back end's got to do their part for the front end, too," White said. "We talk about it all the time – everything works together. The back end helps the front end, the front end helps the back end. And when they're playing in unison, that's when you're productive. And we were not in sync in any form or fashion (on Saturday)."
Kentucky was out of sorts on Saturday against Georgia. The Cats made uncharacteristic mistakes in the loss.
"They've been far more in sync," White said. "Up to Saturday, they have been solid in that. They've helped protect each other. We have to get back to what we know, who we are. We've got to execute simple things and mistakes that we didn't make in training camp, we didn't make in spring, we made on Saturday."
But White has had the Cats looking at the mistakes that were made so that the defensive unit can learn from them.
"Hopefully they can use that as a learning moment," White said. "What we can't do is lose confidence. This is a good defense. They just need to go back out and play the way they know how to play and how they've played in the past. It would be one thing if they had never done it and I was just speaking in wishful thinking. This is a defense that has gone and they have performed on Saturdays at a really high level. That's the thing about football. It's very humbling. You've got to come do it every single week. And they got humbled. And the coaching staff got humbled. And so now, it's about shaking it off and getting back to what we know."
This week, the Cats face a Missouri team that is averaging 33.2 points per game this season, including 38.5 per game in Southeastern Conference play. Quarterback Brady Cook and wide receiver Luther Burden are two pieces who make Missouri go.
"A lot of weapons," White said of Missouri. "Quarterback is playing at a really high level. Really confident in his ball placement. He's big, he's athletic. I really think he's one of the top QBs in this league and playing at a level that you can make the argument he's as good as anybody in the country. Burden is playing at an extremely high level, you see by receptions, yards, what he does when the ball is in his hands. They have a lot of options to count on and that we have to account for."
The Kentucky defense will take the lessons learned last week against Georgia into this week's game against high-powered Missouri. The Cats hope to get back to what they know and to how they have played prior to Saturday.