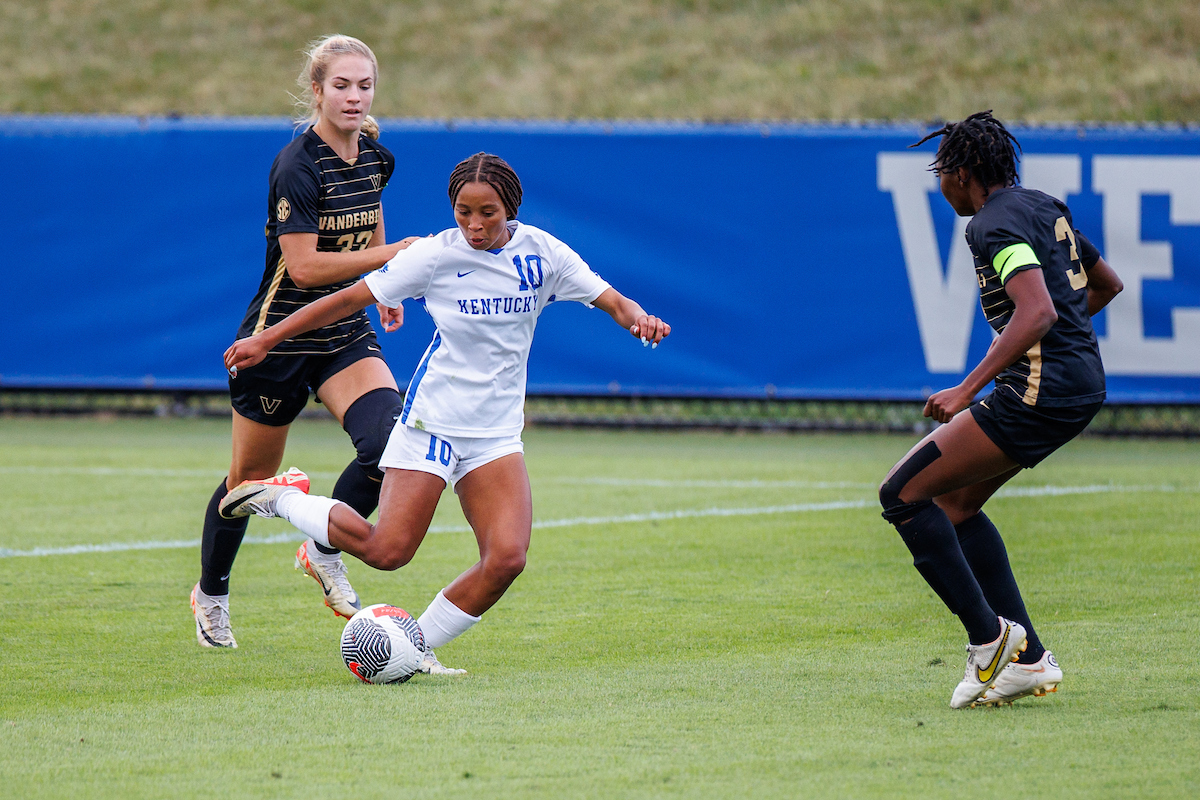 October 10, 2023 - 02:47 PM
Tanner Strickland Creating a Legacy of Her Own
When it was time to make a decision on where to attend college, Tanner Strickland knew she wanted to go home. Not her home in Tampa, Florida, but the place she said always felt like home.
That place was Lexington, Kentucky, where Strickland spent some of her most memorable childhood years. That's because her father, Rod Strickland, was on the Kentucky basketball coaching staff as an assistant to John Calipari.
"UK has always been my dream school," she said. "My dad coached here so I basically grew up here from kindergarten to third grade. Lexington is one of the places I really remember living in, and I had so many friends here, so I knew I wanted to go back. Whether it was for soccer or basketball, I was coming back, and I worked really hard to get back here."
The elder Strickland made a name for himself in the world of basketball. He was an All-American at DePaul before having a 17-year career in the NBA. Strickland led the NBA in assists in 1998 as a member of the Washington Wizards. He ranked in the NBA's top 10 in assists for eight straight seasons from 1991-99.
Like her father, Tanner Strickland played basketball during her high school days.
"In high school, I played basketball all four years, and I didn't play high school soccer until my senior year," Strickland said. "So, not many people knew I was good at soccer because I only played club."
When it came time to choose between sports, and to choose a college, Tanner Strickland went with her heart.
"My whole family is a basketball family, but soccer is kind of like my sport," she said. "No one else in my family played soccer, so I just liked it better."
Soccer also gave her the opportunity to just be Tanner, not Rod Strickland's daughter. She's heard the comparisons to her dad her entire life.
"I don't like when people compare me to the way my dad played," Tanner said. "They think I should play a certain way because I'm Rod Strickland's daughter, when I'm actually just Tanner Stickland. I feel like I would've gotten that a lot more had I played basketball."
So far, her college soccer career has been everything she's wanted and more. The Cats are unbeaten through 13 matches (8-0-5) and have put themselves in solid position for the postseason. Individually, Strickland has scored one goal and has a team-high five assists.
Even though she's playing soccer, and her dad is no longer at UK, Tanner Strickland feels the love from the Kentucky basketball team, including Calipari.
"He has known me since I was three or four," Strickland said. "When I committed (to UK) he told me he was here to support and to make sure that I came over. He's there for whatever I need. And he's always said I was the best athlete in the family."
While Strickland likes that she's able to make a name for herself, she has also learned a lot from her dad.
"I have definitely learned to be more confident from him," Tanner said. "And he is always speaking with motivation. He doesn't understand soccer at all, but he'll put everything in basketball terms and it makes so much sense in soccer. He'll watch all my games, call me after, and just supports me so much."
Her brothers also helped mold Tanner into who she is today by making her tough.
"I used to play with the boys until middle school, when boys became big. I used to train with my brothers, with my dad, and I think that's the reason I don't let people get me off the ball and stuff like that. My brothers weren't easy on me at all."
The younger Strickland hopes to continue to create her own legacy in her own sport. She's gotten off to a great start already.