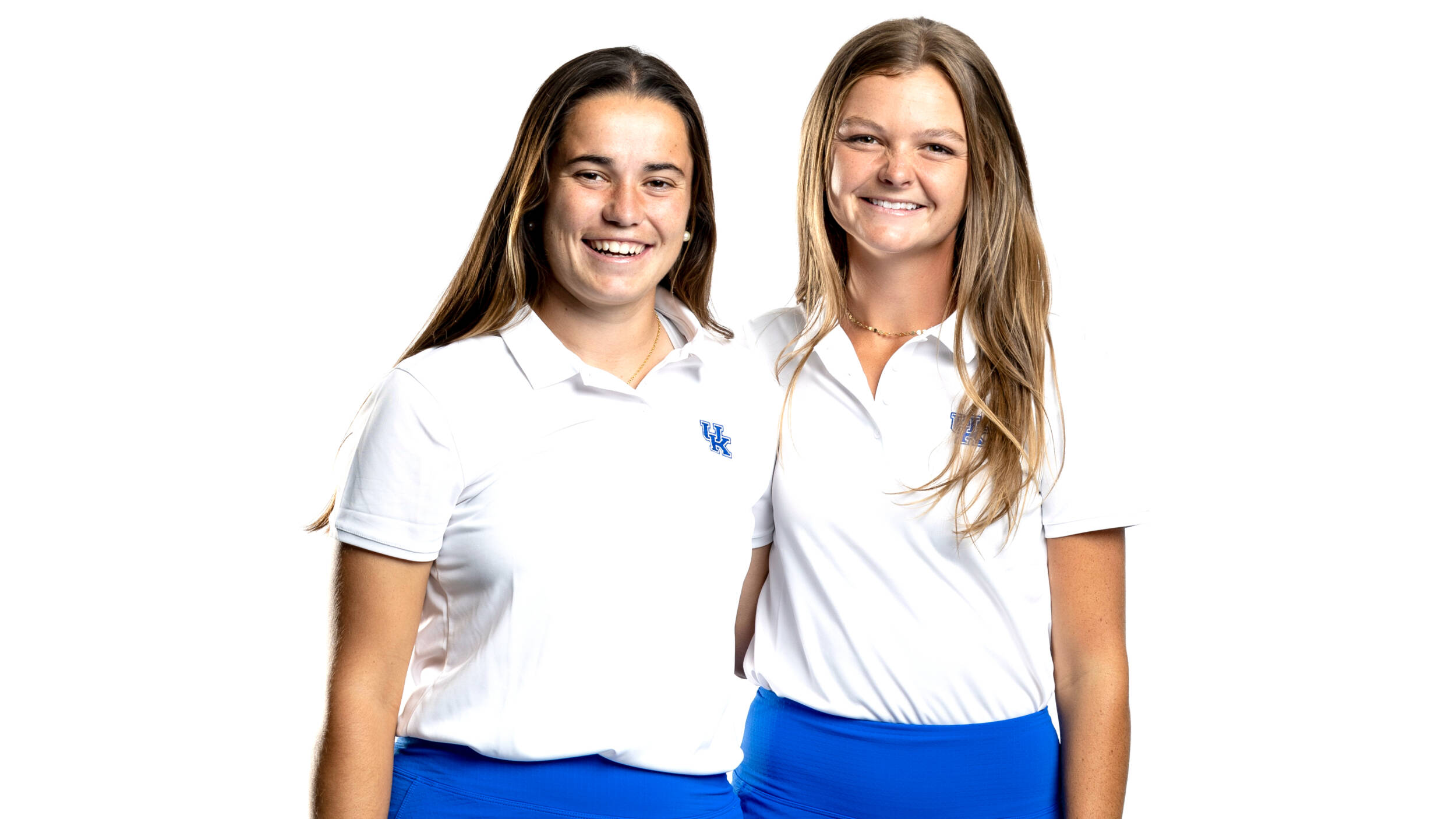 October 10, 2023 - 04:45 PM
Kentucky Uses Final Round to Make a Push for Top Five in Fall Finale
CHAPEL HILL, N.C. – The University of Kentucky women's golf program earned their second top-five finish this fall, claiming fifth place at the Ruth's Chris Tar Heel Invitational. The Wildcats earned a 2-under-par 286 in the final round Tuesday, assembling a 10-over-par 874 at the Governors Club (par 72, 6,200 yards) in Chapel Hill, North Carolina.
Kentucky's 2-under in the final round marked its third-best round this fall, which helped UK improve from seventh place at the end of the second round to fifth place at the conclusion of the tournament.
Two Wildcats finished in the top 10 of the 80-person field, including Laney Frye's fourth-place finish and Marissa Wenzler's tie for 10th place. It marked the first time this season that two Cats recorded individual finishes in the top 10.
Frye, a Nicholasville, Kentucky, native, didn't waste time rebounding from her second round, turning in a 5-under in the final round. It marked her second round in the 60s this week, and her sixth this season.
The senior began on hole No. 7, immediately capitalizing with a birdie on the 516-yard par 5. That would become the first of seven birdies that she recorded Tuesday, adding hole Nos. 10, 14, 15, 3, 4 and 5. Frye suffered just one blemish on the day, bogeying the par-3 No. 12, a hole that she found trouble on in the second round, too.
Frye's 7-under at the event ties her best tournament total this season, while she has recorded an par-or-better tournament total in all four events in 2023-24. She also earned her third straight finish in the top 10, and her seventh straight finish inside the top 15, a streak that began last spring.
Just behind her, Wenzler finished in a tie for 10th place at the Ruth's Chris Tar Heel Invitational. It marked the best finish of her college career by one position.
Wenzler produced rounds of 70, 71 and 74 for a 1-under-par 215, which tied her season low. She collected two more rounds of par-or-better this week, making six for the season thus far. The graduate student got her round off to a hot start, thanks to a pair of birdies on hole Nos. 6 and 7, then she concluded her round with five pars and another birdie on the par-4 No. 2.
María Villanueva Aperribay stepped up big time in the final round, earning a 69 (-3). It was a whole 10 shots better than her first-round score, and six shots better than her second-round score. It also tied her best round of the season (in relation to par).
The graduate student's score made all the difference in helping the Blue and White make a push for the top five, while it made all the difference for her, too. The Wildcat jumped 24 spots on the individual leaderboard, earning a 7-over-par 223 tournament total to land in a tie for 36th place.
Marta López Echevarría, who is competing in her first tournament this season, was a steady hand for the lineup all week long. The junior paired her first-round 76 and her second-round 75 with a final-round 76, assembling an 11-over-par 227 for a share of 49th place.
Freshman Brooke Overparleiter dropped a few strokes from her second round, turning in a 10-over in the final round. She rallied for a 32-over-par 248 and finished in 79th place. Sophomore Abigail Sutherland, who played as an individual in her first tournament of the season, went 9-over in the final round for a 26-over-par 242 and a share of 77th place at the Ruth's Chris Tar Heel Invitational.
This is the third straight season, and the fifth of the last seven seasons, that UK has collected at least two top-five finishes in the fall.
Florida led wire-to-wire, earning a 16-under at the event. Auburn camped out in second place throughout the week, finishing 8-under, while host North Carolina slipped into third place on a 6-over.
The Wildcats have concluded their fall schedule with two top-five finishes and a 290.0 stroke average. The Cats will return to action in 2024, when they compete at the UCF Challenge in Orlando, Florida, from Feb. 4-6.
Scorecard
4 Laney Frye 66, 76, 67 … 209 (-7)
T10 Marissa Wenzler 70, 71, 74 … 215 (-1)
T36 María Villanueva Aperribay 79, 75, 69 … 223 (+7)
T49 Marta López Echevarría 76, 75, 76 … 227 (+11)
79 Brooke Oberparleiter 81, 85, 82 … 248 (+32)
Individual
T77 Abigail Sutherland 83, 78, 81 … 242 (+26)
For the latest on the Kentucky women's golf team, follow the team on Twitter, Facebook, and Instagram, as well as on the web at UKathletics.com.