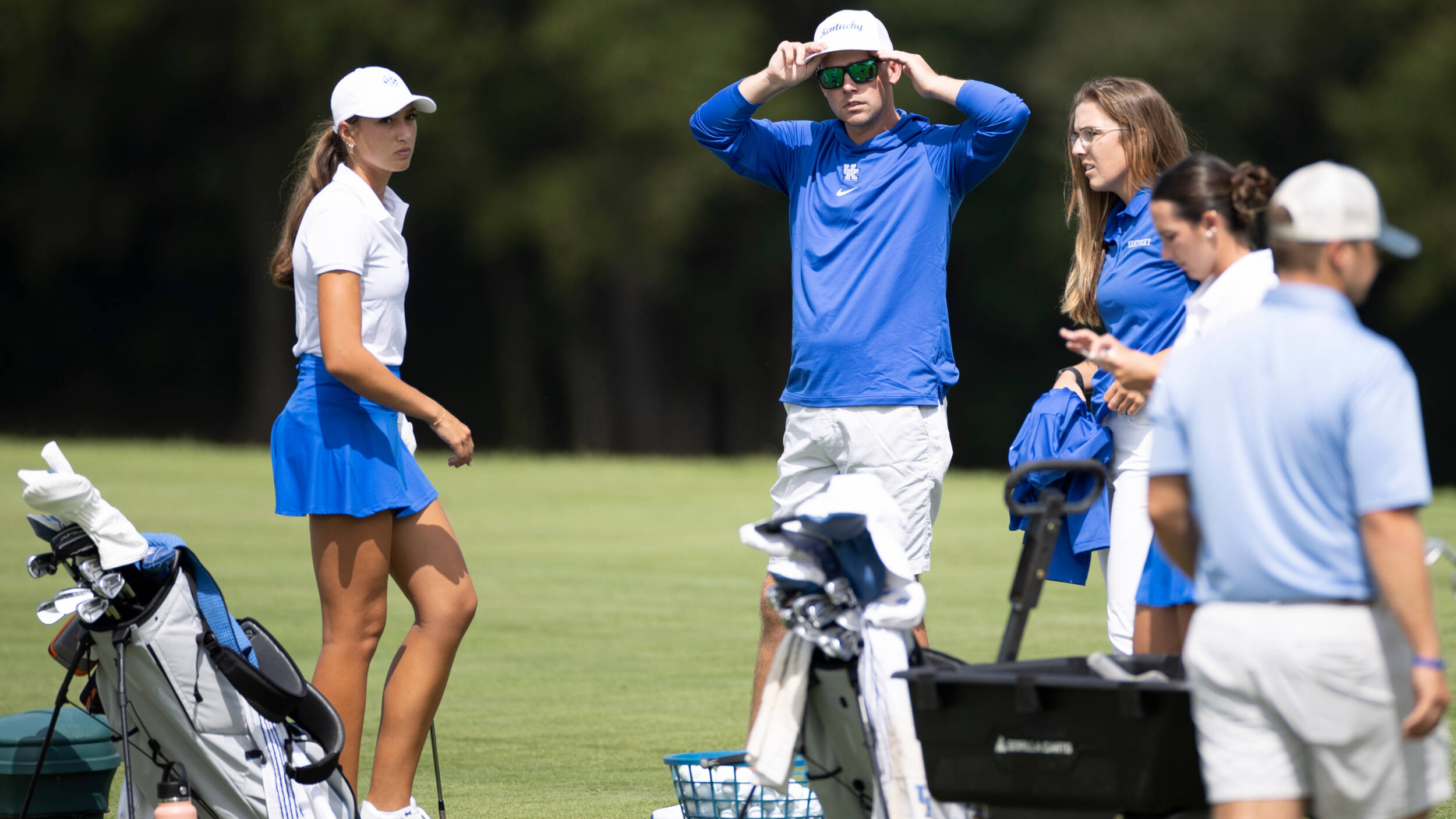 October 9, 2023 - 09:15 PM
Marissa Wenzler Leads Cats Through 36 Holes at Ruth's Chris Tar Heel Invitational
CHAPEL HILL, N.C. – Marissa Wenzler is pacing the University of Kentucky women's golf team after 36 holes at the Ruth's Chris Tar Heel Invitational. The senior recorded back-to-back rounds under par Monday, earning a 3-under and a share of fourth place ahead of the final round at the Governors Club (par 72, 6,200 yards) in Chapel Hill, North Carolina.
The Wildcats are competing in their last event of the fall, while they're also the reigning champions at the Ruth's Chris Tar Heel Invitational. The team assembled a 3-over in the morning round, followed by a 9-over in the afternoon round, producing a 12-over-par 588 for seventh place through 36 holes.
Kentucky is just four shots back of the top five and 10 shots back of the top three.
Florida is leading the Ruth's Chris Tar Heel Invitational after shooting a 14-under through the first two rounds, which is 13 strokes better than second place. Occupying that spot currently is Auburn at 1-under, and in third place is Michigan State at 2-over.
Kentucky will be paired with Florida State and Tennessee for the final round, teeing off hole Nos. 6-10 in another shotgun format at 9 a.m. ET on Tuesday.
For the first time this season, Wenzler is leading the Cat pack.
The graduate student from Dayton, Ohio, had a strong first round and carried that momentum into the second round. In her first 18 holes, she went even par on the front nine and 2-under on the back nine, all thanks to two birdies, two bogeys and one eagle on the par-4 No. 11. She carded even more birdies on her second 18 holes, firing off six, while pairing those with a trio of bogeys and one double.
Her first-round 70, combined with her second-round 71, give her a 3-under-par 141 for a share of fourth place ahead of the final round.
Wenzler's best finish of her college career came on a T11 performance at the Illini Women's Invitational last fall, helping UK wins its first tournament of 2022-23. There, she earned a career-best, 8-under-par 208 for the 54-hole golf tournament.
Joining Wenzler near the top of the leaderboard is Laney Frye.
The senior is just one shot back of Wenzler, thanks to her impressive first-round 66 and her second-round 76. The Nicholasville, Kentucky, native was in solo second after the first round, off the back of her fifth round in the 60s this season. However, Frye stumbled on a tough stretch in the second round, which included a pair of bogeys, a double and a triple on hole Nos. 8-12. Despite the setback, she began the second round with back-to-back birdies and also found two more on hole Nos. 17 and 18.
Frye is in eighth place, as Wenzler is two shots off the top three and Frye is three shots off the top three.
Marta López Echevarría is behind them, playing in her first tournament of 2023-24.
The junior put together a 4-over in the first round and a 3-over in the second round, which gave her a 7-over-par 151 for a share of 49th place Monday. López Echevarría capitalized on a trio of par-4s Monday, earning three birdies on the par-4 Nos. 1, 11 and 18.
María Villanueva Aperribay put together a 79 through the first 18 holes, but rebounded with a 75 through the second 18 holes. She was able to convert six holes from over par to even par in the second round, which was evident by her improved scorecard. Through 36 holes, the graduate has a 10-over-par 154 for a tie of 60th place.
Brooke Oberparlier is 22-over-par 166 in 79th place for the tournament, while Abigail Sutherland, who is playing as an individual, is 17-over-par 161 in 77th place at the event.
The Wildcats will play the final round Tuesday beginning at 9 a.m. ET. Fans are encouraged to follow along with live scoring here.
Scorecard
T4 Marissa Wenzler 70, 71 … 141 (-3)
8 Laney Frye 66, 76 … 142 (-2)
T49 Marta López Echevarría 76, 75 … 151 (+7)
T60 María Villanueva Aperribay 79, 75 … 154 (+10)
79 Brooke Oberparleiter 81, 85 … 166 (+22)
Individual
77 Abigail Sutherland 83, 78 … 161 (+17)
For the latest on the Kentucky women's golf team, follow the team on Twitter, Facebook, and Instagram, as well as on the web at UKathletics.com.