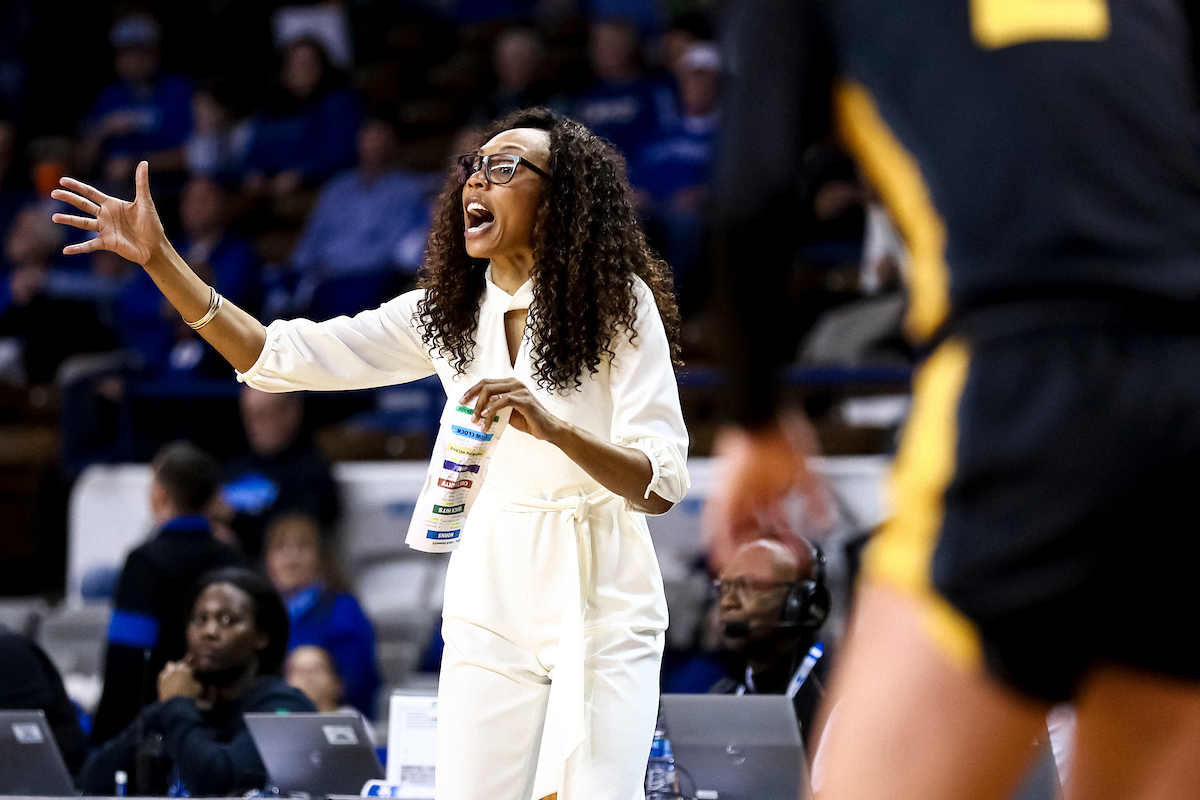 October 9, 2023 - 04:15 PM
Elzy Excited for 2023-24 Season
The Kentucky women's basketball team finished last season at 12-19. UK's top two scorers from last season, Robyn Benton and Jada Walker, are gone. Kentucky also lost experienced players Blair Green and Adebola Adeyeye.
Yet on Monday at UK's women's basketball media day, head coach Kyra Elzy struck a positive tone as she looks forward to the 2023-24 campaign.
"It's a new day. I'm excited about this team and staff," Elzy said. "I know everyone wants to talk about last year but we have officially closed the chapter. We took the proper time to reset, refocus and reflect. As of today, we are 0-0. A new year, a new team, a new staff, a new mindset and new goals."
Elzy has taken her team through the summer and has now started fall practice. She likes how her team is embracing the things that they need to do to improve.
"What I love about this team right now, we are embracing the work," Elzy said. "We talk about the built different mentality. We have to be willing to do the intangibles for us to win. Being coachable, having a winning mentality, relentless defenders, loyalty, being a good teammate to each other, having a work ethic and playing with a high motor."
One word that was mentioned by both Elzy and multiple players on Monday was chemistry. It seems that this group has been able to come together both on and off the court, according to the head coach.
"I love this team. They've been so much fun to coach," Elzy said. "They embrace the hard work. This group has organically come together. They took it upon themselves to learn each other, grow and bond and everything didn't have to be so scripted, which has helped us on and off the court."
Elzy will count on senior guard Maddie Scherr and senior forward Ajae Petty to carry the scoring load this season. Both of those players also mentioned chemistry during Monday's Media Day interviews. When asked about what's different about this year's team, Petty did not hesitate.
"I would say the chemistry. Everyone's getting along very well," Petty said. "Everyone's pushing hard. We're all just putting our head down and working."
Scherr, who was third on the team in scoring last season at 11.6 points per game, likes how the team chemistry has developed on its own.
"I was thinking about it, what specifically that has made our chemistry so much better. Honestly, I think some things just fall into place," Scherr said. "Last year, it was more difficult because we had so many new girls. With this team, we have every girl who buys into their role, especially when it comes to leadership and accountability and what the team needs from a chemistry aspect."
In addition to the team chemistry, Elzy has seen one other characteristic that she really likes from this team.
"The most important thing that I like about them is their competitive spirit," Elzy said. "They are going to compete in practice. There's never a dull moment."
Team chemistry and competitive spirit are two of the reasons that Elzy and the Cats are optimistic about the 2023-24 season.