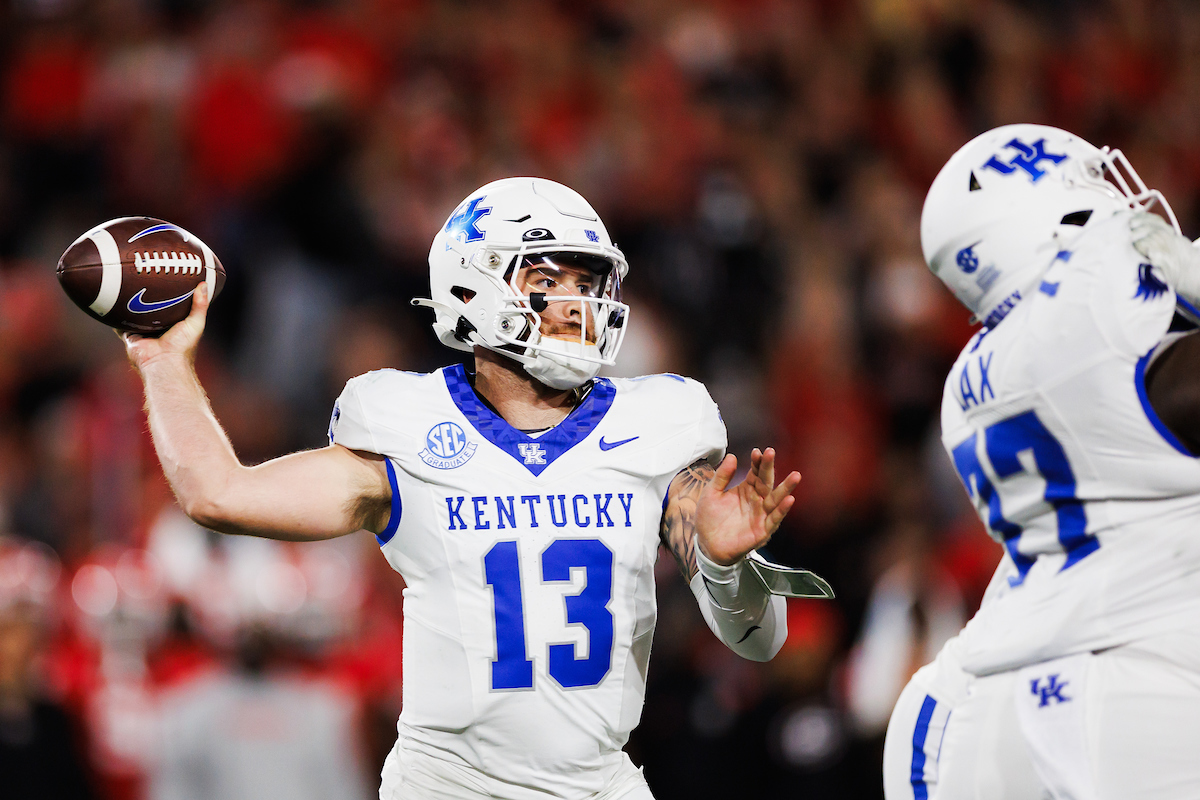 Kentucky suffered its first loss of the season on Saturday night, falling at top-ranked Georgia. The Cats did not play up to their own standard in that game and the result showed.
Now, head coach Mark Stoops, his staff and his team need to bounce back as No. 25 Missouri comes to Kroger Field on Saturday night. Stoops is anxious to see how his team responds.
"You're going to face adversity," Stoops said on Monday. "In this league, the teams we play, you're going to hit some tough patches. It's how you respond and how you react to it and how you move forward."
What are the things that the Cats need to do to be the best version of themselves?
"We need to get back to work and be a better football team," Stoops said. "We've got to get back to being who we are. We've got to get back to controlling the things that we can control. That's how we prepare. We've got to get some guys healthy. We've got to have a great week of practice."
Stoops wants to make sure there is no negative carryover from the Georgia game as the Cats prepare to face Missouri this week. He was adamant on Monday that no such thing would happen.
"That's not going to happen," Stoops said. "I can't predict who is going to win or lose this game because I have great respect for Missouri and it's always a close game. We know it's going to be a great challenge. They're hitting on all cylinders. But we're not going to tolerate being mopey and being down. We're going to address it, we're going to own it, we're going to look at our mistakes, we're all going to take our own part, then we're going to move on."
Speaking of the Tigers, Stoops has been very impressed with what he has seen from them through six games.
"We have great respect for Missouri and I've already said it, how much respect I have for Missouri and how close our games always are," Stoops said. "I know (Missouri) plays with an edge and an attitude and they're going to come in here physical and coached up and we need to match that."
Stoops and the Cats realize that this is yet another key contest in the SEC.
"We've got to be ready for a very big game here this week," Stoops said. "Both teams coming in here at 5-1. I've been very impressed with Missouri and the way they're playing. Their quarterback, Brady Cook, has been exceptional. Their wide receiver, Luther Burden is a super player and they're playing at a high level."
After suffering their first loss of the season, the Cats look to bounce back on Saturday. Getting back to doing the things they do well is the best way to get past the first loss.