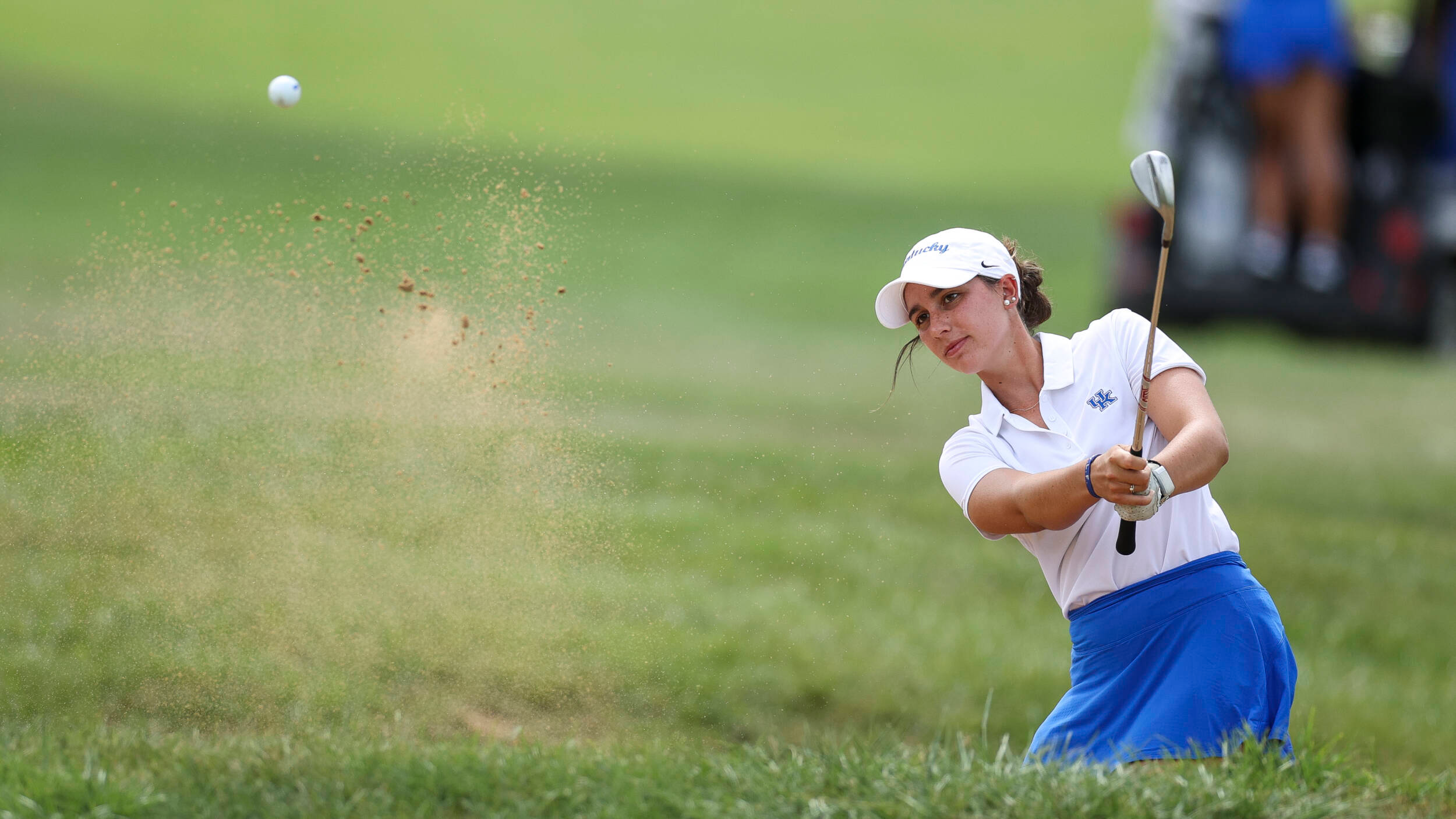 October 8, 2023 - 11:53 AM
UK Women's Golf Concludes Fall Schedule as Reigning Champions at Ruth's Chris Tar Heel Invitational
CHAPEL HILL, N.C. – The University of Kentucky women's golf team will play in its third tournament in less than 20 days, as it returns to the Ruth's Chris Tar Heel Invitational as the reigning champions. The tournament is once again hosted at the Governors Club (par 72, 6,200 yards) in Chapel Hill, North Carolina, from Oct 9-10.
The field will play 36 holes Monday, followed by the final round Tuesday. Kentucky will be paired with North Carolina, Michigan State and Florida for the first round, teeing off hole No. 1 in a shotgun format beginning at 9 a.m. ET.
The Wildcats are one of 14 teams in the field, which includes North Carolina, Michigan State, Florida, NC State, Tennessee, Auburn, Florida State, Michigan, Miami, Virginia Tech, Rollins College, Campbell and Baylor.
Kentucky has a 6-3 record against the field in tournaments thus far this season, while it hasn't yet faced Florida State, Michigan, Virginia Tech, Rollins College or Campbell in 2023-24.
Just last fall, UK brought the Ruth's Chris Tar Heel Invitational tournament title back to the Bluegrass, turning in a 4-under-par 860 tournament total to garner its second triumph in as many weeks to close out the fall schedule last season. In the process, UK collected a couple of ranked wins, including toppling No. 1 Wake Forest by five strokes and No. 8 Duke by more than 20 strokes.
Jensen Castle, then a senior, was crowned the individual champion after carding rounds of 74, 67 and 68 for a 54-hole tournament total of 7-under-par 209. It marked the first medalist honor of her college career.
This week, Kentucky will sport a new lineup in Laney Frye (70.0), Marissa Wenzler (72.7), Brooke Oberparleiter (75.0), María Villanueva Aperribay (75.0) and Marta López Echevarría. It will mark the first tournament of the season for junior López Echevarría, who averaged a 76.5 through 14 rounds in 2022-23.
Frye, a Nicholasville, Kentucky, native, has led the Blue and White this fall, reporting a tournament total of par-or-better in all three events this season. Meanwhile, she has improved her individual finish with each event, too, as the senior is coming off ninth place at the Blessings Collegiate Invitational on an even-par 144.
The Wildcats just wrapped up the Blessings at Blessings Golf Club in Fayetteville, Arkansas, last Wednesday, while the tournament was expelled after just 36 holes because of inclement weather.
There, Wenzler earned her best finish of the season thus far, too, finishing in a tie for 33rd place, while freshman Oberparleiter also had her best finish in her college career, coming in at 40th place.
The Wildcats are looking for their second top-five finish of the fall schedule, which would mark three consecutive seasons and five of the last seven seasons that they have done that.
The 14-team field can expect prime golf weather throughout the tournament, with temperatures in the low-to-mid 70s and sunny skies.
Fans are encouraged to follow along with live scoring here.
For the latest on the Kentucky women's golf team, follow the team on Twitter, Facebook, and Instagram, as well as on the web at UKathletics.com.