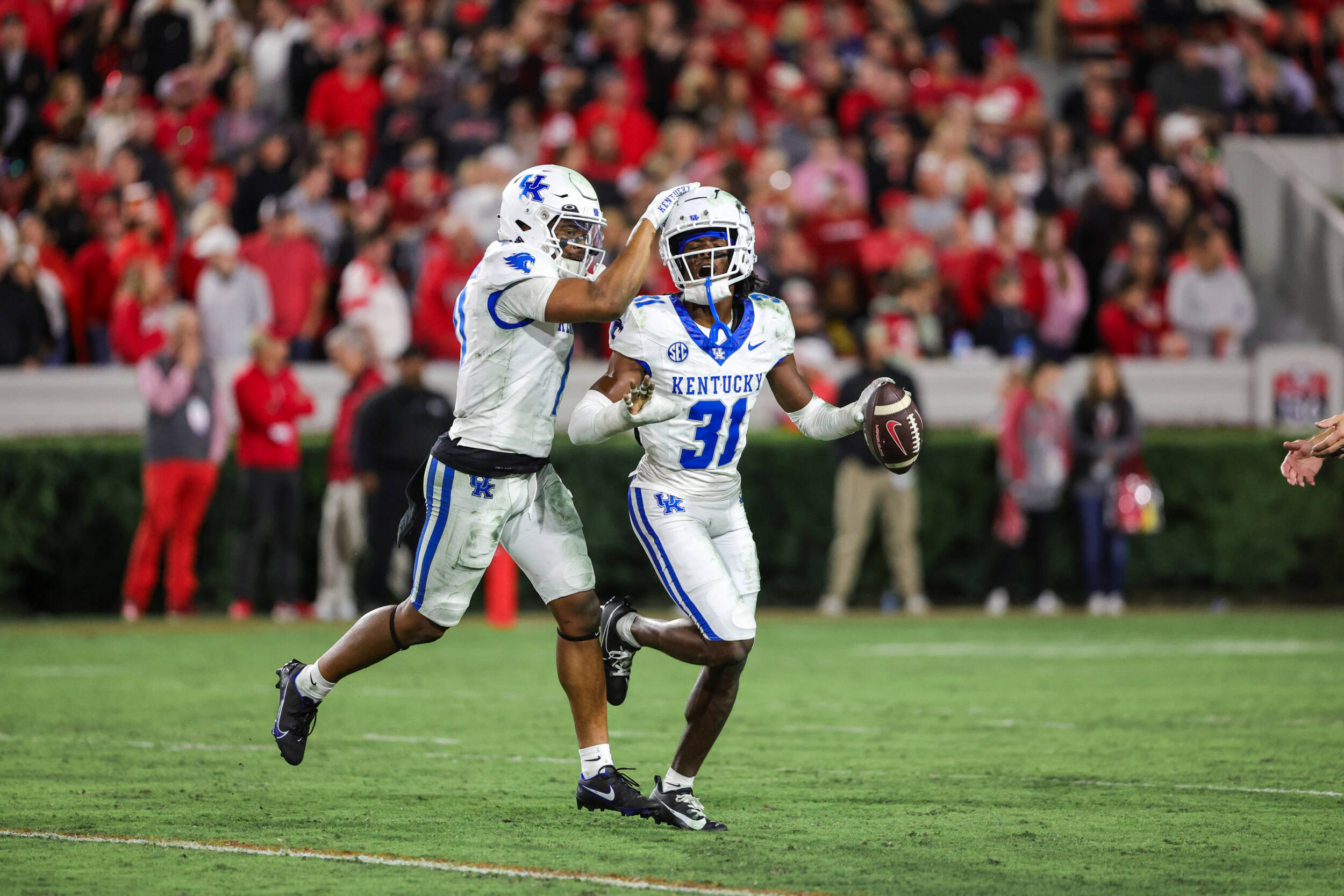 KENTUCKY FOOTBALL POSTGAME NOTES 
KENTUCKY at GEORGIA
VINCE DOOLEY FIELD AT SANFORD STADIUM – ATHENS, GA 
OCTOBER 7, 2023 
FINAL SCORE: No. 1 Georgia 51, No. 20 Kentucky 13
Team Records and Series Information
Kentucky is 5-1 on the season, 2-1 in the Southeastern Conference, while Georgia is 6-0, 3-0 in the league.
Georgia leads the series, 54-21, and has won 14 in a row.
Georgia leads in games played in Athens, 32-4-2.
Next for UK: The Wildcats return home to play host to Missouri on Saturday, October 14.
The game time is 7 or 7:30 p.m. and it will be televised by ESPN or SEC Network.
Team Notes
UK has forced 10 turnovers in the first six games, most in its first six games since 2017 (12).
UK has forced at least one turnover in each of the first six games for the first time since 2017.
UK has forced a turnover in 10 consecutive regular-season games for the first time since a 10-game stretch in 2016-17.
Player Notes
Quarterback Devin Leary completed 10 of 26 passes for 128 yards and two touchdowns.
Surpassed the 8,000-yard passing mark tonight and now has 8,064 passing yards in his collegiate career.
Running back Ray Davis rushed 15 times for 59 yards.
Davis caught two passes for 36 yards, including a 26-yard touchdown in the third quarter.
He now has a touchdown in each of Kentucky's first six games of the season, making him the only Wildcat to do that in program history (with single-game statistics available to the 1940s).
He had 95 all-purpose yards to lead the team.
Wide receiver Dane Key caught a team-high three passes for a team-best 65 yards.
Wide receiver Barion Brown caught one pass for seven yards.
He improves his streak of 19 straight games with a reception, which is every game of his college career.
Has 886 career receiving yards, needs 114 to become the 33rd player in school history with at 1,000 career receiving yards.
Tight end Josh Kattus caught two passes for 11 yards and a touchdown.
He hauled in a four-yard score in the second quarter, his second career touchdown reception.
Defensive back Maxwell Hairston intercepted his fourth pass of the season and fourth of his career.
He returned it 48 yards to set up a Kentucky touchdown.
He now has three INT in three SEC games this season.
He has totaled 131 interception return yards this season, most since Greg Long had 176 return yards in 1981.
He added 8.0 tackles, second on the team.
Outside linebacker Keaten Wade had 4.0 tackles, including a tackle for loss.
Inside linebacker D'Eryk Jackson led the Wildcats in tackles with a season-high 11 stops.
It is his second double-figure tackle game of his career.
He has recorded a tackle in 16 consecutive games.
Game captains: Eli Cox, J.J. Weaver, Devin Leary, Trevin Wallace