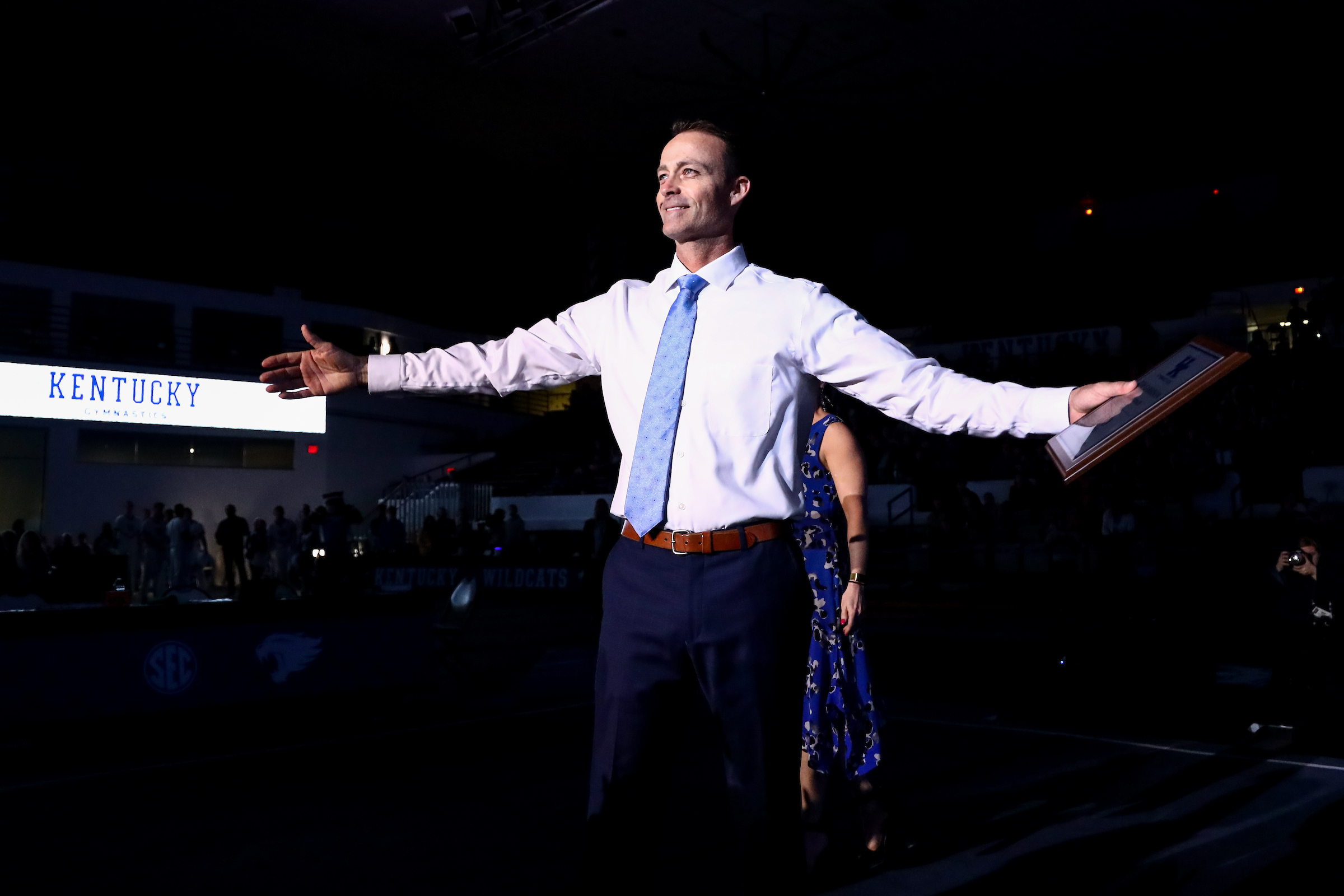 October 6, 2023 - 11:22 AM
Garrison Signs Contract Extension Through 2027
LEXINGTON, Ky. – Kentucky gymnastics' all-time winningest head coach, Tim Garrison, has signed a contract extension through 2027, athletics director Mitch Barnhart announced Friday afternoon.
"Coming off another trip to the national championship meet, Coach Garrison continues to take our program to greater heights," Barnhart said. "We're pleased to extend his contract as his athletes excel in competition and in the classroom."
Garrison has been at the helm of Kentucky gymnastics since 2012 and has transformed the program with numerous records and historic moments in the last 12 seasons.
"It's been an honor to lead this program for the past 12 seasons," Garrison said. "I am truly grateful and humbled by the trust Mr. Barnhart has in myself and our staff to continue the growth of Kentucky gymnastics."
The 2018 National Coach of the Year and 2023 Southeastern Conference Coach of the Year has tallied 13 All-America student-athletes and set a record for the highest team score in program history with a 197.875 in 2023.
Garrison has taken the program to the NCAA Championship regionals every year of his Kentucky coaching career with the program making its first team debut at the NCAA Championship finals in 2018. The Wildcats returned to the Championships in 2023 placing sixth overall which was the highest final season ranking to date. The program did not count a single fall in the 2023 meet slate and was one of three NCAA DI gymnastics programs to record a 49.000 or better on every apparatus.
The success has not stopped in the gym but continued in the classroom with Garrison at the helm. Kentucky gymnastics posted the highest grade-point average in the Southeastern Conference with a 3.69. In 2023. UK also recorded its highest number of Women's Collegiate Gymnastics Association (WCGA) Scholastic All-Americans with 18. The team was named Scholastic Team of the Year at the UK CATSPY Awards in 2022.
"I also would like to give a special thank you to all current and former athletes and staff that have given so much of themselves to this program," Garrison stated. "You are Kentucky gymnastics!"
Garrison is a native of Conroe, Texas, and graduated from California State University, Fullerton with a Bachelor of Science in Physical Education in 1995. He is married to UK gymnastics associate head coach Rachel Garrison and the father of three daughters and two sons.
For the latest on Kentucky Gymnastics, follow @UKGymnastics on X, Facebook and Instagram, as well as on the web at UKAthletics.com.