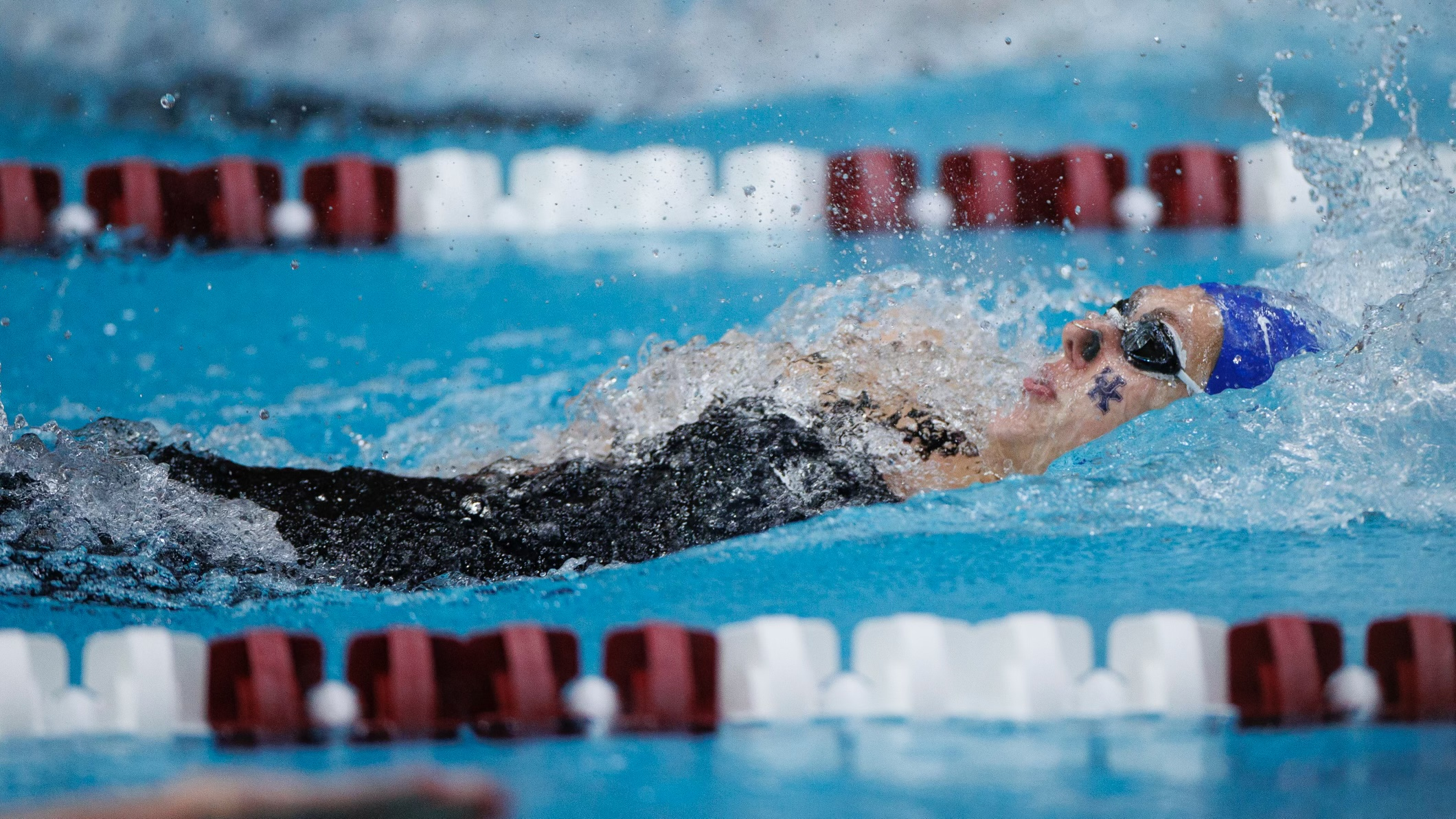 October 4, 2023 - 06:13 PM
Swimming & Diving Topped by Indiana in Road Dual
BLOOMINGTON, Ind. – Kentucky swimming & diving dropped a dual meet to the Indiana Hoosiers on Wednesday in the season's first meet featuring both the men's and women's teams. Final tallies at the Counsilman-Billingsley Aquatic Center finished at 218-82 on the women's side and 232-66 in the men's competition.
The day began with diving in the morning, followed by long course swimming in the afternoon. The top point scorers for Kentucky were Caroline Benda and Ryan Merani, who each totaled 13 points toward their respective team's totals.
Benda took first in the 800m freestyle, touching the wall in 8:56.83 for the victory, while Merani recorded a win in the 200m butterfly with a time of 2:01.42.
The women's 800m freestyle saw Kentucky capture the top two spots, as Benda took first while freshman Madi McGlothen placed second at 9:00.91.
UK also placed two swimmers in the top three in several other events, including the women's 100m breaststroke where Bridget Engel (1:12.37) and Denise Phelan (1:13.24) placed second and third, respectively. Engel and Phelan repeated this placement in the 200m breast, where Engel clocked 2:37.57 and Phelan 2:39.94.
Kentucky found success in the 200m IM on both the men's and women's sides with Marie Belli (2:20.30) and Anna Havens Rice (2:22.40) taking second and third for the women, while Merani (2:06.76) and Max Berg (2:07.25) did the same for the men.
On the boards, Sam Duncan wasted no time posting NCAA zone standard scores, achieving a 1-meter total of 322.58 and a 3-meter mark of 383.93. For the women, Claire McDaniels turned in a new zone standard total on the 1-meter springboard, scoring 274.88 to lead the Wildcats in the event.
Kentucky returns home Friday, Oct. 13 for the first meet of the year inside the Lancaster Aquatic Center. The women will face Eastern Michigan while the men will compete in an intrasquad scrimmage beginning at 5 p.m. Admission is free to the public.
For the latest on UK Swim & Dive, follow the Wildcats on X and Instagram at @UKSwimDive, and on Facebook at Kentucky Swimming and Diving.