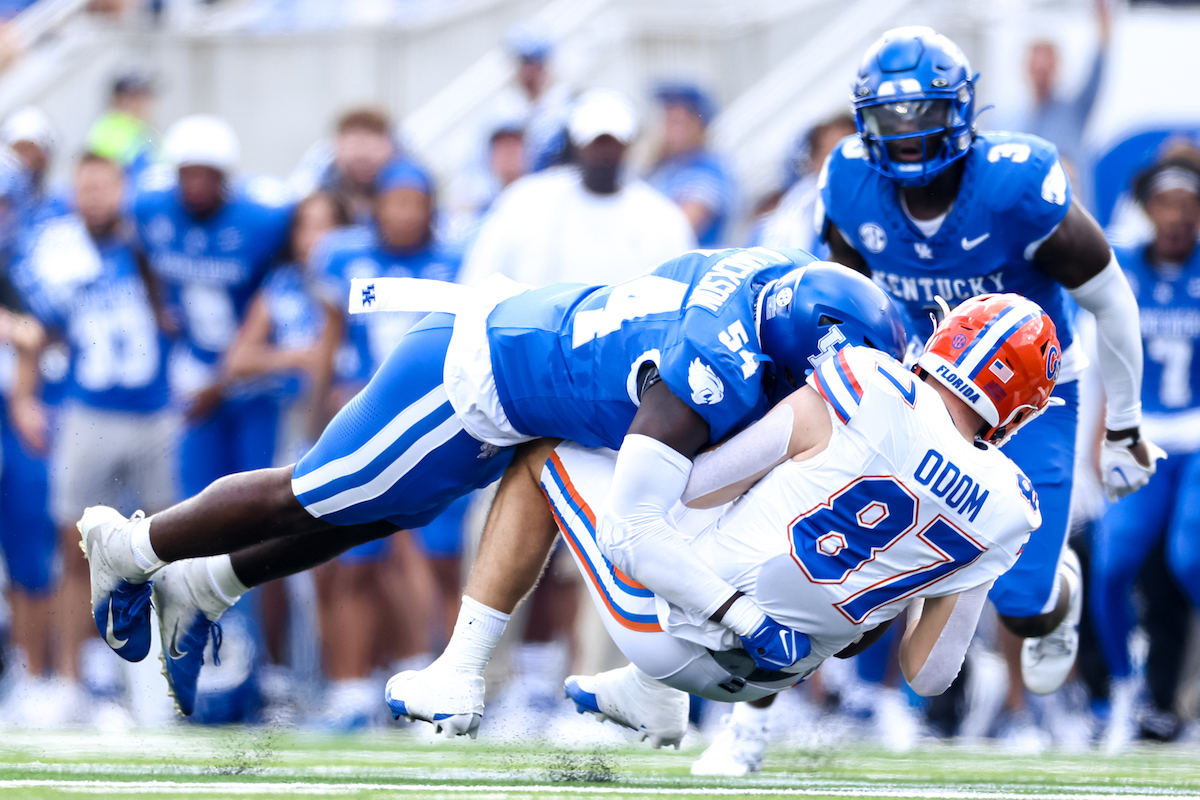 No. 20 Kentucky faces a big challenge this weekend. If one believes that national rankings, it's the biggest challenge that any team will face this weekend.
Kentucky visits top-ranked Georgia at Sanford Stadium on Saturday night (7 p.m. ET, ESPN). The two-time defending national champions are unbeaten, having vanquished Auburn last Saturday.
After practice on Wednesday, Kentucky defensive coordinator Brad White discussed the challenge that Georgia presents.
"We're all going to get tested. From the back end to the front, play callers, position coaches, we're all going to get tested this week," White said. "Need not forget, this is the two-time defending national champion. This is the 10th-ranked passing offense, they average almost 500 yards of offense, 150 on the ground, 330 through the air, 39 points per game, you can just rattle off the stats. And they're starting to get guys back who may have been dinged. It's a huge challenge."
Georgia tight end Brock Bowers is one of the top players in the country. White knows that Bowers presents a tough task for any defensive unit.
"Huge matchup issues. He's big, he's fast. He's going to be, if not the top, he's one of the top blockers we'll face all year from the tight end position," White said. "He's relentless. Obviously, everybody sees what he does when the ball is in his hands. He's the ultimate teammate. You'll see him cheering. He's as excited about a play his teammates makes as one he makes. An incredible player. One of the top football players in college football. Not tight ends, football players. He's elite level."
On the Southeastern Conference teleconference on Wednesday, UK head coach Mark Stoops said that Tuesday's UK practice was not good enough when preparing for the nation's top team. How was Wednesday's practice?
"I think it was a little bit better today," White said. "But it can't be just one day. We still have two heavy prep days. Then we've got Saturday, we're in the hotel, it's a night game, you've got plenty of prep time. So really you have three days still left before game time to get sharpen, to dial in, to hone. So we've got to keep that intensity."
One of the players who will be key for Kentucky's defensive effort on Saturday will be linebacker D'Eryk Jackson. Jackson has been a steady player for the UK defense this season and White likes the little things that Jackson brings to the Kentucky defensive unit.
"He's an invaluable piece of this defense. Invaluable," White said. "I think a lot of times if you don't make some splash plays, you're just steady Eddie. People say that's not cool or that's not hip. Trust me, as the guy who's calling the plays, you rely on that. That's an anchoring force, it's a calming force within the middle of our defense and that's why he's there. And I say no splash plays, he's made some splash plays. There's some plays that don't ever get seen and that's what he does. He's so smart and savvy."
The Cats will face a big challenge on Saturday and the preparation for Georgia will continue up until game time.