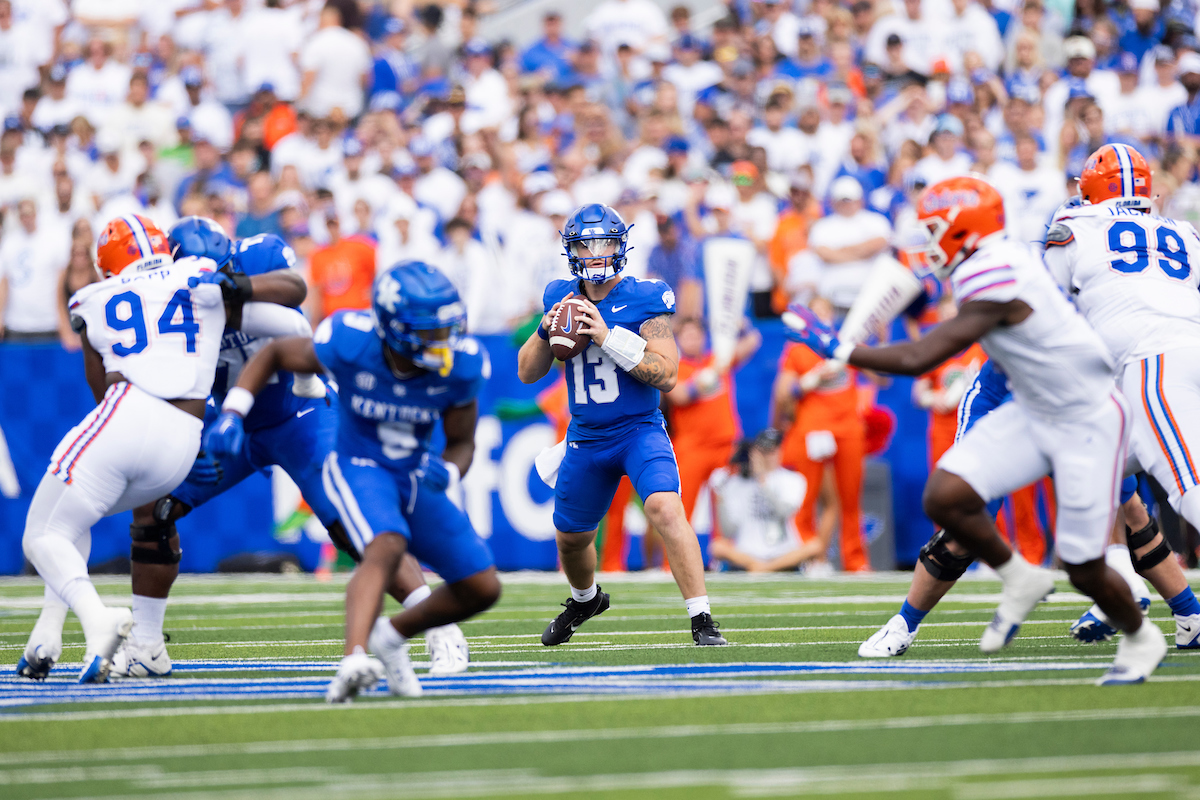 The Kentucky offense is coming off what turned out to literally be an award-winning week. In the Cats' 33-14 win over Florida, Ray Davis rushed for 280 yards, the third-highest total in Kentucky football history. That big day earned Davis SEC Co-Offensive Player of the Week honors. In addition, Davis was named the Doak Walker National Running Back of the Week among a number of national awards.
Offensive lineman Jeremy Flax was named SEC Offensive Lineman of the Week and was also named the Outland Trophy National Player of the Week.
UK head coach Mark Stoops was named the Dodd Trophy National Coach of the Week.
While all of those accolades are great, they are now in the rear view mirror. According to UK offensive coordinator Liam Coen, the Cats are more focused on getting the offense to play a complete game.
"Honestly, we're really just focusing on playing a full game," Coen said. "Executing a full game plan. We executed really well in the run game but we didn't execute worth a bit in the pass game. And on third down. So, we're just really focusing on the situational football, every single phase of the offense, every single phase of the game plan."
Yes, the Cats had a big day running the football on Saturday. UK racked up 329 yards rushing in Saturday's win. However, Kentucky struggled throwing the ball, amassing just 69 yards through the air. Coen knows that his team will need to be more balanced this week, facing two-time defending national champion Georgia. What can make the passing game more efficient?
"I think it's a chemistry, it's a connection," Coen said. "We lead the country in drops, that's not really a good thing. I just talked to the guys about, there's 24 hours in a day. You're at school, you're eating, you're doing things, let's get on the JUGS (machine), let's get some extra work in. We had a great throwing session last night after practice with a bunch of guys. I think they want to do it but we have to do it. We're going to face the most competitive, physical catch team that we have faced so far up to this date. We have to fix it and we have to fix it in a hurry."
Facing top-ranked Georgia will be a tough task for Coen and the UK offense this week. However, Coen does think that there's a path to success.
"True belief. True preparation. At the end of the day, it's a game and anything can happen," Coen said. "The way that we practice this week and the way that we prepare, the way that we travel, the way that we approach this thing will tell a lot about what happens on Saturday. I do believe there is a true belief here. It's another opportunity to go get better against an unbelievable team."
Specifically, what will it take in Athens on Saturday?
"If we can execute that just a little bit better, that's what we have to do in order to beat Georgia," Coen said. "We need to focus on ourselves and execute at a higher level. If we play as physical as we did, with the same energy and juice, good things should happen."
Playing the number one team in the country, on their home field, and in prime time will be a challenge. Coen hopes that the offense can build off last week's solid run game and play a more complete game on Saturday in Athens.