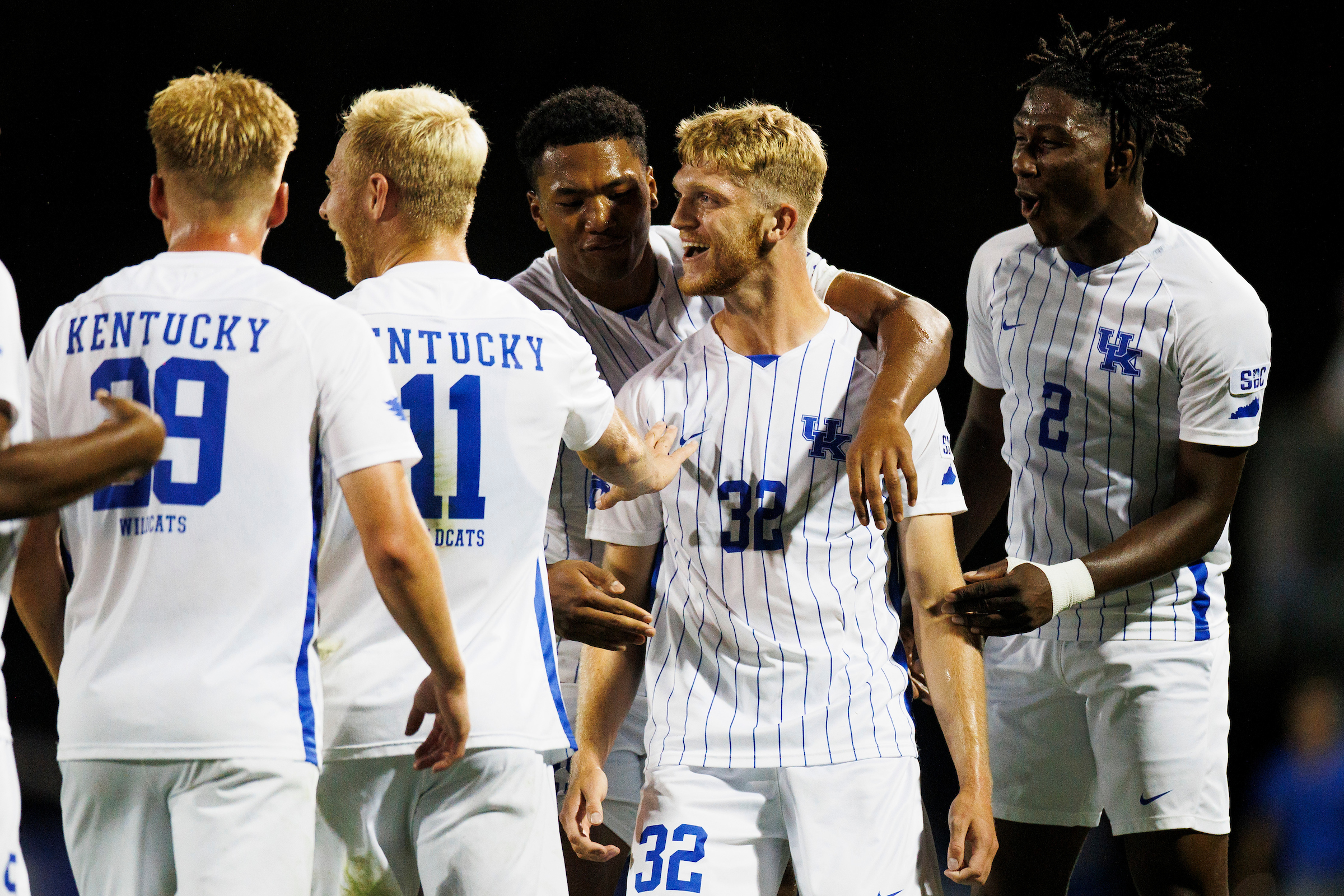 October 3, 2023 - 11:14 PM
Eoin Martin's Goal Seals 1-1 Draw for Kentucky
LEXINGTON, Ky. – Kentucky men's soccer (3-6-1, 0-3-0 Sun Belt) ended Tuesday's matchup at the Wendell & Vickie Bell Soccer Complex with a 1-1 draw against longtime rival Indiana (3-3-5, 0-1-2 B1G).
The Wildcats broke their four-match losing streak with Tuesday's result and added the first draw to the all-time series record with the Hoosiers. The 26-3-1 (IU) series record dates back to September 1973.
UK found trouble early as Indiana's Karsen Henderlong scored in the 12th minute to go up 1-0 on the Cats. His left-footed shot to the top of the net gave the Hoosiers the advantage early.
However, an Indiana foul opened a scoring opportunity as Kentucky was awarded a penalty kick in the 24th minute. The kick was taken, but missed, by graduate transfer Finn Ballard McBride which was followed with an off target shot by Mason Visconti.
With momentum trending in a positive direction for Kentucky, Casper Mols made a big save in the net to deny a second Hoosier score. The ball was sent back toward Indiana's keeper and ultimately went out of bounds.
Following a throw in from freshman Joel Gonzalez, Brennan Creek was able to connect the ball to Eoin Martin. The junior's right-footed shot to the left of the net went past IU's keeper for a Wildcat goal. The goal was the first Kentucky career score for Martin, as well as the first goal counted in four matches.
The match remained tied 1-1 for the rest of regulation as the Cats recorded 10 total shots and four total saves.
Prior to tonight's contest, the Wildcats and Hoosiers last faced off in 2022 where UK defeated IU, 3-0, in Bloomington, Ind. for the first time since 1995. Kentucky had not won against Indiana since 2018 where the Cats came out on top, 3-0, in Lexington.
Kentucky will turn its focus to Saturday's Sun Belt Conference contest on the road at Coastal Carolina.
Big Blue Nation can purchase single match or season tickets for the 2023 homestand by clicking here. Tickets will also be available for purchase upon arrival to The Bell.
For the latest on Kentucky Men's Soccer, follow @UKMensSoccer on X, Facebook and Instagram, as well as on the web at UKAthletics.com.