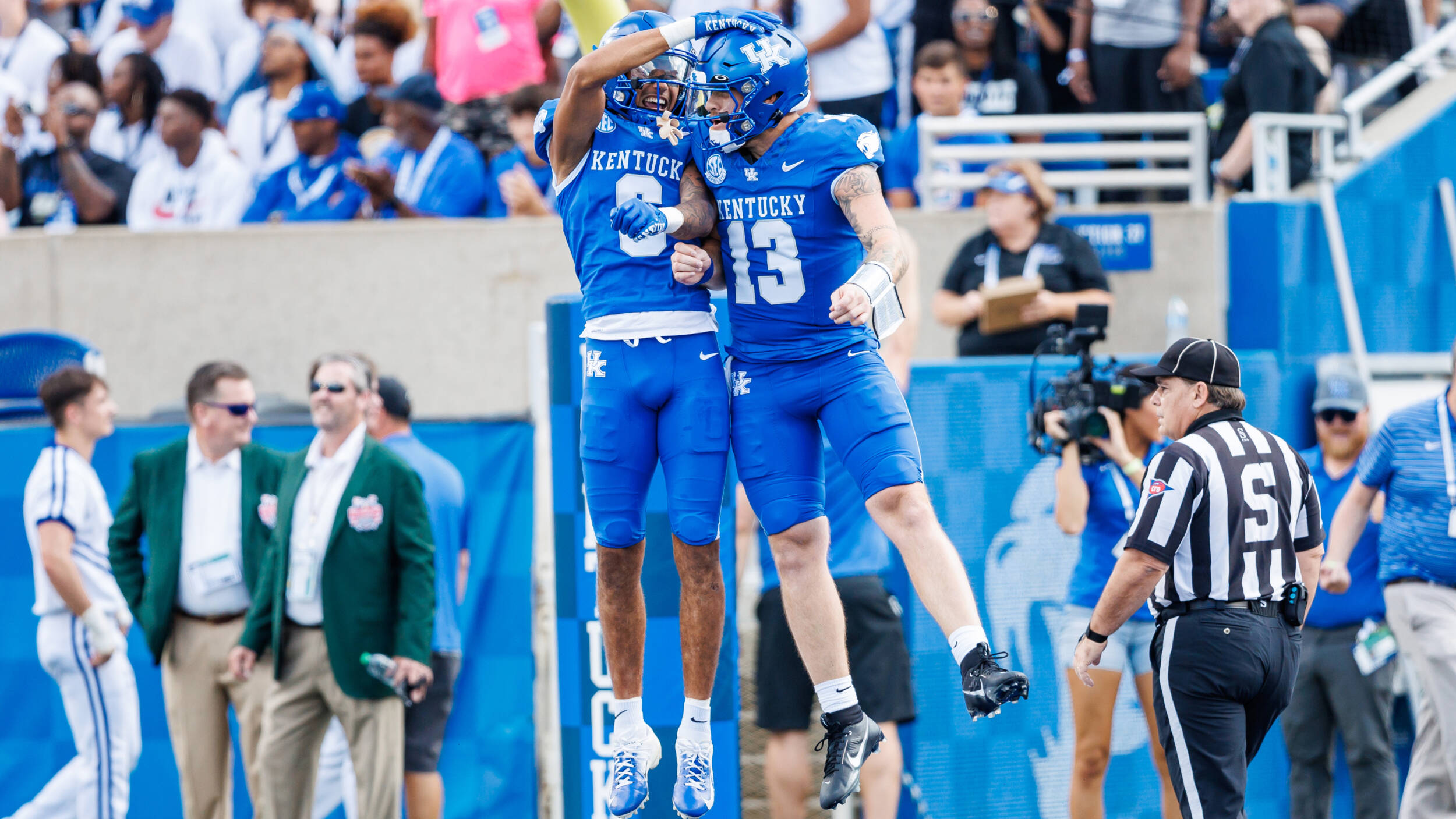 LEXINGTON, Ky. – University of Kentucky quarterback Devin Leary has been elevated to the 2023 Johnny Unitas Golden Arm Award Top 25, it was announced by the association Tuesday. In August, he was named as one of 50 quarterbacks on the watch list. 
The Golden Arm Award annually recognizes the top senior or upperclassman quarterback set to graduate with their class. The semifinalists, finalists and the award recipient are selected by the distinguished Johnny Unitas Golden Arm Selection Committee, a group of prominent college football journalists, commentators, announcers and former players. Candidates are chosen based on player performance on and off the field. 
The namesake of the Golden Arm Award has a storied history. Johnny Unitas was an 18-year veteran of the NFL, who played his collegiate career at the University of Louisville before joining the Baltimore Colts in 1958. His career passing figures include 2,830 pass completions for 40,239 yards, 290 touchdowns and throwing a touchdown pass in 47 consecutive games. 
Leary, a native of Sicklerville, New Jersey, has led Kentucky to a 5-0 record, including a 2-0 mark in the Southeastern Conference, in his first season in Blue and White. It marked the 14th time in program history, and just the fifth time in the last 72 years, that UK has begun its season 5-0. 
Leary has guided UK to 37 points per game, fifth-most in the SEC, and an offense averaging 7.2 yards per play, third-best in the league. 
The Wildcat has completed 82 of his 143 passing attempts (57.3 percent) for 1,129 yards, 10 touchdowns and just five interceptions through five games. His 10 touchdowns are the fifth-most in the league, and his passing yards per completion (13.77) are the sixth-most. 
He got off to a fast start in Lexington, throwing for at least 240 yards and at least one touchdown in each of his first three games. He became the first UK quarterback to do that in at least two-and-a-half decades.  
Leary topped off the season opener against Ball State on Sept. 2 connecting on 10 of his last 11 passes in the game. He came back the next weekend against Eastern Kentucky on Sept. 9 to throw for 299 yards and four touchdowns. Again, he finished strong by completing his last eight passes of the contest. The next weekend, he connected on 16 of his 25 pass attempts for 315 yards and three touchdowns against Akron on Sept. 16. It marked the ninth game of his career with at least 300 yards, while he became just the 15th quarterback in school history to throw for at least 300 yards. He also became the first UK signal caller to have at least three touchdown passes in consecutive games since Mike Hartline against South Carolina and Georgia in 2010.  
Through two conference games, Leary has connected on 24 of his 48 passes for 274 yards and a pair of touchdowns, helping Kentucky to a 2-0 mark in the league for just the third time in the last 46 seasons. 
In his Kentucky debut against Ball State on Sept. 2, he surpassed the 7,000 career yards passing mark. He is already inching toward surpassing the 8,000 career yards passing mark, sitting at 7,936. 
No. 20 Kentucky will continue its conference schedule this weekend when it plays No. 1 Georgia in Athens, Georgia, at 7 p.m. ET on ESPN.