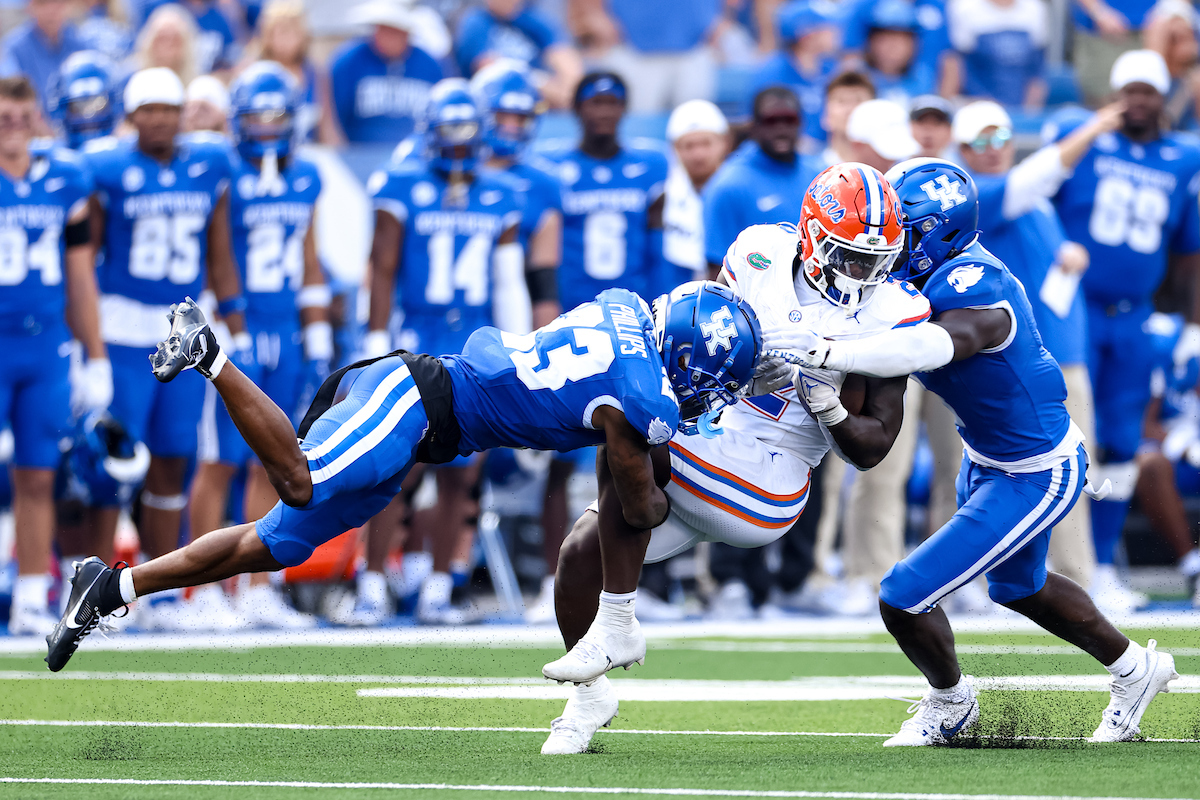 Kentucky played its most complete game of the season on Saturday, beating No. 22/23 Florida 33-14 at Kroger Field. The Cats did many things well, especially a rushing attack that accounted for over 300 yards on the ground.
UK head coach Mark Stoops was pleased with his team's effort and performance on Saturday. But he knows that the Cats need to take that performance and add to it.
"We need to. You need to build on that," Stoops said on Monday. "I feel like that things were in place for us to take a jump because it wasn't for a lack of effort, it wasn't for lack of a plan, there was just some minor execution things that we knew we could get fixed. And we still have to. I think it can give us confidence to know what we can do but there's still that discontent because we know we can be better."
While the Cats played their best game of the season on Saturday, Stoops knows that it could have been even better.
"We know we left plays out there on the field," Stoops said. "And we know we're going to have to improve, with the challenge that starts this week. You have to continue to play clean and you have to improve in those areas."
Now, the challenge becomes even bigger for Kentucky. The Cats hit the road on Saturday, facing the nation's top-ranked team, Georgia, inside Sanford Stadium in Athens. Stoops knows that the Bulldogs will provide a big challenge, but also a big opportunity.
"The challenge to go on the road, to Athens, to play Georgia. What a great opportunity," Stoops said. "You have to credit coach Kirby Smart, his staff, his players for what they've done and the consistency that they've had for many years, in particular the last two, to go on win back-to-back national championships is very difficult to do."
This game will be the third time in the past six years that Kentucky and Georgia have met with control of the Southeastern Conference's Eastern Division on the line. Stoops hopes that he, his staff and the Cats have learned from those previous showdowns with the Bulldogs.
"I'd like to believe that, you have to learn from every opportunity," Stoops said. "It's about us. How will we handle it? How will we play? We're on the road. This will be the first time we take it in this type of environment. How are we going to handle that? Every time you put yourself in that position, you better learn from it. You better grow from it in some way, shape or form. But for us, it's about continuing to build on the good things, continuing to play well, play clean and just do the things that we're doing."
Stoops and the Cats hope to build off Saturday's win over Florida as the Cats prepare for top-ranked Georgia this weekend.