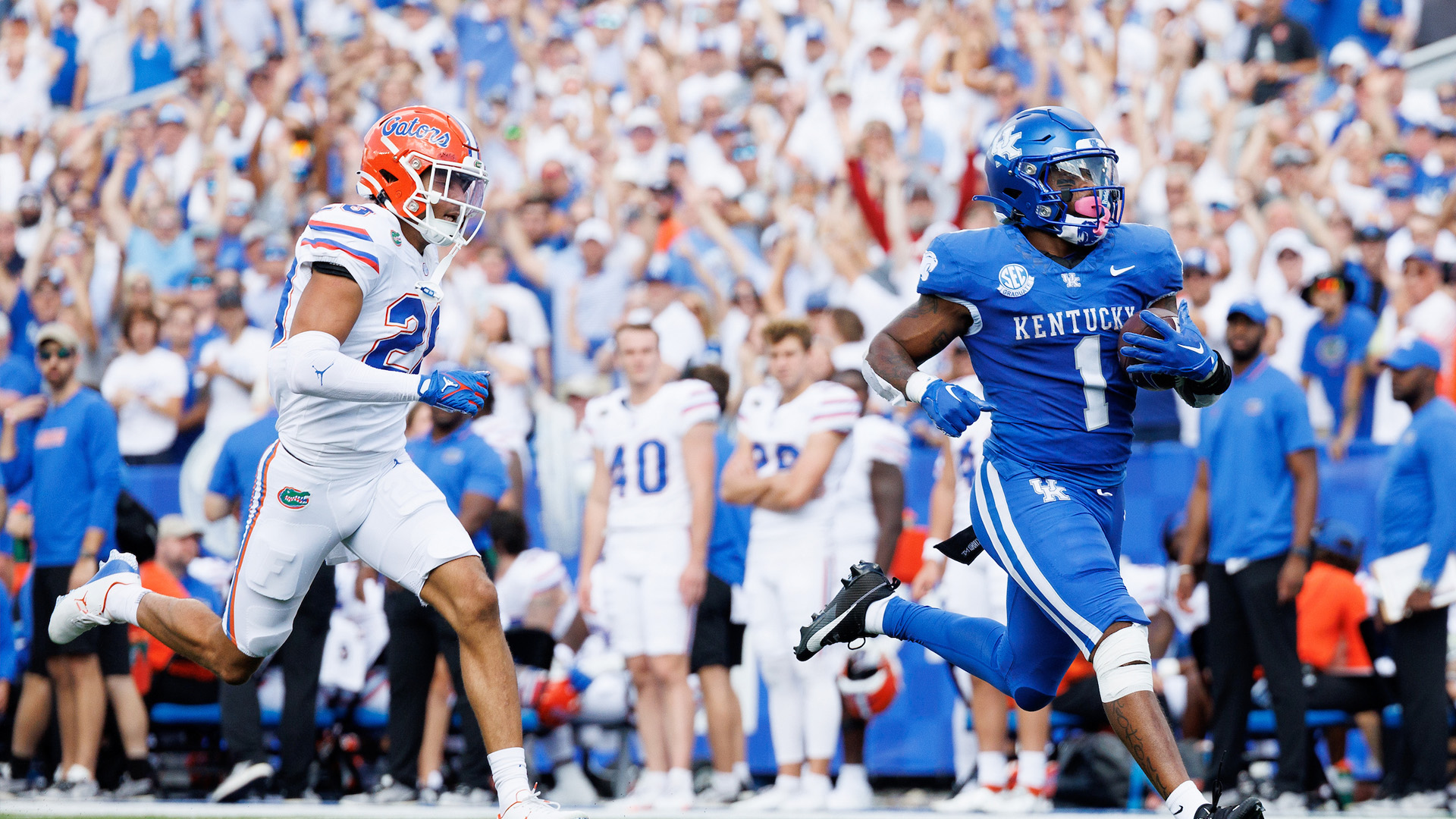 Running back Ray Davis put forth one of the most impressive single-game rushing performances in program and conference history in Kentucky's 33-14 victory over No. 22/23 Florida last Saturday, then gave the credit to the re-emergence of the "Big Blue Wall" and watched as both he and starting tackle Jeremy Flax were rewarded for their brilliance by being named Southeastern Conference Co-Offensive Player of the Week and Offensive Lineman of the Week, it was announced Monday by the league office.
Davis ripped off long runs early and often as UK bulldozed its way to a 23-0 first half edge, including six rushes of at least 15 yards that included a 75-yard touchdown run on which he was barely touched. For the game, the senior from San Francisco put up a performance that will long live in the annals of Kentucky football:
His 280 yards rushing are the third-most in a game in program history, and were just 19 short of the school record.
He became the ninth player in UK history to eclipse 200 yards rushing in a game, while it marked the 13th instance in program history.
His 280 yards helped him eclipse 3,000 yards rushing for his career, currently sitting at 3,091.

Prior to today's game, just two active FBS players eclipsed 3,000.

His 280 yards were the second-most rushing yards of any player on any team against Florida.

Tyr Davis-Price of LSU holds the top spot with 287 against UF in 2021.

His four touchdowns tied the school record for the most total touchdowns in a game.

He became the 13th player in UK history to have four touchdowns in a game, while it marked the 15th instance in program history.

He has scored at least one touchdown in each game this season, first Wildcat to TD in the first five games since Artose Pinner in 2002.

It was his second game this season to have a rushing and receiving TD.

On his second touchdown, he had a career-long, 75-yard score rushing.

The best two rushes of his career have occurred in Blue and White, first with a 55-yard rush against Akron, followed by the 75-yard rush against Florida.
It was Kentucky's longest run in school history vs. Florida.
Flax, a senior from Detroit, graded at 87 percent with five knockdown blocks as UK commanded the line of scrimmage. He did not allow a sack nor a quarterback pressure, had no penalties and didn't miss an assignment. UK rushed for 329 total yards against a Florida defense that ranked 14th in rush defense at just 82.0 yards per game.
No. 20 Kentucky (5-0, 2-0 SEC) travels to top-ranked Georgia (5-0, 2-0 SEC) Saturday for a 7 p.m. matchup between the hedges on ESPN.