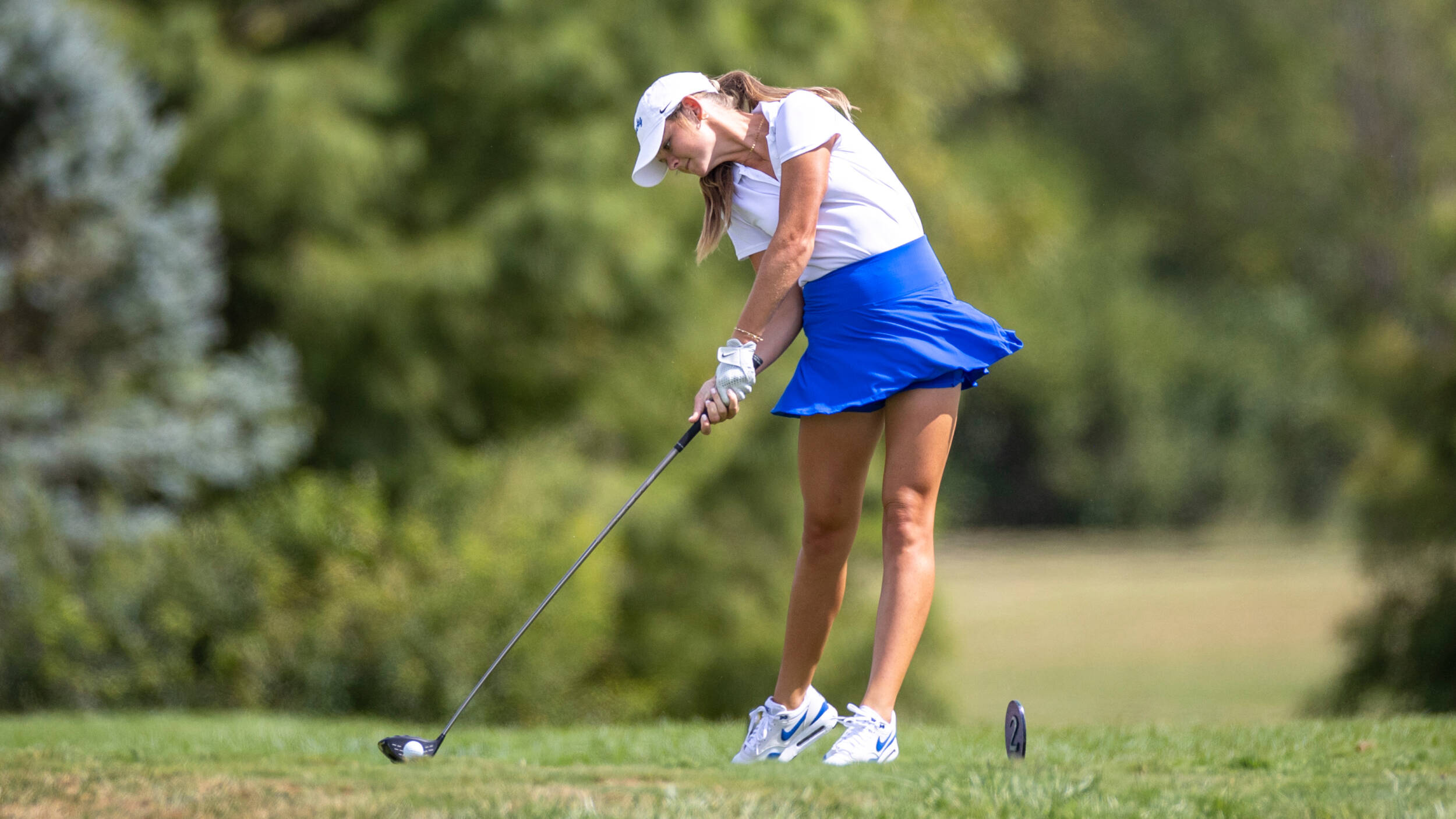 October 2, 2023 - 08:04 PM
Laney Frye Paces UK after Blessings Collegiate Invitational First Round
FAYETTEVILLE, Ark. – The No. 15 University of Kentucky women's golf team completed the first round at the Blessings Collegiate Invitational, earning a 23-over-par 311 to find ninth place. The Wildcats have 36 holes remaining at the Blessings Golf Club (par 72, 6,503 yards) in Fayetteville, Arkansas, over the next two days.
The Cats will compete in the second round Tuesday, going off the first tee beginning at 12:30 p.m. ET. Golf Channel will continue its coverage of the unique tournament. The broadcast schedule is as follows:
Tuesday, Oct. 3 – 4:30 – 7:30pm ET
Wednesday, Oct. 4 – 4:30 – 7:30pm ET
For the third straight tournament in 2023-24, Laney Frye is pacing the UK lineup after the first round.
The Nicholasville, Kentucky, native rallied a 2-over in day one, thanks to a trio of birdies, including on the par-5 No. 2 and on a couple of par 4s, while keeping her bogey count down to just five. She leads the UK lineup, sharing 18th place on the individual leaderboard.
Leading the Blessings Collegiate Invitational is Maria Jose Marin of Arkansas' A-Team, firing off a 5-under Monday.
The Razorbacks' A-Team is also leading the women's team leaderboard, thanks to their 3-under through the first 18 holes. Their B-Team is in third place on a 3-over, while Mississippi State is sandwiched in the middle with a 1-over.
Marissa Wenzler, who started and finished her round with a pair of birdies, recorded a 6-over Monday. She tied for 36th place. Meanwhile, fellow graduate student María Villanueva Aperribay came in at 7-over for 39th place.
Brooke Oberparleiter continues to make a difference in Kentucky's lineup, as the freshman contributed her 7-over to the team total. It marked the sixth time through seven rounds this fall that her round went toward the team total. She in 43rd place in just the third tournament of her college career.
Jensen Castle suffered a double on her last hole of the round, the par-4 No. 9. Despite her trio of birdies, including her back-to-back birdies on hole Nos. 17 and 18, she formed a 9-over for 44th place Monday.
While fans are encouraged to watch the tournament live on Golf Channel, they can also keep up with live scoring here.
Scorecard
T18 Laney Frye 74 (+2)
T36 Marissa Wenzler 78 (+6)
T39 María Villanueva Aperribay 79 (+7)
43 Brooke Oberparleiter 80 (+8)
44 Jensen Castle 81 (+9)
For the latest on the Kentucky women's golf team, follow the team on Twitter, Facebook, and Instagram, as well as on the web at UKathletics.com.